Home Depot Inc. (NYSE:HD) currently trades at $82 and has experienced volatile upward momentum that has brought a more than 15% increase to the price over the year. The company just ended its fiscal year 2013 a few weeks ago and posted a good operating quarter despite sales declines. In this article, we will go through this latest quarterly performance and see how it added value to shareholders' investments. Later, I will put forth a few ideas that I believe will help Home Depot sustain the upward price momentum given the extreme weather conditions that are about to neutralize.
The Quarter
Comparable Sales Grew Despite Overall Decline

Source: Earnings Release
For the last quarter of 2013, Home Depot's revenue declined 3% to $17.7 billion from last year's level. However, since the last quarter of 2012 had 14 weeks compared to 13 that brought an additional $1.2 billion in revenue; revenue on an adjusted basis increased by 4%. Similarly, comparable sales grew 4.4% in the quarter owing to higher ticket and growing comparable transactions in a majority of the sale locations.
Noteworthy cost control methods resulted in a higher than expected gross margin of 35% increasing by 10 bps from a year ago. Within the US, Home Depot was able to bring an even higher margin expansion of 14 bps. This was due to productivity improvement within the supply chain that created a 6 bps positive impact along with changes in the product mix.
The operating expenses also followed a similar trend in which SGA, that makes up more than 90% of the company's operating expense, declined 4.6%. The interest expense increased in accordance with the $4 billion of additional debt issued last year but was not significant enough to outpace Home Depot's savings derived from cost-controlling initiatives. The net result was diluted EPS, increasing 7.4% to $0.73 during the period.
All in all, the company could have had better results had extreme weather conditions and revenue from the additional week not distorted operational results. Overall, the number of customer transactions declined during the period, since consumers couldn't go to retail locations in extreme cold weather. However, with the weather now stabilizing and the company introducing additional products along with different packages, I expect that sales will rise at a greater speed in the future. Let's have a look at these plans now.
The Future
Home Depot and the Housing Market are Correlated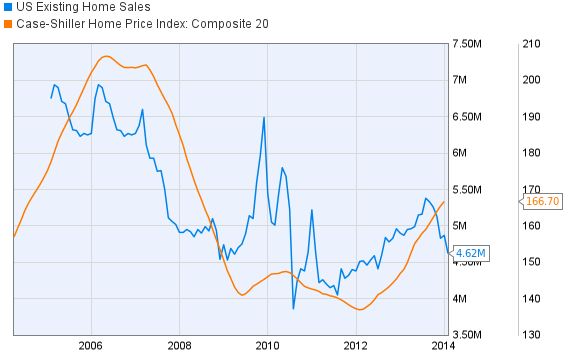 Source: Motley Fool
The economy is in its moderate stage of the recovering housing market. That means that home affordability is still attractive for house purchasers and prices continue to improve (see graph above); both of which are positive for Home Depot. The US housing market, specifically in terms of home price appreciation, household formation, and housing turnover are expected to contribute around 200 bps to comparable sales growth in 2014. This is a good increment, since it will balance the additional projects Home Depot is starting.
Pro Xtra will Complement the Recovering Market
Home Depot launched its Pro Xtra program this past fall. The program allows customers to contract their purchases, take advantage of exclusive product offers, and get access to helpful business tools. In other words, it is a loyalty program that brings saving for regular buyers. With retail companies such as Amazon (NASDAQ:AMZN) coming up with different initiatives to retain customers, the move is proving successful by Home Depot, as the rate of sign-ups is increasing and is now over 10,000 per week. Through new functionalities for clients to be introduced throughout 2014, I expect this program will continue contributing to top line growth.
Secondly, the company has announced that it is planning to build infrastructure that will permit it to provide same-day delivery. Home Depot will spend $300 million this year on building new fulfillment centers, a new warehouse management system, and a material handling system. This will be another decent step in an era with arguments regarding the use of drones for delivery. The new system will also allow Home Depot to boost its online sales as well as capture market share from its closest competitor, Lowes (NYSE:LOW).
By offering same-day delivery, Home Depot will be in line if, not ahead, in the race to provide goods faster. Pro Xtra, cost control, and the recovering market will all translate positively in terms of better returns for investors.
Bottom Line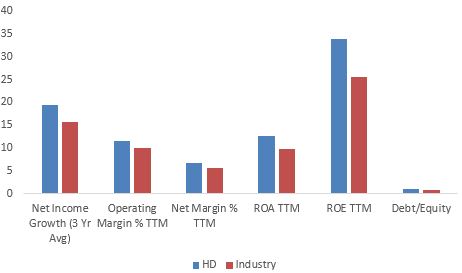 Home Depot is without doubt a good company to invest in. Despite bad weather conditions and the recovering market, the company has provided fundamentals better than the industry (see graph above). In terms of free cash flow based valuation, it is better than its rival Lowes with forward free cash flow-to-enterprise value yield of 5.8%. I think Home Depot will be a suitable match for your portfolio, and I give it a buy rating.
Disclosure: I have no positions in any stocks mentioned, and no plans to initiate any positions within the next 72 hours. I wrote this article myself, and it expresses my own opinions. I am not receiving compensation for it (other than from Seeking Alpha). I have no business relationship with any company whose stock is mentioned in this article.