"The pessimist complains about the wind; the optimist expects it to change; the realist adjusts the sails." - William Arthur Ward
I continue to be cautious about the market after the huge rally in 2013. Earlier in the week, I outlined the main reasons for my concerns. My outlook is the global economy will continue to be challenging. I also think our economy is decelerating from the ~3% GDP growth it posted in the last half of 2013.
Even with the Federal Reserve "tapering", I don't think the 10-year treasury yield gets much above 3% in the first half of this year. Given this outlook, I continue to allocate the majority of my "dry powder" to low-beta/high-yield plays. Here are a couple that warrant consideration at these levels.
American Realty Capital Properties (ARCP) is a real estate investment trust (REIT). The company owns and operates mainly single-tenant retail properties, and the company has a presence in almost all 50 states. It is the largest publicly traded "net lease" REIT in the world.
Investors should applaud this REIT's decision to spin off $2.2B worth of its multi-tenant shopping centers into a separate concern, American Realty Capital Centers, which was announced this morning. The combination of the two entities should pay a combined dividend of 7.3%, up from the current 7%. This move should also help American Capital Realty Partners continue to narrow the valuation discount it has to its largest competitors, Realty Income Corporation (NYSE:O) and National Retail Properties (NYSE:NNN).
The company's properties are ~99% leased, and its approximate lease term is north of 11 years. In addition to selling at a roughly ~20% discount based on forward FFO (Funds from Operations) to its largest competitors, ARCP also pays a much higher dividend than Realty Income Corporation (5.3%) or National Retail Properties (4.7%).
Resource Capital Corp. (NYSE:RSO) purchases and manages a diversified portfolio of commercial real estate-related and commercial finance assets in the United States. Obviously, these types of plays are vulnerable to big hikes in interest rates, but since I don't see that event on the horizon; I hold this high-yield play at the moment.
The shares yield a robust 13.6% yield, and payments are quarterly. Insiders hold almost 10mm shares, and their sales and purchases have roughly negated each other over the past year. The stock goes for less than book value.
Analysts expect earnings to decline 20% this year on the back of a 6% to 8% gain in revenue. However, the consensus calls for over 35% earnings gains on more than a 40% sales increase in FY2015. I don't count on much, if any, capital appreciation from RSO in the coming year, but its yield in the low teens should be more than enough to beat the overall return I expect in the market for 2014. The stock also has established strong technical support after falling during the beginning of the Fed's "taper" talk and the rise of interest rates that began in early summer. (See Chart).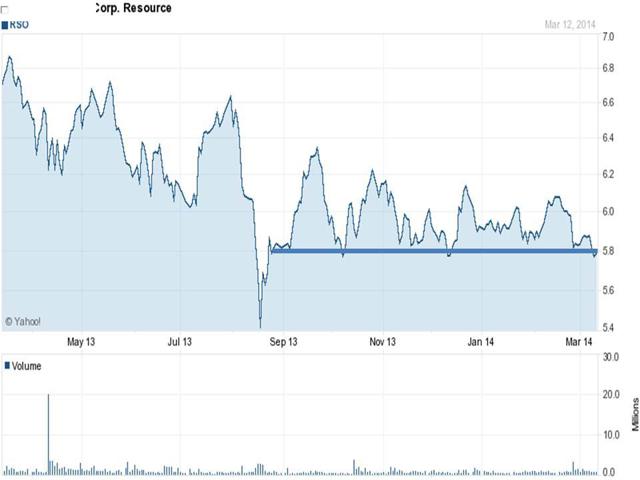 Click to enlarge
Disclosure: I am long ARCP, RSO. I wrote this article myself, and it expresses my own opinions. I am not receiving compensation for it (other than from Seeking Alpha). I have no business relationship with any company whose stock is mentioned in this article.