Quest Diagnostics Incorporated (Quest Diagnostics) (NYSE:DGX) has had an exciting few months which were topped off by its acquisition of Summit Health and a $600 million refinancing. Quest Diagnostics also acquired Solstas Lab Partners in January. These takeovers and the refinancing of Quest Diagnostics raised the projected earnings of the company.
Summit Health Acquisition
On March 11, 2014 Quest Diagnostics announced that it will acquire Summit Health. Summit Health is a leading provider of on-site prevention and wellness programs, primarily for employers. Summit Health has one of the largest networks of nurses who staff on-site wellness programs for employers, health plans, retail clinics and other wellness-focused organizations. Summit Health services include biometric and other health screenings by "finger stick" specimen collection, immunization, coaching and educational seminars. Steve Rusckowski, President and CEO of Quest Diagnostics said:
Disease prevention and wellness programs are critical to better outcomes and lower costs. Together our two companies will give employers, health plans and individuals greater access to a uniquely broad range of prevention and wellness services that use diagnostic insights to inform early intervention and preventive care and ultimately reduce health costs. Source Cf. Article
Solstas Acquisition
On January 22, 2014, Quest Diagnostics announced that it had agreed to acquire Solstas Lab Partners Group and its subsidiaries (Solstas) for approximately $570 million. Solstas is a full-service commercial laboratory company based in Greensboro, N.C., and it operates in nine states throughout the Southeastern United States. Quest Diagnostics expects the acquisition to add 5% in annualized revenue. Steve Rusckowski said:
…Solstas has excellent client relationships and local presence in the Southeast, and we expect to build on the value of these assets with our broad and innovative test menu, scientific expertise, and health IT solutions. Source: Cf. Article
$600 Million Offering
On March 12, 2014, Quest Diagnostics announced that they intend to offer $600 million in aggregate in two series of notes, in a public offering made under a shelf registration filed with the Securities and Exchange Commission, subject to market and other conditions. The company intends to use the net proceeds from the offering to repay outstanding indebtedness under its senior unsecured revolving credit after the two takeovers needed to pay back some of its debt. Source: Cf. Article
This is the end of our section on the acquisitions and financing of Quest Diagnostics. We will now move on to discuss the chart and make some general conclusions about it.
Quest Diagnostic's Stock Chart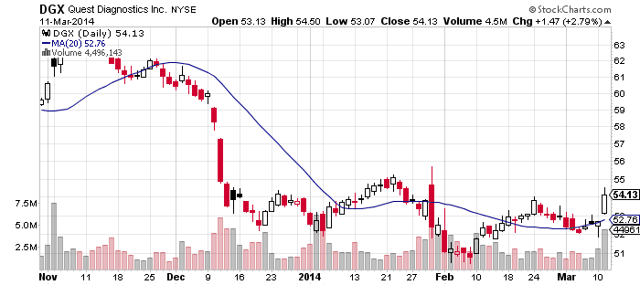 Click to enlarge
Before December, the stock was trading in the low 60s range when a sudden selloff occurred when many people realized that earnings were going to be flat going into 2014. This was a disappointment, as many analysts were expecting higher earnings as we headed into the New Year. The recent price movement in the chart is seen somewhat low, around 50 on the 15th of February. It then recovered to the 52 to 54 range. The last day in the chart is the movement seen upon the acquisition of Summit Health. The 20 day moving average has flattened out and may start to rise higher.
Conclusions
It's hard to draw conclusions, since we do not know what the impact on earnings we will see from the Summit Health Acquisition. Right now, earnings are seen as flat when compared to 2013 earnings. We may have a small increase from the Solstas Acquisition. Full Year 2014 Revenues are expected to grow 2%-4% compared to 2013, and Full Year Adjusted Earnings Per Diluted Share are expected to be between $3.95 and $4.15. This is the updated earnings as of March 10th. To continue to grow as a company, the $600 million refinancing was essential so they can continue to bargain hunt for companies that complement Quest Diagnostics. Source: (PRNewswire March 10)
About Quest Diagnostics Incorporated
Quest Diagnostics Incorporated is the world leading provider of diagnostic testing, information and services. The company offers U.S. patients and physicians the access to diagnostic testing services in a nationwide network of laboratories and Company-owned patient service centers. It is a provider of clinical testing, including gene-based esoteric testing and anatomic pathology services - as well as providing risk assessment services for the life insurance industry. Quest Diagnostics is a leader in developing diagnostic tests and the advanced healthcare information necessary to improve patient care. (Scottrade and Yahoo.Finance.com)
Disclaimer: Please note the author may be wrong with any projections or suggestions in this article. Do your own research before you make any decision.
Disclosure: I have no positions in any stocks mentioned, and no plans to initiate any positions within the next 72 hours. I wrote this article myself, and it expresses my own opinions. I am not receiving compensation for it (other than from Seeking Alpha). I have no business relationship with any company whose stock is mentioned in this article.