Kyocera (NYSE:KYO) has significant upside. But before I make claims about the upside this company may have, and the alpha potential that is here, I want to ensure you have enough reason to believe in the credibility of my analysis.
Towards the end of 2012, I focused a lot of my energy on small cap stocks, which was prior to Seeking Alpha ever initiating a small cap incentive program. For me it was humble beginnings as I didn't have much experience with writing for that matter, so I focused my attention on finding the best investment opportunities rather than focus my attention on the most popular companies. What else could I do? I was a terrible writer at the time, so by default I had to analyze.
Back in December of 2012, I offered a $35.92 price target on Safeway (NYSE:SWY) by 2016. Just three days ago, Cerberus Capital Management announced a buy-out of Safeway for $9.4 billion ($40.81 per share). For those who invested in the stock at the time I syndicated the article, that's a 130% ROI in the span of a year-and-a-half. I offered a $1,087 price target on Priceline.com by 2014, currently the stock trades at a staggering $1,358. Investors that bought the stock when I wrote that article netted a 117% return on investment over the course of a year-and-a-half. In 2012, I wrote an article stating that Spirit Airlines (NASDAQ:SAVE) would trade at $60.96 by 2017. Currently Spirit Airlines trades at $57.69, which represents a 244% move from when I had originally syndicated that article (December 2012). I wrote about Logitech calling it a great-buy opportunity for 2013 and 2014 back in December of 2012. The stock trades at $16.24, which is 106% above the level I had told investors to buy the stock at. My best call from December of 2012? It was Netflix (NASDAQ:NFLX). I told investors to buy at $86, the stock currently trades at $448 per share. My high-end forecast for 2014 was $301.68. Netflix shattered my high expectations, and returned investors a staggering 420% ROI from when I had originally recommended the stock.
In those five cases I had generated real alpha, beating benchmark returns by an extremely healthy margin. Sure 2013 was a great year for stocks; but I don't depend on market sentiment to generate significant ROI. So with that, let's open up the discussion on Kyocera.
What does Kyocera do?
Kyocera is basically a Japanese conglomerate that focuses on fine ceramics, ceramics, semiconductors, electronics, telecom equipment, and information technology equipment. Not so surprisingly, the company flies deep under the radar because it's both a conglomerate and a foreign ADR.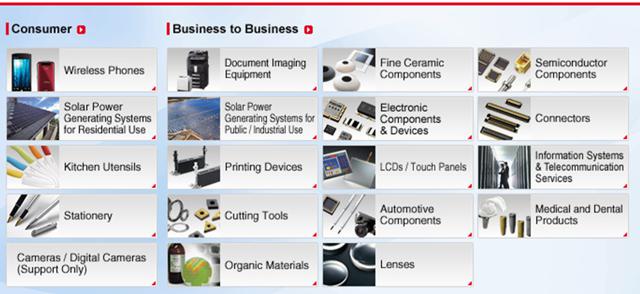 Click to enlarge
Source: Kyocera
I'm fairly familiar with many of the products that Kyocera sells. In the past two years I have written about basic materials, advanced materials, industrial goods, semiconductors, solar, information technology, telecoms, smartphone (consumer electronics), printers, televisions displays, and automobiles. There are legitimate barriers of entry into many of these markets, and some of them require specialization. For example its advanced materials (fine ceramic components) are intended for specialized uses in consumer electronics or computers, which require specific manufacturing capabilities. While, the company doesn't do chemical processing like Advanced Air Products, the company uses specialized materials to create products for other equipment manufacturers. This is further downstream from chemical companies, but offers more growth opportunities assuming demand for advanced ceramic components continues to trend higher as the number of industrial or consumer applications increase.
A vast majority of Kyocera's business segments are mid-stream. This indicates that the vast majority of the company's profit comes from processing components that go into products (business to business), which reduces competitive risks, and it's not subject to changes in consumer preferences. Changes in consumer preference is one of the most common ways apparel, consumer goods, and consumer electronics become irrelevant over a given number of years.
Kyocera's primary consumer facing business is its smartphone business. On the bright side, the growth outlook for this business segment is decent. Since Kyocera is based out of Japan, the company is well positioned to focus on oriental Asia, and other Asian markets as well. On the downside, IDC lowered estimates for China smartphone shipment growth to 10% as the market doesn't present as much growth potential as originally thought. Falling ASPs may lower top-line growth, but with reasonable cost controls, Kyocera will be able to earn profit from this decelerating division. Even if this business segment doesn't present as much growth opportunity going forward, it can always spin off this division by selling it to a different mobile OEM. It also has the option of running its mobile smartphone business like a private equity firm (cut costs aggressively, and focus on the cash generative ability of the business).

Click to enlarge
Source: Kyocera
Between fiscal years 2012, and 2013, Kyocera has been able to grow top-line sales across all of its segments. The two slowest growing segments were the fine ceramic parts, and electronic device group. Admittedly, some of the growth came from foreign exchange effects, with sales and profits represented in Yen; exchange rates would have a positive impact on both sales and earnings.
The company has organic growth, despite on-paper gains from foreign exchange. The applied ceramic product group is its solar business, and it's a high-growth business due to insatiable demand from China. Telecommunications, and information equipment grew year-over-year due to organic growth as the company has continued to introduce new products in varying overseas markets.

Click to enlarge
Source: Kyocera
This company is primarily export driven, with 65% of sales coming from international sales. I anticipate the Japanese Yen to continue to decline against a basket of currencies over the next five years, giving investors an adequate window of time to capitalize on foreign exchange. Devaluing currency has a positive impact on exports, and since many of Kyocera's manufacturing facilities are based in Japan, the company will become more price competitive.
Establishing our bullish investment thesis
I generally consider myself a growth investor. This means that I chase after growing companies, and hope that the growth will exceed investor/analyst expectations. If I'm right that the business can grow at much higher rates than what investors currently expect, the stock price will reflect that fact. In the past, I generated returns that beat the market by identifying businesses that can beat historical growth, or what investors had anticipated for growth initially.
There are three aspects to this investment I'm going to take a look at. Organic growth, incremental cost cutting, and foreign exchange impact. Taking into consideration all three factors will be a daunting task, but assuming I'm right on my investment outlook; returns will exceed the market rate. In cases like this my presumptions will come across as unrealistic, which is exactly why I stressed my credibility in excessive detail in the very beginning of the article.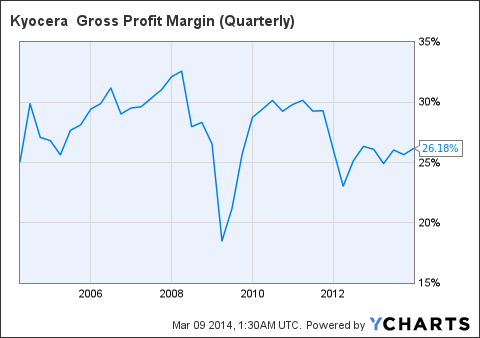 Source: YCharts
The primary category Kyocera can improve on is its gross margins. After reviewing the financial data, I noticed the company had a 6.77% net profit margin. This is a low level of profitability, and it should improve assuming certain segments can churn higher rates of profitability. A combination of falling production costs, and operating costs would be needed in order for net profitability to return to 10%.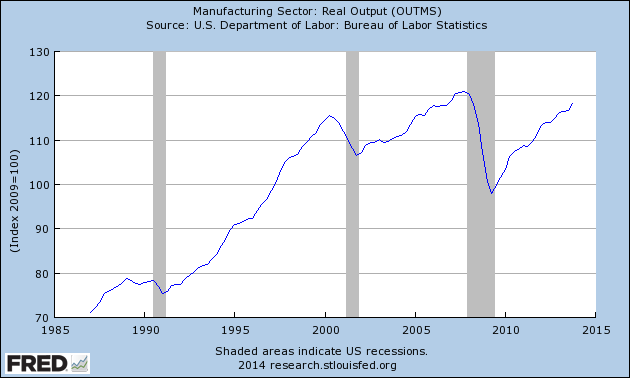 Source: Federal Reserve
Historically, manufacturing real output trends higher. So assuming productivity can improve it's likely that Kyocera will be able to return to a 30% gross margin. I say return, because Kyocera has been able to report a 30-33% gross margin historically, so it's certainly not an unfeasible figure.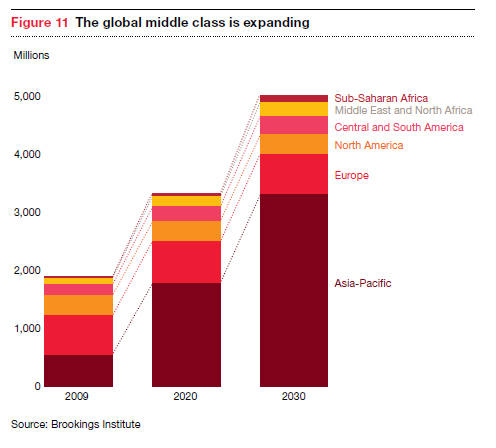 Source: PricewaterhouseCoopers
The emerging middle class is growing, and this provides much of the organic growth that I expect over the next five years. Organic revenue growth came from its information equipment (24.2% year-over-year growth), telecom equipment (16% year-over-year growth), and applied ceramics (43.2% year-over-year growth) divisions. These three segments are mid-stream and are more sensitive to macroeconomic factors.
The Asia Pacific's middle-class is expected to double in size. At the present moment, 63.2% of Kyocera's revenue comes from the Asia pacific. I'm estimating the company can generate 10-15% organic sales growth over the next five years. This is based on higher rates of demand for highly elastic goods, and outward looking assumptions that factor in the consolidated results of the entire entity.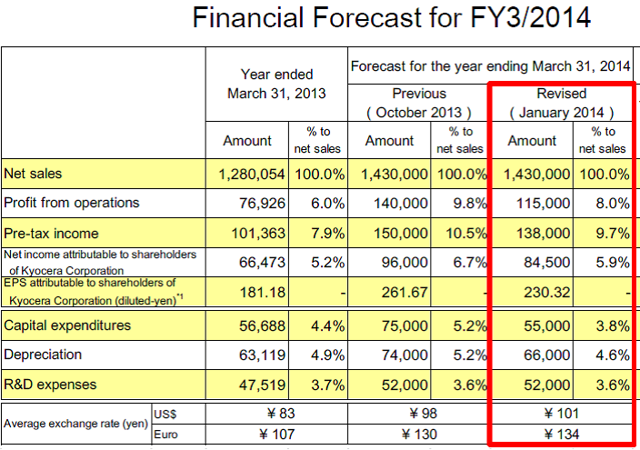 Click to enlarge
Source: Kyocera
My expectation of both sales growth and margin improvement is in-line with the company's outwards guidance. At the present moment, Kyocera expects the exchange rate to increase by 300 basis points, for the dollar-yen, and 400 basis points for the euro-yen. The company also anticipates 12% year-over-year sales growth, and net income margin to improve from 5.2% to 5.9%. Overall, this should result in 27% year-over-year earnings growth making it a fairly promising investment over the short term. But the short term isn't really what I want to pride myself on, I'm going to estimate the long-term growth of the company in the next section, and put a five-year valuation on the stock.
Five-year earnings and price estimate

Click to enlarge
Source: Alex Cho
At the present moment I anticipate the company to generate a 19.66% growth rate on net profit. This comes from a 12.5% compounded rate of revenue growth, and net operating income margin improving by 4.5 percentage points between 2014 and 2018. The net operating income should improve by 450 basis points assuming the company is able to improve its gross margins from 26.18% to 30.68%. Over the long-term manufacturing productivity will increase, and this should translate into lower cost of revenue for Kyocera. Kyocera has been able to report gross margins in excess of 30%, in the past, so it's a workable figure.
I think 12.5% revenue growth is extremely attainable. Many of the reporting segments are in high growth industries, and with high rates of economic growth from emerging Asian markets, I'd be extremely surprised if the company isn't able to report a 12.5% sales growth rate over the next five years. This doesn't include the impact from foreign exchange, as I have projected EPS using today's exchange rate for the USD/JPY at 103.23. If the USD/JPY trades at 120-130 over the next five years, that would significantly improve the company's revenues and earnings performance as the company reports sales in the yen. The upward trend of the dollar-yen, and euro-yen will boost the company's foreign revenues as it will artificially cheapen many of its ceramic, semiconductor, and solar panel products.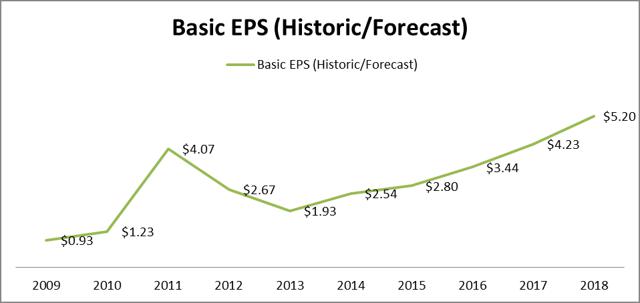 Click to enlarge
Source: Alex Cho
I expect earnings per share to eventually return to and exceed its 2011 peak. The high rates of growth are sustainable due to currency tailwinds, emerging market organic growth, and manufacturing labor productivity.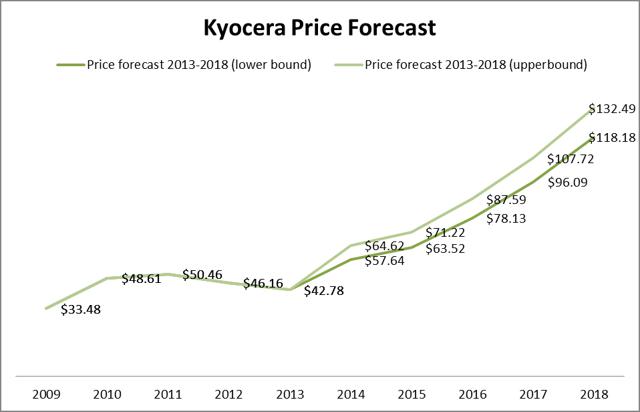 Click to enlarge
Source: Alex Cho
Currently Kyocera trades at $47.21 per share, and assuming my mean price target for 2014 at $61.13 is accurate, investors should be able to net a 29% return on investment. The stock is a large cap, which indicates that the large float should limit volatility, at the same time it possesses the characteristic of a growth investment due to my expectations of revenue growth and margin expansion. The stock is off by 18.29% from its 52-week highs due to management's revision of guidance to the downside. I factored the downward revision of guidance into my earnings and price forecast for 2014. So I'm going to maintain my price target.
The biggest challenge facing this company has been the inconsistency of its financial performance over the past five years. I'm expecting the company to report a consistent pattern of results over the next five years, due to the favorable macro environment, and promising portfolio of products/businesses. Assuming the stock reaches my 2018 guidance at $125.35 per share; investors will net an annualized return of 21.18%, or a five-year ROI of 165%.
Conclusion
The company has a solid product strategy, and since it's heavily diversified it's unlikely that any non-performing business segment will negatively affect the business. The company can spin off non-performing divisions, and use proceeds to invest into faster growing opportunities.
Ignoring company specific opportunities, I pretty much assumed the company is dumb, and it has to depend on external factors for its growth. This means that organic growth opportunities in emerging markets (mainly China), gross margin improvements due to productivity gains, along with currency tailwinds offer enough upside by themselves to result in 12.5% revenue growth, and 19.6% earnings growth. Since I excluded the upside from management's active involvement in the business and currency, I've offered a conservative price and earnings forecast, meaning that the five-year ROI is likely to exceed 165%.
Disclosure: I have no positions in any stocks mentioned, and no plans to initiate any positions within the next 72 hours. I wrote this article myself, and it expresses my own opinions. I am not receiving compensation for it (other than from Seeking Alpha). I have no business relationship with any company whose stock is mentioned in this article.