Our bearish outlook for EWW, the iShares MSCI Mexico ETF, is based on the weakening economic fundamentals in Mexico. The past two months have delivered fairly consistent disappointments in the Mexican macroeconomic data from employment to the manufacturing surveys. The cyclical problems have compounded the damage in Mexico's market index, which is accompanied by the stress on the capital structure of Mexican banks and the continued instability in the overall financial system. Mexico's labor market has also taken a turn for the worse. Employers remain reluctant to hire workers, a posture that undercuts the economic multiplier. Private consumption is now under tremendous pressure as incomes continue to be squeezed by a high unemployment rate and low corporate margins. Mexican households are rapidly approaching the point at which the benefits of previous monetary easing will have been completely eroded by the rising cost of living. With business and consumer sentiment still at rock bottom, private demand looks set to continue plunging for some time yet.
Market concerns over EWW have risen, and the recent sell-offs have been driven by Mexican cyclical assets. Clients of hedge funds rushed to withdraw their money while money managers sold their existing holdings to meet clients' requests and margin calls. The result was accelerated selling in Mexico's stocks and a seized-up capital market. Liquidity is likely to remain constrained as the financial sector continues to delever and regulatory reform imposes tight constraints on risk taking. Continued turmoil in financial markets will have negative wealth and confidence effects on households and firms. This will add to the already significant negative forces on domestic consumption and investment. The destruction of wealth is one factor expected to weigh upon Mexican household spending in the time ahead.
The current economic cycle downturn in Mexico will be severe and different from the usual recession. We will not be returning to business as usual and prosperity in the years ahead. The risk is a deeper slowdown globally. Such a simultaneous downturn, with growth slowing in most advanced economies, will make the debt dynamics even more challenging. Taken together, these concerns will likely lead to tremendous pressure on stocks in Mexico. Given significant market risks, We think that investors may consider viewing the current valuation level as an opportunity to exit the long positions in EWW.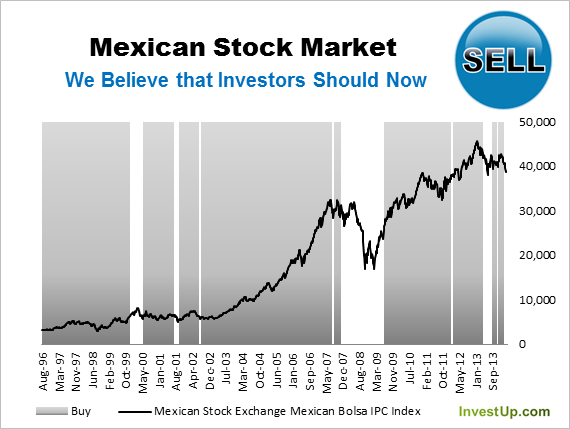 Disclosure: I have no positions in any stocks mentioned, and no plans to initiate any positions within the next 72 hours.
Business relationship disclosure: The article has been written by Invest Up Inc., Senior Strategist. Invest Up Inc. is not receiving compensation for it (other than from Seeking Alpha). Invest Up Inc. has no business relationship with any company whose stock is mentioned in this article.