"Vi Veri Veniversum Vivus Vici"
Veeva: Irrefutable Proof of TAM Overstatements, Pharma Rep Seat Saturation, Drastic Growth Deceleration, Opaque Disclosures, Nose Bleed Relative Valuation, and Highly Dubious Sell-Side Coverage
Veeva reported its fiscal Q4 2013 on March 4th after the close and despite the fanfare from some of its analysts we view, the results and guidance the company provided as the proverbial 'nail in the coffin' for any investor holding this stock. A significant tailwind to Veeva's IPO story was the strong Q-O-Q and Y-O-Y growth the company has demonstrated as a SAAS/cloud player. When combined with the premium assigned to it being in both life science and cloud (both sectors currently demanding a premium in the markets), it has helped prevent the share price from correcting to IPO levels or lower. However, the reality of Veeva's market potential and lack of addressable opportunities to justify the growth assumptions and current valuation premium have come to the surface. Needless to say, anyone invested in the SAAS/Cloud space will have picked up on the huge relative underperformance of Veeva the past 3 months. While our initial 40+ page piece on Veeva addressed the basic points of our thesis, the past 3 months have allowed us to drill-down significantly and definitively address the notable industry, demographic, valuation, TAM, legal and disclosure issues, which we believe are tantamount for any investor in this company to better understand.
Key Themes:
Industry, Market and Pharma Rep Demographics- We go in deep detail with seat mapping, competition and data points on the pharma top 50. Our conclusion is that the competitive landscape has stabilized, and that organic seat growth will be extremely difficult from here on out.
CRM LS TAM -We go through the numbers, even given the most generous assumptions they just don't add up.
SalesForce.com (NYSE:CRM) Contract Renewal- What this renewal really means, and the fine print you must read. The timing/terms of such a contract raise serious questions as to management's "strategic thinking" at this point in time.
Veeva Guidance, Vault, and the ASP Elephant in the room - We take a look at guidance, the Vault TAM, and why both management and the sell-side continue to avoid discussing ASPs. Guidance implies under 20% revenue growth by Q4 2014.
Relative Valuation - A wake up call, we put Veeva up against its peers and show you just how ugly the picture looks. Our analysis generously implies 50% immediate downside from here.
Our friends the Sell-side - Despite their claims to the contrary, all the key information to properly research Veeva is publicly available. We show you how to find it all, and leave you to draw your own conclusions as to why SIX different IB Sell-Side teams didn't perform this rather basic, yet highly critical, research.
Industry Headwinds
Consolidation - In pharma 1 + 1 does not equal 2!
M&A Deals since Veeva's Q3 close:
1) Cubist (CBST) acquired Optimer (NASDAQ:OPTR) - Both Veeva CRM customers. Optimer sales force pretty much entirely eliminated.
2) Actavis (ACT) acquires Warner Chilcott (NASDAQ:WCRX) - This deal was announced early last year and closed Oct 1 '13. Both companies are Veeva CRM customers. Salesforce realignment was however announced on Nov 22. Basically, the entire Warner Chilcott field force was let go.
3) Actavis acquires Forest Labs (NYSE:FRX) - Deal announced Feb 18th, 2014. Again, both Veeva CRM customers. Forest has 3,000+ reps and is widely considered to have the most overstaffed PC team around. We believe there will be significant layoffs here.
4) Salix (NASDAQ:SLXP) acquires Santarus (NASDAQ:SNTS) - Announced November 2013, both Veeva CRM customers. At present no expected layoffs.
5) Shire (NASDAQ:SHPG) acquires ViroPharma (VPHM) - Announced November 2013. Both Veeva CRM customers, and both have overlapping highly specialized HAE sales forces. Viro team is small, but some realignment is likely.
Developed Market Layoffs Are Still the New Normal in Pharma
Novartis (NYSE:NVS) - One of Veeva's largest customers by revenue and reps announced a major round of North America layoffs in February. The cuts are in the PC (nearly half the team based on information we gathered) and Neuroscience Teams. They are effective as of April 14, 2014.
Merck North America (NYSE:MRK) - a Veeva CRM customer, announced in December they will be laying off 150 people in their Saphris team. This is consistent with their October announcement that they globally will be laying-off 8,500 employees on top of an already planned 7,500 over the coming two years.
AstraZeneca (NYSE:AZN) - Also a Veeva customer announced 550 additional planned job cuts in February '14, which brings the planned total current restructuring to 5,600.
Pharma CRM Mapping- Effective Penetration is a lot Higher Than We Initially Thought (we are happy to privately share all our top 50 pharma seat/CRM system/geography data upon request)
Our initial thesis basically focused on the drastic overstatement of the LS CRM Market TAM, and also on Veeva's significant penetration of that TAM. While our views on the former remain the same, we are revising our views on the latter.
Over the past several months we have mapped out the entire top 50 pharma companies by rep count, CRM deployment, and when possible geographical split. We have also pulled every press release on any Veeva ex-top 50 customer as well as all the listed customers on their website, and mapped those out where possible. In doing this we learned a lot about the current landscape. The most notable takeaway is that the top ten companies are where the seats are at (roughly 55-60% by our math). This is important because if you can't sell into one of these customers your effective market opportunity quickly starts to shrink. They could have built their own custom solution on your Platform as a Service (PAAS) provider, just recently renewed with a competitor in a specific geography and are off the table for the next three years, or have a unique global relationship with a competitor and have passed on you throughout the land grab phase. To put this in perspective, consider that if you add up all the seats at a sample of 50 Veeva ex-top 50 customers we mapped, they equal roughly half the seats Veeva has at Eli Lilly (NYSE:LLY) (goes to show how bad that Wells Fargo 'bottom-up' analysis actually was). Now consider that our recent research indicates #4, #5, and #6 of the top 50 are effectively unavailable to Veeva, and that several other top 50 names also fall into this category.
Below is a summary of how we see it, and the effective market opportunity Veeva has in the Top 50: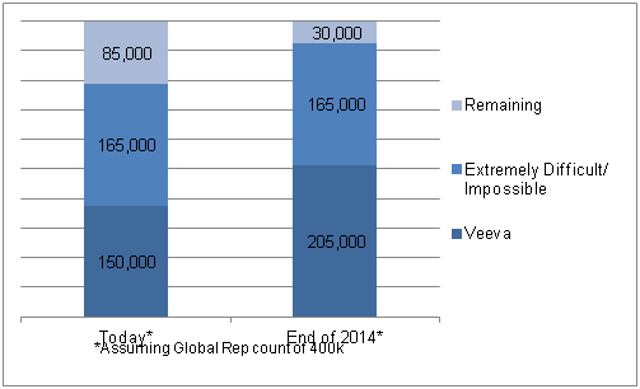 Here is how we are thinking about it:
1) The Oracle (NYSE:ORCL)/Siebel trade is over - Veeva has done an exceptional job displacing Siebel, and are now clearly a victim of its own success. With AstraZeneca abandoning its Harmony project and re-platforming on Veeva (this is an interesting situation we will get into later), the only big fish remaining in the top 50 that still largely "Oracle Shops" are GSK (NYSE:GSK) and Novo Nordisk (NYSE:NVO). In 2012, Novo had Antenna Software build them a custom app on top of Siebel, and thus is an unlikely candidate to switch CRM systems right now. We wouldn't rule them out completely, but having passed on the Veeva switch opportunity already; we feel comfortable putting them aside for now. GSK, however, is the big fish we learned a lot about in this process. The consensus view of the industry experts we spoke with on GSK is that it is for the most part a highly customized Oracle shop, and with the treatment it gets will 'never be switching to Veeva as a Global standard'. Furthermore, one quite knowledgeable LS consultant we spoke to stated that if GSK ever got to the point of contemplating such a switch; it would without a doubt seek to build its own custom solution on SFDC as it has done for its consumer health division. These two companies employ about 40,000 pharma reps, or roughly 10% of the total global seat count. Thus, Veeva's days of raping and pillaging the Oracle Siebel customer base are pretty much over.
To illustrate this point, we highlight the case of Merck International (MSD). In 2012, Veeva did a POC with Merck's UK 100+ person Immunology team. Veeva has published a White Paper on this POC that paints a rather rosy picture, and based on that we assumed that MSD Europe was already exclusively on Veeva or in the process of completing such a transition. This was a reasonable assumption when you consider that Merck USA was already standardized on Veeva's Irep. However, as we were working through our mapping process, we started to come across information that indicated MSD Human Health was deploying Oracle CRM On Demand w/iSales across the EUCAN (EU and Andean Countries) region. What we found is that the Irep POC ended in early Summer of 2012, and subsequently a custom Oracle CRM On Demand ("MSD Connect") roll-out started. We have confirmed this through field research, but with some basic digging you can easily find the evidence on LinkedIn. (There are about half a dozen public profiles that allow you to clearly confirm MSD has chosen to split up the geographies versus standardizing only on Veeva.)
Isn't Oracle supposed to be dead in LS CRM? If that is the case, how did they manage to win this 40+ country deployment after Merck USA, MSD Animal Health, and some major European countries had deployed or were/are in the process of deploying Veeva?
Is it a product issue….
According to a post-implementation enterprise system deployment Master's Thesis, which was published in November of 2013, engagement is a problem. One of the case studies in this thesis was the MSD Animal Health Veeva CRM implementation.
We recommend reading the full thesis if you have the time, but for our purposes the following paragraph is the most relevant.
"At the moment, the system is live in 20 countries with 1,800 users, representing 80% of the total amount of users. However, at the moment MSD Animal Health has taken 'a marking time', and temporarily stopped the deployment of the system in the other 30 countries. The reason is that the user adoption stagnates (or even decreases) in the 20 countries that are currently using the system. The objective is to secure the acceptation and usage of the system before the global system deployment will be continued."
So, user adoption stagnates or declines. You think that had anything to do with the fact that MSD Human Health was willing to deploy Oracle CRM On Demand despite MSD Animal Health and Merck USA being on Veeva? Who knows, and to be fair engagement issues are not something we really think are a cause for concern. We can't say the same thing with respect to the fact of the supposedly 'dead and buried' Oracle managing to win some geographies at a top 5 pharma and existing Veeva customer. We say this because of what it implies for ASPs in the space more than anything else. Everyone might now be familiar with the fact that Veeva is a thin layer on top of SFDC, but some people might have forgotten that SFDC's platform infrastructure is Oracle. Basically, if Oracle wants to pull the price lever on Isales there is not much anyone can do to stop them. (this is even more concerning news when placed within the context of Veeva's SFDC contract renewal… more on that later) To be clear our initial analysis assumed Veeva would swallow every single Oracle Siebel LS customer. To see Oracle coming back in and splitting some geographies with Veeva at a global top 5 name is a datapoint that is impossible to ignore.
2) Cegedim's (OTC:CGMJF) CRM business, contrary to what Veeva's underwriters are saying, is not collapsing. Despite industry headwinds and Veeva's best efforts, Cegedim is still holding its own. One of the reasons for this is that it has an anchor client in Sanofi (NYSE:SNY) (we estimate Sanofi accounts for 25%-30% of Cegedim's total CRM users) and it is going nowhere anytime soon. We dug around on this despite the fact that it would have been easy to simply assume the whole French/French element vs. French/American as the entire reason. What we found was that Sanofi, much like GSK with Oracle, is getting unbelievable custom service/treatment from Cegedim. There is literally a team of 50-60 engineers at its beck and call if the company ever need anything. Not surprising considering how important this customer is to them, and to be clear this was a general point we made in our initial thesis even if we didn't fully grasp the specific details at the time. To be clear, Cegedim's resilience is not just about Sanofi. We have come across several customers throughout Asia (including several Veeva USA customers) and Europe that have upgraded or renewed with them. Add these seats to Sanofi and you are talking another 10%-15% of the global seat count, which is clearly unavailable to Veeva.
The Canaccord Genuity Analyst with the highest price target on the street recently admitted this healthy competition in its Q4 review on March 5th:
" We recently met with Cegedim to learn more about that firm's ambitions, outlook and prospects. With the caveat that this was our first meeting, the company seems to run a credible, competitive business. The French firm has a broader product offering, which in the future, probably 2-4 years, could prove to be a selling advantage."
Seems like great due diligence on Canaccord's part to not have done any prior background work on Cegedim when it is Veeva's strongest and main competitor.
3) Salesforce.com customers are all unavailable to Veeva. We are now very familiar with the fact that roughly 20,000 seats at Roche/Genentech (OTCQX:RHHBY) will never be available for Veeva to sell into, but the SFDC problem in the top 50 doesn't end there. We identified other SFDC ex-Veeva customers in the top 50 that we initially had not thought of factoring into a downsized TAM. The bottom line is that these seats might as well not exist as far as Veeva is concerned. Outside of these, we even came across some SFDC related threats in the Consumer Healthcare side of CRM in the top 50. Notably, GSK CH, and their iKoach custom built on SFDC. If you have not seen this application, we recommend watching this video. (start at 38:45 and listen to the questions …note it took Bluewolf 12 weeks to build this) Suffice to say, the Salesforce 'custom CRM cloud' over Veeva won't be going away, and is likely to get worse. We say this despite the fact that Veeva and SFDC extended their contract (we have a whole section on that later). This move, which in our view looks like sheer panic for positive press on Veeva's part ahead of its lockup expiry, costs SFDC nothing. The threat it poses comes in the form of a PAAS, and more specifically, customers choosing to use that PAAS like ROCHE to build their own vertical. If you ask us, Veeva's claim that Vertical is the New Horizontal is going to be quickly replaced by PAAS Killed the Traditional Vertical.
As you can see, once you start mapping things out, Veeva's effective addressable CRM market quickly starts to shrink. This is why in retrospect the AstraZeneca win was huge. Three months ago we wouldn't have given much thought to a customer win because frankly our thesis allowed us to give them all to Veeva, but now looking back they needed this one badly. If AstraZeneca had stuck with its Oracle Harmony super project, 25% of the seats of the top 50, spread out across just 4 pharma companies, would effectively be unavailable for the foreseeable future. What this implies with respect to TAM analysis, and Veeva's revenue guidance sensitivity to increasingly limited LS CRM customer win opportunities is staggering.
Some Thoughts on AZ
Veeva, which is not media shy and usually quite PR happy (this proved to be invaluable in our mapping exercise), has not put out a press release declaring this a global customer win (though it mentioned the size of the win and the point that this customer had one small existing Veeva deployment on the Q3 call). Now, we know the customer is AZ because frankly it can't be anyone else, once you've mapped out the entire top 50 by number of pharma reps (let alone CRM deployment) this is rather straight-forward. But even if that was not enough, the necessary information regarding the implementation can also be found on LinkedIn. Also, AZ is the only Veeva customer with one tiny deployment (Medical Affairs POC team 3 years ago, and a 100 user sales team deployment in Germany) that has that many total reps, but there's something else. AstraZeneca has a rather notable new CIO. If you follow SAAS stocks, he should be familiar as he used to be CIO at Flextronics (NASDAQ:FLEX). It's at Flextronics where he made a name for himself being an early cloud adopter by deploying the likes of Workday (NYSE:WDAY), SFDC, and ServiceNow (NYSE:NOW) across the entire enterprise. Thus, seeing him move AZ towards SFDC/VEEV is not a shocker. However, we were a bit surprised that he would not choose to leverage the current developer ecosystem to build a custom CRM on SFDC; is there a dual roadmap here? Did Veeva fight really hard for this with respect to price? Is this a SFDC customer using Veeva technology? One would think based on the CIO's pre-existing extensive SFDC relationship that he would seek to deal directly with the mothership here. The absence of a press release on this deal for a company that readily puts out press releases for even 10 seat wins has left us scratching our heads.
TAM: Simple CRM Math
Anyone who has ever shorted a TAM penetration problem story knows just how badly things can go wrong if you miss something or run into a management team that is exceptional at spinning. ServiceNow has been a perfect example of that and so have some of the HRMS-related SAAS names. The beauty of Veeva is that it's the antithesis of these stocks when it comes to that issue. In fact, we'd argue Veeva is where it is today because of all the short-sellers who got burned on the likes of WDAY and NOW. Without them it cannot exist at these levels because seasoned short-sellers would have spotted this mess a mile away. Like a dubious new property launch, Veeva got the type of hype premium that leaves the person in the luxury apartment across the street wondering what the hell is going on. But a Workday, Splunk (NASDAQ:SPLK), or ServiceNow this is not. Furthermore, anyone comparing it to SFDC literally has no understanding of enterprise software or SAAS for that matter. We even squirm when it is compared to very expensive, but much more fundamentally appealing models of healthcare/life sciences SAAS pure plays like athenahealth (NASDAQ:ATHN) and Medidata (NASDAQ:MDSO).
Here is why…
This is not a penetration story.
Pharma reps are not running around with Filofaxes. They have been using clunky PDAs and custom built CRM software since the late 90s. So, you don't need to worry about a 'we are replacing paper argument' i.e. Textura (NYSE:TXTR).
This is not an organic growth story.
Patent expirations, the rise of generics, Obamacare, and private exchanges have permanently changed the landscape in pharma. Share/Voice in the developed world is going the way of the dinosaur. Organically the space has been shrinking and will continue to shrink.
Inorganic forces are a net negative.
Because of the organic growth problems consolidation has accelerated, and this is leading to a further reduction in reps.
Technology commoditization is also a major headwind.
So not only is the pie shrinking, but it is also thinning out. What was once a lucrative market for selling specialty hardware and software to life sciences companies is now a commoditized space. A rep's main technological utility device is now just as likely to be found in the hands of a five year old. Thanks to platform providers, there is no shortage of trained developers and system integrators that can build a CRM with a snazzy UX and the requisite functionality. Integration and added functionality is not a premium proposition, but instead is universally expected. Combine this with points 1-3 above, and ASPs will be going down, not up. Coincidentally this brings the ceiling on LS CRM from our initial report down. Initially, we wouldn't have ruled out the possibility of the LS CRM space being as big as $800 million. Now we think using $600 million (400k seats X $1,500 as a max ASP) is being extremely generous.
This is not an opaque market.
Almost all the relevant customers/competitors are public, and the necessary information on them is readily available if you put in the time and effort. Thanks to Google and LinkedIn you can get as granular as you'd like looking at a space. If you are an experienced short-seller with a fair share of battle scars, you couldn't ask for a better situation.
Now, with this in mind, let's do some simple math.
We had Veeva at about 145k-150k reps exiting Q3. We are putting them at 165k exiting Q4. Our very thorough research indicates the global top 50 rep count is about 385-390k, but we will use 400k for now. That would be 41% seat penetration going into 2014. Now let's subtract the three unavailable top ten pharmas, the ex-Roche top 50 SFDC customers, and Novo Nordisk. This all adds up to about 115k reps; so available seat count is now down to 285k, Which is then approximately 57% penetrated. Where are those 120k seats Veeva will be going after? Well, Cegedim ex Sanofi is about 100k, and AZ is about 20k seats (though based on Q4 disclosures and a screenshot of the LinkedIn data we found:

they implemented appx 6k of those already in China). It doesn't get much clearer than that. This goes to show that anyone modeling Veeva is better off spending their time figuring out what is the status of Cegedim's non-Sanofi deployments, and paying very close attention to its guidance. Basically, to further penetrate the market and grow organically Veeva needs a mass exodus of existing Cegedim customers. All our research indicates that this is not happening (in fact the opposite may be true), but let's assume that was not the case.
The recent upgrades, wins, and renewals we came across at Cegedim would take roughly half of the remaining 100k seats off the table until 2016. That would bring you down to 235k seats effectively available to Veeva. Now add the AstraZeneca seats that Veeva will eventually have deployed (14k non China seats out of roughly 20k total), and you are at 179k out of the 235k. That's 76% penetrated, and the remaining seats are largely spread out in emerging markets (Asia, Latam, Eastern Europe) and Japan where Cegedim is solid. Knowing all of this, you can now start modeling out Veeva's growth to see what CRM penetration will look like by the end of the year.
Veeva Guidance: the 2014 Seat Add Picture
Veeva has guided to a mid point of 29.7% revenue growth in 2014. This implies flat to slightly down professional services revenue and roughly $62 million in incremental subscription services revenue. Doing the math on that you are looking at roughly $52 million in incremental CRM revenue if you give them a generous $10 million in incremental Vault/Network revenue. Based on last year's math that works out to about 60k seat adds. Note we chose not to adjust for secular/geographic mix ASP headwinds as we have generously assumed Approved Email would help offset that a bit. So, 60k CRM seat adds in 2014 would equate to a 225k exit count going into 2015. That's 80% penetration of the rock solid effective 285k seats, and 96% on our adjusted ex-50k Cegedim number. (By the way when we adjust for let's say roughly 15-20k non top 50 seats you are looking at 72% and 87% penetration)
Suffice to say these numbers don't paint a pretty picture, and do nothing but bolster our CRM TAM argument. Basically, sizing this market does not require a PhD in mathematics.
Also, you think it's a coincidence that Veeva chose to not disclose the top 50 CRM customer count this quarter? We don't! It's because it has not budged, and we know that for certain because when pressed on this number at a conference the next day they disclosed it. (Refer to the recordings of the Morgan Stanley Investor Conference March 5th 2014) The bottom line is that the road ahead in CRM is not a growth story at all let alone one commensurate with the multiple Veeva is trading at now. This is before you get into the risk of Veeva losing customers it won a few years ago to one of its competitors (non-SFDC PAAS custom); nobody is even considering that very real possibility at this juncture. Yet, in Veeva's case all it takes is one unhappy top 50 customer to make such a move to create the perception of disaster in the market place. That's the kind of 'zero margin for error' operating environment you want to steer clear from as an investor.
Vault TAM Overstatement Exposed
Veeva management is on record saying that Vault is "at least as big as CRM." That's an interesting statement. See, in our initial report we took quite a conservative approach with respect to the LS ECM market sizing, because we didn't want to make the mistake of jumping to any conclusions. We knew based on extensive research that it was at least half the size of what several of the launch reports were putting it at. Well since then we have learned a lot more about the LS Reg Doc space that Vault is going after, and now can reliably put this market at no more than $500 million. This sizing is something we are now confident in, and are really questioning how much smaller than that it actually is; but that's not what makes this interesting. In the past few months, we have discovered that Veeva management at a private investor road show in April of 2013 sized the market opportunity for Vault at $400-500 million. Is it a coincidence that Veeva's market sizing for their road show is spot on with what we came up with after four months of research? Either the market for LS ECM increased by more than 4x from April to August (August was first draft of the S-1 to include a TAM of appx $2bln) or someone is not telling the truth here. Call us crazy, but we are leaning towards the latter. At the MS Conference, Veeva's CEO stated that Documentum's share in LS REG DOC is 90% while Vault's is less than 1%. We presume the purpose of this comment was to show how much growth head room lies ahead for Vault to displace EMC (EMC). Sadly, it seems Veeva's CEO did not give much thought to the fact that Documentum (IIG) is a part of a public company. If he had, he'd have known the entire Documentum division did a total of $647 million in revenue in 2013. Let's be clear, IIG revenue does not equal LS revenue at Documentum, and Documentum platform share doesn't necessarily equal LS Reg Doc revenue. That being said this was the first time Veeva management publicly threw out some numbers that would indicate they are quite aware of the actual size of Vault's TAM. Interestingly enough immediately after making the comment on Documentum having 90% share, Veeva's CEO joked to the audience 'no other hard questions come on'. Well, we have a hard question for him.
How can any coherent person believe what Veeva has to say at this point about TAMs in Life Sciences?
Suffice to say this TAM thing is turning into an epic disaster. It's hard not to sympathize with them at this point because we are pretty sure this colossal screw up falls on the shoulders of their underwriters. Veeva management probably made the mistake of assuming that investment bank research analysts all do thorough research and are knowledgeable about the businesses and industry they write about. Since their numbers came in at what is now looking like 5x reality ($1.2 billion is looking more like the TAM for all three products); they conveniently chose to believe in the unbelievable. Why else would Peter Gassner still be saying Life Sciences is $1.6 trillion and growing at 6%, when we have clearly shown that the Marketline source he is citing doesn't even say that. And for good measure here is what Life Sciences data king IMS has to say on the matter:

Hiding from the ASP Elephant in the room
Much like the Vault TAM and penetration problem, Veeva has said absolutely nothing about ASPs in CRM. This is pretty amazing when you consider that over the past four months it has had two quarterly conference calls and two investor presentations. We gave the company an opportunity to address this when we published our pre-earnings questions, but it continues to hide from that question, which is not surprising. As of today, the CRM annual ASP is closer to $1,000 versus the supposed $5,000 implied by the TAM math error, which by the way has quickly morphed into a future add-on pipe dream. It's hard not to presume that this silence continues because management really has no credible way of tackling this problem. There is no way they can acknowledge what everyone already knows was clearly a combination of poor sizing analysis by their bankers and their foolish belief that 'the IPO story' and usual highly subjective nature of industry sizing would assure no scrutiny. So what to do? How do you explain that an easily verifiable ASP, which is likely heading much lower, is in fact going to quintuple? Is Veeva building an electric car? Are they about to enter the Tesla Model S leasing business? Honestly, we'd love to hear any explanation (no matter how farfetched) at this point that addresses this nonsense.
Is the Salesforce agreement renewal a positive?
While Veeva's CEO has publicly stated he is not preoccupied with short-term fluctuations in the share price, everything around the SFDC agreement would seem to indicate that the exact opposite is true. The decision to announce this renewal a full year and a half before the contract was slated to expire and in conjunction with earnings is a clear sign of a knee-jerk reaction to issues we raised around the Genentech/Roche custom build. We presume the company thought such a move would help put a bid under the stock in the weeks leading up to the lock-up expiration. All we can say is that whoever advised them on this should have read the contract they signed. Rushed decisions are never good and this is no exception.
To secure a renewal, Veeva has agreed to $500MM in minimum payment commitments to SFDC over the term of the contract.
Minimum Payments: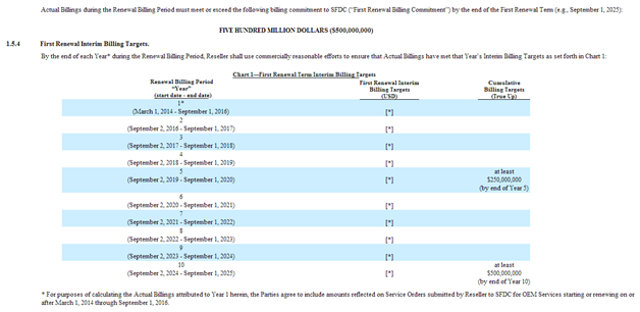 This commitment also comes with a "true-up" provision:
| | |
| --- | --- |
| 1.5.5 | Years 5 and 10 Shortfall Payments. There will be two "true ups" during the Renewal Billing Period - one within [*] following the end of Year 5 and another within [*] following the end of Year 10. |
(a) Year 5 True Up. If, by the end of Year 5 the cumulative Actual Billings attributed to Years 1-5 in Chart 1 above ("Years 1-5 Actual Billings") do not equal or surpass Reseller's cumulative Interim Billing Target attributed to those Years ("Years 1-5 Interim Billing Target"), then within [*] of the end of Year 5, Reseller shall pay to SFDC a "true up" amount equal to the difference between the Years 1-5 Interim Billing Target and the Years 1-5 Actual Billings (the "Year 5 Shortfall Payment").
(b) Year 10 True Up. If, by the end of Year 10 the cumulative Actual Billings attributed to Years 1-10 in Chart 1 above ("Years 1-10 Actual Billings"), plus the Year 5 Shortfall Payment (if any), do not equal or surpass the First Renewal Billing Commitment, then within [*] of the end of Year 10, Reseller shall pay to SFDC a "true up" amount equal to the difference between the First Renewal Billing Commitment and the sum of the Year 5 Shortfall Payment (if any), plus the Years 1-10 Actual Billings (the "Year 10 Shortfall Payment"). The Year 10 Shortfall Payment will only come due if cumulative payments during Years 1-10 (including any prior Year's coverage as well as any Year 5 Shortfall Payment) add up to less than $500,000,000. With respect to any Shortfall Payment payable by Reseller hereunder, if the Parties are in a dispute referred to in Section [*] hereof that affects the amount of such Shortfall Payment, any portion of such Shortfall Payment affected by such dispute (and only such affected portion) shall not be due until such dispute is resolved, and then only as provided in the applicable Section.
Thus, no matter what happens, SFDC gets its $500 million. Make no mistake this is not a clause you accept in a multi-year contract that supports your infrastructure if you are in a position of bargaining power; or have the ability of simply walking away from the table. While our legal minds were quick to pick up on this, there have been no shortage of people who have chimed in with their opinions.
Here is how one tech industry veteran described the true-up:
"I've never in 20+ years been at the licensor or licensee end of such a contract or even seen one."
See, the problem here is that in a technology based business prices tend to go DOWN. For example, going back to our earlier point on Oracle, if Larry Ellison decides he wants to go after this space he can drive the subscription price down all the way to the force.com platform fee. While this is a worst-case scenario for Veeva (and also SFDC), if what we have heard about Oracle pricing is accurate it's a scenario investors should be worried about today, if only because of the leverage it provides pharma customers to negotiate on price going forward. Thus, Veeva claiming the royalty rate has not changed is very misleading. For example, if you were to model them out at about 200,000 seats and a $1,000 ASP, the effective royalty rate is 25%. But what about if subscription ASP blend heads towards $600 per user? Well, at that point you are paying SFDC 42% per annum! So, to simply maintain the current margin profile on CRM/CLM core, they will need to offset ASP mix pressure with further seat penetration. (By now you probably have a good idea of how much more difficult that will be from here)
What does Veeva get from SFDC for all of this?
Absolutely nothing. The main competitive threat from the SFDC PAAS remains.
"Target Market Resellers" as used herein do not include SFDC's systems integrator (SI) or other consulting business partners whose principal business is consulting and professional services ("Consulting Partners"). SFDC's Consulting Partners are not in any way constrained by this Section 6.2.3 from developing and making available certain customer specific, non-generally available technology products built on Force.com Platform Products and/or the SFDC Services that offer features and functionality competitive with Veeva CRM and marketed to customers in the Target Market."
This is the problem with Veeva's business model going forward. All SFDC cares about is keeping the customer on the Force.com platform. If they get their fee through an ISV charging 4x that amount or directly from a customer who has built his own front-end solution, makes no difference to them. However, they obviously are aware of the fact that a custom built solution is likely to assure customer stickiness especially if it comes with significant cost savings. Thus, all things being equal they will remain quiet and let Veeva go about their business. But if Oracle or another competitor launches a price driven attack that Veeva cannot match or initially resists, they are not going to sit by and lose platform customers. This concern explains the very explicit language with respect to system integrators and consulting business partners.
In summation, this contract leaves Veeva in the same vulnerable position with respect to custom SFDC builds, and at the same time adds further financial obligations, which will only reduce their operating flexibility. All they received in exchange for this was a press release they could use a few weeks before their lock-up expiration, which frankly is probably all they really wanted in the first place. Nobody in their right mind would rush to sign such a deal with 18 months to go on the existing agreement. The timing and terms of this contract renewal should raise a huge red flag for any long investor in Veeva shares.
Relatively Speaking It Doesn't Get Much Worse Than Veeva
(Valuation analysis based on March 10th closing prices)
At the current share price Veeva has a fully diluted EV of $4.6bln. That puts it at 22x calendar 2013 revenue.
Salesforce.com is trading at 9x 2013 revenue, they grew at 33% last year. From this revenue base of $4bln they are expected to grow 30% in 2014. That works out to a forward multiple of 7.3x.
Medidata after a recent 25% run up has an EV of about $3.05bln, and did $277 million in Vertical SAAS LS revenue in 2013. That works out to an 11x trailing multiple. They grew at 27% in 2013. They are expected to grow at 25% in 2014, that is a forward multiple of 8.7x.
athenahealth, which has been on a tear for the past year, has an EV of $7bln, and generated $595 million in healthcare vertically focused SAAS revenue in 2013. That works out to a 11x trailing multiple. They grew 41% in 2013. They are expected to grow at 27% in 2014, that is a forward multiple of 9.2x.
At the midpoint of their guidance for 2014, Veeva is trading at 17x forward EV/Revenue. Consider how crazy that is. That would be a slightly lower growth rate than SFDC, its PAAS provider, is expected to clock at 20x their revenue base. Yet SFDC are trading at a 7x forward EV/Revenue multiple. That would put Veeva at roughly double Athena's multiple, which is at 3x the revenue base, and still a robust penetration story. It would put them at double Medidata, which will have generated 35% more LS cloud revenue and 60% more LS subscription revenue in 2013. Even more alarming is if we break it down into quarters over calendar year 2014/FY2015 the growth rates decline sequentially as the year progresses. As seen below IF they hit their guidance the Y-O-Y growth rates will drop to 20% by year end and under 4% growth Q-O-Q at best.

Then there is the sub/prof services revenue mix issue you need to adjust for here. Professional services revenue accounted for 30% of Veeva's total revenue in 2013 versus 17% at Medidata and 6% at Salesforce.com. This means that on the much more relevant subscription revenue Veeva is trading at 22x forward versus 10.4x for Medidata and 7.7x for Salesforce.com. (we left Athena out of this because despite the recurring nature of their revenue cycle and practice management services it's not an apples to apples sub revenue comp)

As we pointed out earlier both these latter companies' stories are far more compelling than Veeva's, and that is simply from a top-down basis. We point this out because many investors and some analysts are literally looking at the trailing growth rate data and saying 'well, based on that, xyz is doable in 2014 and 2015'. If that is not what they were doing, all of them (who they are is no secret, thanks to the slew of small float induced filings) should literally be indiscriminately selling Veeva and piling into the above three names. This is before getting into the fundamental issues like the value added re-seller problem as well as the disintermediation risk, add-on mumbo jumbo, nightmarish sector headwinds, and unbelievably obvious and easy to verify grossly overstated TAMs. Thus, as you can see guidance of 29% is an absolute disaster at this valuation, and will most certainly translate into at least 50% downside from its post earnings level of $37.
Veeva's Sell-Side Coverage Debacle
We are nothing short of amazed at how bad this coverage has been, and how quick certain analysts have been to dismiss our work.
For example, this is what Canaccord Genuity put out after the most recent earnings announcement:
"It is hard not to chuckle when we hear plaintive cries for "catalysts." Sometimes, all you need is for nerves to soothe, and that means seeing a company report results that are not askew for one reason or another. These kind of results calm longs and push bears back into their caves. We've seen this cycle play out a few dozen times over the years - and we believe this will happen for Veeva. Specifically, if we see a couple more solid quarterly results, it will allow investors to stop fixating on 90 day report cards or fretting over the latest unregulated neuron firing to be posted on Seeking Alpha."
Do you think this analyst is still chuckling? Last quarter, his note started with 'bears can huff and puff' all they want before he upgraded his price target into a 30% decline. Seems he has learned nothing, and is more interested in discrediting the platform where we post our research than tackling the merits of it.
This is what he had to say about the TAM issues:
"But what about the great Addressable Market debate? For VEEV shares to keep rising, the firm will not only have to retain its sales momentum in the core SFA market for pharma reps, but new modules will have to be successful. We don't model down to specific product lines because we don't get that information."
What does 'we don't get that information' mean? Someone doesn't hand it to you? You are incapable of researching it? If anyone should 'get this information', you'd think it would be an analyst at one of the firms that underwrote the IPO and has the privilege of asking questions on quarterly earnings calls, investor conferences and directly to the company. Wasn't this analyst putting out notes on Veeva to clients 9 months before Veeva went public?
Anyway, we figured we'd help this analyst and the other five sell-side underwriters out by providing them with some research tips.
SUHAIL CAPITAL RESEARCH TIPS FOR LS CRM
Tip #1: 46/50 of the Pharmaexec 2013 top 50 that Veeva disclosed to the SEC as their reference list for top 50 customers are public companies. This means they have 10-Ks, investor presentations, CSR reports, and career websites that you can turn to for information regarding their sales force headcount. If you know how to use the internet, these sources will allow you to get highly precise (current as of year end 2013) rep counts for 55-60% of the top 50.
Tip # 2: These companies also all have something called an Investor Relations Department. If you contact the ones that don't publicly disclose sales force numbers and ask for the breakdown some will provide it, others will provide incomplete info, and the rest will provide nothing. This should get you to 70-75%.
Tip #3: LinkedIn, Customer White Papers, Deployment Press releases, and independent third party data providers will allow you to get the counts on the remaining names or at least very reliable estimates on them.
By the way, the above three tips/steps will allow you to quickly map seats at about another 65+ non top 50 Veeva CRM customers.
And these are just the steps for mapping seat counts. If you want to map CRM Deployment by pharma company try this search in Google : "Insert Pharma Company" "Veeva" "CRM" site:linkedin.com
We can tell you that this simple search query (with some occasional modifications) will get you all 33 of the top 50 Veeva customers. You will also find wonderful details about deployment geographies, implementation time tables, exact users deployed in those geographies, BI integrations, customer master integrations, and pretty much everything you could have hoped for (consultants and project managers for implementations share just about everything on their profiles).
When you are done with all this there is always Veeva customer summit agendas or countless customer success stories to go through. If you want to get fancy you can try field research, industry analysts, cafepharma.com and consultants for more info and to double and triple check your work.
Hopefully, these tips help them 'get the information'!
CONCLUSION
Normally this is the part where we rehash our key points and put it all together. But to be frank, if you actually made it this far you should understand why we are not going to do that here. The way we see it any institution long this stock based on sell-side underwriter's research or the final version of the S-1 (and subsequent quarterly disclosures) should feel utterly humiliated by now. Plain and simple, you've been taken for a ride. All that is left to determine at this point, is what you are going to do about it?
DISCLAIMER
Suhail Capital Limited is an exempted company registered in the Cayman Islands ("Suhail Capital") is an investment advisor to funds that actively participate in the buying and selling of securities and other financial instruments.
You should assume that as of the publication date of this report, Suhail Capital (possibly along with or through our partners, affiliates, employees, and/or consultants) along with our clients and/or investors and/or their clients and/or investors has a short position in Veeva Systems Inc. "Veeva" (and/or options, swaps, and other derivatives related to the stock), and therefore stands to realize significant gains in the event that the price of Veeva should decline. You should also assume that as of the publication date of this report, Suhail Capital (possibly along with or through our partners, affiliates, employees, and/or consultants) along with our clients and/or investors and/or their clients and/or investors has a long position in Salesforce.com, Cegedim and any other publicly listed company in this report (and/or options, swaps, and other derivatives related to these stocks), and therefore stands to realize significant gains in the event that the price of Salesforce.com, Cegedim or any other company listed should increase.
Suhail Capital strongly recommends that you do your own due diligence before buying or selling any of the securities mentioned in this report.
We intend to continue transacting in the securities of issuers covered in this report for an indefinite period after its publication, and we may be long, short, or neutral at any time hereafter regardless of our initial recommendation.
This report expresses our opinion, which we have based upon generally available information, field research, inferences and deductions through our due diligence and analytical process. To the best of our ability and belief, all information contained herein is accurate and reliable, and has been obtained from public sources we believe to be accurate and reliable, and who are not insiders or connected persons of the stock covered herein or who may otherwise owe any fiduciary duty or duty of confidentiality to the issuer. However, such information is presented "as-is," without warranty of any kind, whether express or implied. Suhail Capital makes no representation, express or implied, as to the accuracy, timeliness, or completeness of any such information or with regard to the results to be obtained from its use. All expressions of opinion are subject to change without notice, and Suhail Capital does not undertake to update or supplement this report or any of the information, analysis and opinion contained in it.
Please refer to the below link for our Term of Use applicable to this report and any other publication issued by Suhail Capital:
http://www.suhailcapital.com/#!terms-of-use/cgpu
Disclosure: I am short VEEV. I wrote this article myself, and it expresses my own opinions. I am not receiving compensation for it (other than from Seeking Alpha). I have no business relationship with any company whose stock is mentioned in this article.
Additional disclosure: Long CRM and CGMJF