iRobot:
iRobot (NASDAQ:IRBT) is a pioneer in the robot industry, innovating new products with relative uses from home cleaning to exploring Mars. IRBT has benefited nicely over the past year in this bull market as the stock jumped about 78%. The company has delivered great results in 2013 as a leader in the robotics industry and has set impressive goals for the future. Lets explore what will push this stock higher and make the company stronger.
Change In Business Model:
The great run iRobot experienced in 2013 was preceded by restructuring of the core business in 2012. 2012 was a pivotal year for IRBT as they relied less on military defense and security and more on home robots. In 2012 home robotics revenue increased by 28.1% to $356.5M and military defense and security decreased by 57.5% to $79.5M. The main driver for this was mainly attributed to a decrease in military spending due to budget cuts. At the surface this appears to be bad news since before 2012 military defense and security accounted for about 40% total revenues. However, military contracts always have lower margins and, as evidence proves, are not reliable as political agendas vary.
Just because IRBT's business from defense and security is down, doesn't mean they are trailing compared to its competitors. Reduced military spending has affected the entire industry; however, IRBT is fortunate enough to own the patents and technology most sought out in military defense. Therefore, IRBT is the leader in this market and will benefit most if and when any new military contracts come to fruition. The fact that military revenue now is less than 10% of total revenue is good news for investors since the high margin, consumer robotics, business now accounts for most sales.
Home cleaning products is now the core of iRobot's business and they have come out with the most innovative products over the past year. During 2013 sales were up 20% as it increased its investment in developing the most innovative technology. Domestic home robot growth was 30% in 2013 while international growth was 14%. Even though IRBT does not have the same patent protection laws in Europe, it will still be the leading brand of home robotics since they offer top of the line products compared to competitors. IRBT is just starting to become a household name and contrary to some shorts, the market is not saturated and is growing at healthy rates.
Another business iRobot is entering is healthcare. Currently only making up 1% of expected 2014 sales, remote presence will be at the front of the healthcare revolution. As advances in technology are made every day, faster, affordable, reliant and efficient health care is right around the corner. iRobot in conjunction with Cisco will provide patients the opportunity to have a doctor's visit in the confines of their own home using remote presence technology. iRobot's RP-VITA is ranked fourth of the top 5 medical inventions in 2013. The RP-VITA is the first and only autonomous navigation system able to patrol hospitals and make routine rounds checking up on patients. the RP-VITA is the only remote presence of its type with FDA clearance for hospital use. The opportunities are endless as the healthcare industry continues to reinvent itself. Imagine how relevant this technology will be and the opportunity for iRobot as they are leading force and have the patents.
Healthcare and home cleaning robotics is not the only future IRBT has in store. As they continue to invest heavily in new technology there could be more relevance to their products than ever imagined. Technology is changing faster than ever and is becoming exponentially more sophisticated. Being long IRBT is believing in the future of technology.
Housing Market:
Being long IRBT is also being long the housing industry. The way I see it, construction companies and other retail housing projects have grown little compared to the overall market; and like many experts, I believe 2014-2016 will be the years housing makes a true come back. As more homes are constructed and younger, tech savvy, individuals occupy new homes, products like home cleaning robots and self sustaining technology will be more popular than ever.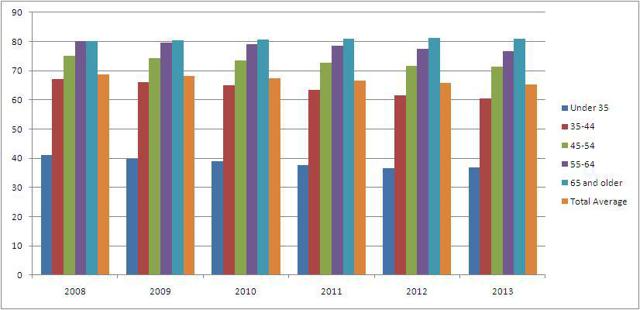 (Data source: U.S. Census Bureau News 1/31/2014)
The chart above indicates that homeownership in total and by age group has declined every year since 2008 except for 2013 for individuals under 35 and over 65. In 2013 homeowners under 35 increased for the first time in over 5 years. New home sales are already up 9.6% in 2014 to 468K new homes. Home sales in 2013 reached the highest levels since 2008 and the trend is moving higher through 2014. The products iRobot offer are typical house warming gifts and other necessities for new home owners. As the younger demographic buys and constructs new homes, demand for iRobot products will continue to rise.
Financials:
iRobot's financial position continues to grow stronger and expectations in the future are brighter than ever for this company. In 2013 IRBT reported gross sales of $487.4 million representing a 11.7% growth led by home robotics. Margins also increased in that time due to higher sales for a more profitable business. EBITDA as a percent of revenues was higher in 2013 by 1.5% and this trend will continue as they sell more profitable items since consumer products are more than 50% more profitable than government contracts. IRBT expects sales to grow to over $565 million in 2014 while defense and security decline another 34% to $50 million. This means IRBT expects home robotic sales to increase by 37% to $510 million based on recent statements by management. At this level, future expectations for defense and security should remain constant while home robotics continue to grow at the same levels or higher as 2013 and 2014. This means more profits and much larger growth. Below is a model derived from IRBT's latest reports:
Note: Amounts in Millions
Note: Home Robotics sales growth estimated at 25% (low compared to current growth rates)
Note: Defense and Security Sales growth estimated at (10%)
Note: Estimate slow remote presence growth in 2015 but large growth thereafter (I believe this is a low estimate)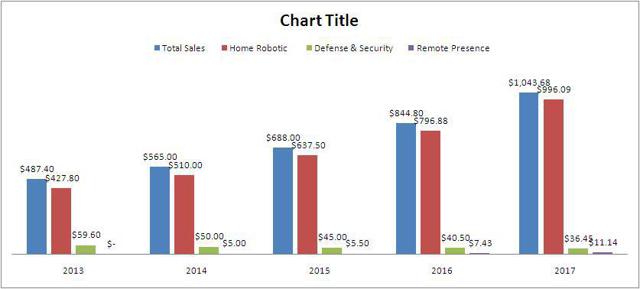 (Source: AlphaTraderX)
Over the past few years home cleaning robotics sales increased at an average of 33%. Since demand will increase due the above assumptions, I expect growth to continue this trend; however, I used a lower rate of 25% to be conservative. Remote presence sales are dependent on the rollout in mainstream hospitals. 2014 will be the first year the RP-VITA is available for sale and future agreements depend on its success, which the expectations are high.
Using the above chart the following is an estimate of profits, EPS and share price over the next couple of years:
Note: Profits estimated based on current margins increasing at 2% every year
Note: Profit amounts in Millions
| | | | | | |
| --- | --- | --- | --- | --- | --- |
| iRobot | 2013 | 2014 | 2015 | 2016 | 2017 |
| Profit | $27.60 | $35.90 | $49.05 | $67.57 | $93.66 |
| EPS | $0.94 | $1.19 | $1.66 | $2.29 | $3.17 |
| Stock Price | $28.07 | $36.51 | $49.88 | $68.72 | $95.25 |
Currently the stock is trading at 45 times 2013 earnings and 35 times future earnings based on the above expectations. This high PE ratio is not uncommon for growth stocks but does raise some concerns for value investors. This is why I derived the future stock target price based on 30 times earnings, still high for some investors but reasonable, I believe, for a growth company like iRobot.
Notice the target price based on the data above puts the 2014 target price at about 15% lower than it is currently trading. However, if the stock were to continue to trade at 45 times earnings, the target price for 2014 would be about $55.00 using the same estimates. This puts the range between $36.51-$55.00 for 2014 which I will accumulate on the low end and hold or sell on the high while anticipating an overall long term bullish trend through 2017.
Technicals: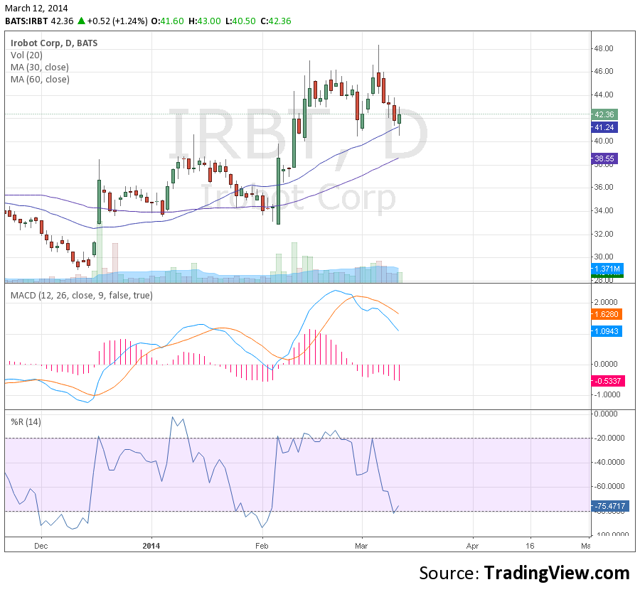 Technical analysis shows that IRBT is currently oversold and after testing the 30 day average today and reversing below prior lows and into the green, it could be set up for a short term break out above current levels. However, a long term investor should be cautious about its current valuation and be patient as the 60 day MA catches up to the stock and long term support is initiated.
Overall IRBT is expected to continue to grow both in sales and profitability. Its products will continue to have more relevant use as technological advances are made. The stock may be overvalued on current prices but over all I am bullish and see it as a great long term investment in the future and in technology. This company will only grow stronger as technology improves.
Disclosure: I have no positions in any stocks mentioned, but may initiate a long position in IRBT over the next 72 hours. I wrote this article myself, and it expresses my own opinions. I am not receiving compensation for it (other than from Seeking Alpha). I have no business relationship with any company whose stock is mentioned in this article.