Introduction
In this article I'll have a closer look again at Krispy Kreme Doughnuts (KKD) which I covered a few months ago in another article on Seeking Alpha. I will provide my view on the company's financial results and the status of its balance sheet. Thereafter I will discuss the outlook of the company which will result in my conclusion at the end of this article.
All images in this article were directly sourced from the company's press release.
My view on the financial results
During fiscal year 2014 (which ended in February), Krispy Kreme announced a total revenue of just over $460M which is a 5.6% increase compared to the revenue in 2013. As Krispy's operating expenses increased at a much slower rate, the company was able to increase the operating income by an astonishing 23.6% to $46.6M. As the provision for taxes also came in lower, Krispy Kreme's net profit increased by 64.8%. This is even more astonishing if you keep in mind the fiscal year 2014 was actually one week shorter than FY 2013, which makes these results even more impressive.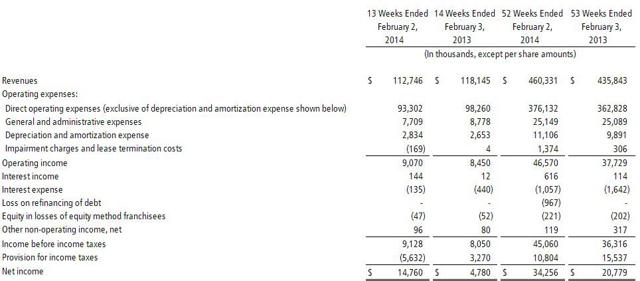 As most of my readers know, I also like to have a look at the cash flow statements of a company as I strongly believe these statements usually give a much better indication on the quality of the underlying business. In my previous article I stated I was aiming for a free cash flow of $34M for 2014, and when I calculate the free cash flow by deducting the capital expenditures from the operating cash flow (before changes in working capital), KKD had a free cash flow of $34.4M which was in line with my expectations.

My view on the balance sheet
As of at the end of financial year 2014, Krispy Kreme Doughnuts had a working capital position of $81.1M with a current ratio of 2.75 which once again emphasizes the quality of the balance sheet. As the current ratio is higher than 1 I don't expect Krispy Kreme to run into any near-term financial difficulties. It gets even better; the company's current assets are higher than its total liabilities, and that's one of the reasons why I like Krispy Kreme as an investment even though the company isn't trading cheap.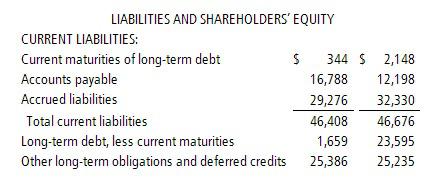 The book value was $4.02/share which means the company is currently trading at approximately five times its book value. This isn't exactly cheap, but let's not forget this still is a growth company (see next subtitle).
Outlook
As Krispy Kreme expects the store count to increase by 10% in fiscal year 2015, I'm very upbeat on the company's future. Not only will the revenue increase, but I'm also expecting an increase in the total free cash flow to approximately $45M per year.
On top of that, the board of directors has approved an expansion of the share buyback plan to a total of $80M. Approximately $50M can still be used under this repurchase program which would reduce the share count by approximately 2.5M or 3.8% of the outstanding shares. This will further enhance the free cash flow per share to $0.70 for a current free cash flow yield of 3.5%.
Conclusion
A free cash flow yield of 3.5% is quite low but let's not forget this is a growth company. However, at this moment I have no intention to increase my share position but I will focus on writing out of the money put options to collect the option premiums.
Depending on the share price at the opening bell, I'm particularly looking at writing a P16 May 2014 and a P13 January 2014 for an option premium of respectively $0.35 and $0.75. This would result in an annualized yield of 11.7% and 7%.
Disclosure: I am long KKD. I wrote this article myself, and it expresses my own opinions. I am not receiving compensation for it (other than from Seeking Alpha). I have no business relationship with any company whose stock is mentioned in this article.