I'm really excited about Electronic Arts (NASDAQ:EA) latest game, Titanfall. There isn't anything wildly new here from purely a game design concept, and I'm also not here to claim it's a billion dollar game franchise like Candy Crush.
On the bright side, Titanfall is generating some head rotating numbers, notching 378,000 pre-orders, according to latest figures. However, there has been a small pinch on launch day, as Xbox Live (NASDAQ:MSFT) was down yesterday (users are having a hard time logging into Xbox Live). How does this happen on the day Xbox One gets its first console exclusive? Defer to Murphy 's Law: if anything bad can happen it probably will.
Titanfall proves a very powerful point
Console generation transitions are fairly difficult for game developers because game development costs have to go up in order to optimize graphics engines for a new set of hardware. Building better software, through more powerful graphics, physics, and textures takes time and money.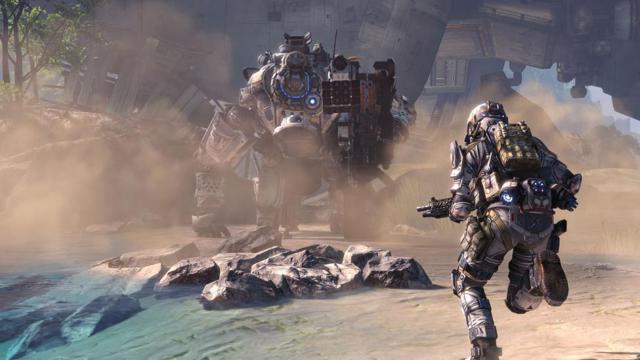 Source: Titanfall
This time around, Electronic Arts had to answer to shareholders by proving that it didn't need to rely on well-established sports franchises like Madden and FIFA. Electronic Arts also had to prove that it can move into practical opportunities outside of generic first person shooters like Battlefield.
With Titanfall, Electronic Arts can establish a new franchise with multiple on-going sequels in the current console generation, and that's what's really important here. You see, in an environment of limited competition, now was the time for Electronic Arts to establish a new game franchise so it could avoid competing with other more established franchises like Grand Theft Auto, Final Fantasy, Elder Scrolls, Infamous and Gears of War. By establishing a first-mover advantage, it brings unfamiliar gamers into a new universe and gets them to invest time into a franchise when they're most receptive to it. Eventually, as the console generation progresses, gamers who are already familiar to that specific gaming universe are more willing to jump back into the sequel. I mean, that's how I got hooked to Final Fantasy. It was because of Final Fantasy X (the first Final Fantasy for PS2). Not so surprisingly, I turned into a Final Fantasy fan boy buying every sequel following that. Thank the heavens Finally Fantasy 14 will be on Xbox One.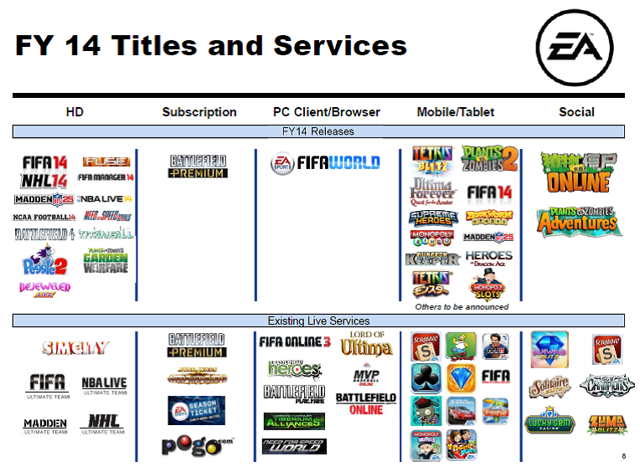 Source: Electronic Arts
Looking over Electronic Arts' portfolio of games you'll notice a very simple theme here. They're aimed strictly at casual gamers, mid-core gamers and soft-core gamers. There's a huge emphasis on established board games like Monopoly, for mobile. They're not taking any risks here as they're jumping on the product licensing bandwagon. Let's look over at social games, such as Solitaire, that's another licensing deal and it's cheap to make, but you have to pay someone to get the rights to re-distribute. Let's look over at sports games (more licensing deals). In other words, Electronics Arts rarely ever does anything truly original.
Electronic Arts bets on hardcore gamers?
So with Titanfall I see Electronic Arts making its first real attempt at targeting the upper echelon of gamers. The type that want amazing graphics, great controls, user interface, story-telling, physics, online multi-player, and unique gameplay. When I mean unique gameplay, I'm trying to say that it has to be something a little more off the beaten path, like robots smashing into each other, in a sci-fi universe. Star-trek like, without having the word star in it, we wouldn't want this to feel like Star Wars, or memories of Spock and Captain Kirk. So, in one word, there's something a little more original here, something that didn't involve another round of licensing deals.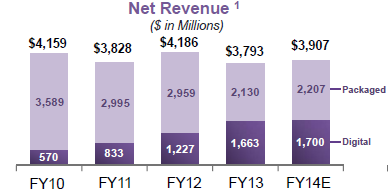 Source: Electronic Arts
As you can tell, the company's revenue has been flat for the past four years and its forecasted year. Revenues in 2013 were down sequentially from 2012 due to the transition of game consoles, which limited the average gamer's budget for games. Electronic Arts mentioned that it's slightly more optimistic by mentioning 2014 sales will be up by $114 million. That's 3% year-over-year sales growth for the 2014 fiscal year (awful).
So I guess the question here is - how much does it take to break-even on an upper-tier gaming franchise? I'm going to estimate costs by looking at Take-Two Interactive's (NASDAQ:TTWO) 2013 fiscal annual report. I'm using TTWO because the company strictly focuses on the higher-end gaming crowd, and it has a high number of tent pole franchises and sequel based franchises making it a reasonable sample. Plus, the quality of the gaming experiences that TTWO develops are about on par with other well established gaming studios like Ubisoft and Activision Blizzard (NASDAQ:ATVI).
In 2013, Take-Two Interactive released 9 games, and it had 4 games in development. The company reported that its cost of revenues (which is how it accounts for game development costs) was $715 million. So when I combine the number of games released in 2013, paired with games in development, it totals to 13 games. The resulting figure is around $55 million was spent on developing each game. Granted, TTWO disclosed that there were other games in development that weren't disclosed, but for the sake of simplifying my research, I'm going to go ahead and assume the $55 million figure per game is somewhat accurate. It gives us a number to work with. I'm also going to factor in marketing costs, which will come in at around an additional $19.25 million. So I expect total costs to be in the area of $74.25 million. The marketing/advertising cost is the retailer mark-up on new games. In fact, GameStop reports a 21.9% gross profit percentage for new video game software. So, this means that 22% of the revenues generated per game goes to the retail distributors.
For Electronic Arts to break-even we need to assume that each unit sold at $60 will leave $46.80 after paying distributors to cover the cost of development. Dividing $46.80 into $55 million, break-even is at around 1.175 million units. This means that pre-orders are a long ways off from reaching that coveted 1.175 million volume. And with their only being 4 million Xbox One's, Titanfall will have to depend heavily on a mix of sales from older generation Xbox 360 users and PC gamers in the current quarter. However, since this is the first exclusive franchise, for Xbox One, I'm thinking the game will perform similar to other top selling franchises and ramp-up sales towards the end of the calendar year.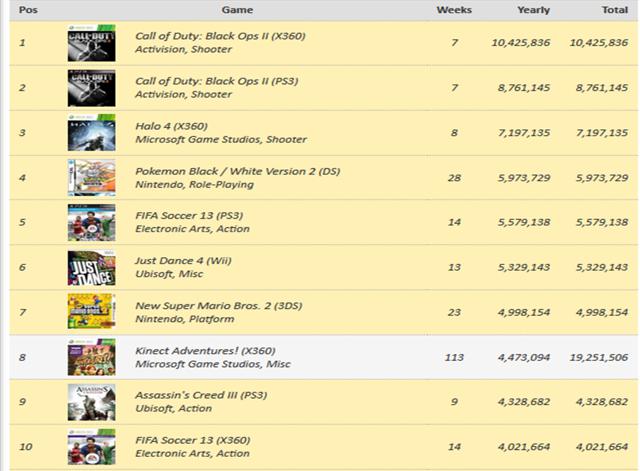 Source: VGChartz
I'm thinking that if Titanfall can reach the number 10 spot, it will reach 4 million in unit volume. Granted we're in the middle of a console refresh so comps to 2012 may not be as appropriate. But given the console roll out, and 3-4 million in quarterly sales, the install base of Xbox One should grow to around 16 million to 20 million by the end of the year. That means that 4 million in volume is reasonable for Titanfall's first year. If that's the case, Titanfall may reach $240 million in sales assuming a $60 ASP. Factoring in 22% in retail distribution costs, $187.2 million is left to cover the approximate $55 million in development costs. This eventually leaves us with $132 million to cover other overhead costs (which are low), and taxes (35% rate, mighty Uncle Sam).
Conclusion
I think Titanfall could be Electronic Arts' first legitimate attempt at tapping into the higher-tier gaming market. The timing couldn't have been any better as it's the first exclusive title for a console that's needed one for the past five months. The reviews for the game were very solid (9 out of 10). Electronic Arts did just enough to create a high-selling game without over doing it on the budget (thank goodness).
Therefore, if all goes to plan, maybe Electronic Arts will have a better year in fiscal year 2015 (the 2014 fiscal year closes out in the next quarter, so I'm moving my optimism to fiscal year 2015, which would factor in holiday sales in calendar year 2014). When I mean better, I'm hoping for revenue growth to return to high single digits, perhaps 8% to 9%. Hopefully fiscal year 2015 is not a repeat of 2014, as 3% growth is just awful - almost every company on the S&P 500 waves a better report card than that.
Disclosure: I have no positions in any stocks mentioned, and no plans to initiate any positions within the next 72 hours. I wrote this article myself, and it expresses my own opinions. I am not receiving compensation for it (other than from Seeking Alpha). I have no business relationship with any company whose stock is mentioned in this article.