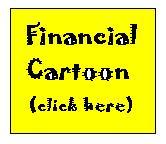 Outlook: While there are plenty of reasons for lamenting economically, financially and politically, the shear gravitas of Friday's unemployment numbers seemed out of proportion to its usefulness as a predictive metric as it is a lagging economic indicator.
Mistaken Identity: A more important employment predictor is the average number of Initial Application for Unemployment Insurance ("IAEI") which is a component of the Composite Index of Leading Indicators. The IAEI surged to unprecedented levels early last year and has declined a third from that peak. Unfortunately, the IAEI has currently stalled at the peak level in 2001, prior to the economic trough in 2002, confirming the suspicions of a jobless recovery—or worse, a double dip recession.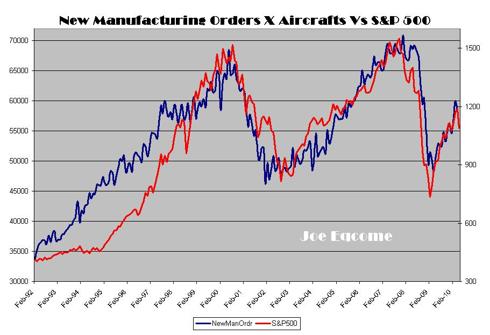 Manufacturing Bright Spot: The one bright note is the steady recovery of the manufacturing sector.
The adjacent chart compares Manufacturers' New Orders: Nondefense Capital Goods Excluding Aircraft (seasonally adjusted and a component of leading economic indicators) with the monthly close of the S&P 500.
There appears to be a clear rebound in new manufacturing orders which typically is followed capital investment and employment higher earnings and stock prices.
Code Orange: While there are several economic indicators pointing to a nascent economic recovery, it is the grinding unemployment, the growing list of financially hobbled European nations, and the frightful sight of oil gushing from the BP well in the Gulf of Mexico that seems to be fulfilling one of the conditions of a stock market collapse: a belief by investors that events are feeding on themselves and cascading out of control with little confidence of effective Governments' intervention.
Coup de Grace: A military conflict on the Korean peninsula or a conflict in the Mid-East has the potential to push us into a "Gray Swan" scenario. The more likely scenario is sustained stock market volatility and heightened investor anxiety.
CEF Weekly Review: The 13 closed-end fund (CEF) types on average posted a 0.8% decrease for the week ending 6/4/10. The high-low spread was -1.8% vs. +2.6% the previous week. On an aggregate, unweighted basis the weekly average price change for the 500 plus CEFs was off 0.5%.

The PowerShares CEF Income Composite (NYSEARCA:PCEF), an ETF that invests in taxable income CEFs, declined 1.0% for the week. The S&P 500 declined 2.3% for the week and is off 4.5% YTD.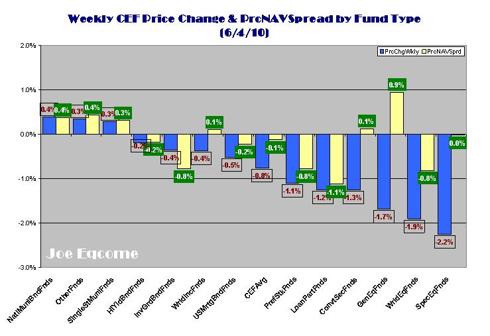 (Click here [1] for YTD CEF Performance. The table is based on a smaller CEF sample size as all the data fields are not available for the CEF universe.)
The Eqcome CEF Fear Index was surprisingly flat for the week despite the equity markets' volatility. The average price decline was 0.5% versus a 0.5% decline in the NAV. The CBOE Volatility Index (VIX), which typically moves inversely with the stock market—but is mostly a measurement of volatility based on stock options' premiums—advanced 10.6% to 35.48.
The S&P 500 average daily trading volume also eased 2.8% during a holiday shortened week to 5.368 billion shares with volume spiking to 6.2 billion on Friday's 3.4% plunge in the S&P 500
CEF Weekly Fund Type Performance: CEF fund type performance typically teeter- totters back and forth like colored liquids in a fish tank representing equity and fixed-income fund types. When the equity markets are rising, equity-oriented CEFs predictability outperforms. Fixed-income generally outperforms in declining equity markets.
With the equity markets under pressure this week it is no surprise that fixed income funds outperformed on a relative basis (see chart above).
The PrcNAVSprds[*] typically move in the direction of stock prices. However, this week there was a major exception in the GenEqFnds. While the average stock price declined 1.7%, the NAVs declined an even greater 2.6% generating a positive spread 0.9%. This indicates that prices failed to fully reflect the decline in the underlying asset values (NAV). Some of this difference was attributable to Engex (EGX) a small, infrequently traded CEF held by a handful of insiders.
CEF Winners and Losers: With the exception of illiquid CEFs, the CEF with the greatest positive spread was Gabelli Utility Trust (NYSE:GUT). GUT share price was up 4.8% while its NAV was down 3.2% generating a negative spread of 8.0%. Utility stocks are considered safe ports in a storm. However, GUT is trading at a 70.5% premium and is likely see a downward price adjustment next week as it is clearly an over-valued stock.
The CEF having one of the greatest negative PrcNAVSprd for the week was DWS RREEF Real Estate II (SRO). SRO's price sank 7.6% while its NAV dropped 1.5% generating a negative PrcNAVSprd of 6.1%. SRO's Board has authorized its liquidation. The stock trades at a slight discount of 2.3% and appears to have suspended its dividend.
Economic & Earnings Outlook: (Click here [2] for next week's economic calendar; click here [3] for earnings announcements and estimates.)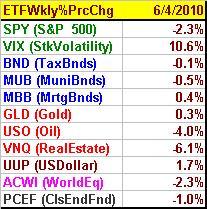 ETFs: For a more detailed EFT performance by sectors, click here [4].
Insider Trading: Doliver Capital Advisors (Doliver) continues to bail out of its holdings in Cornerstone Progressive Return Fund (NYSEMKT:CFP). In its filing of 5/10/10 it has sold 570,000 shares since the beginning of the year reducing its ownership from 37.2% to 31.1%. Since June of last year it has reduced its holdings from 91.4% to currently 31.1%. During that period the stock value has lost 34% of its value versus the S&P 500 advancing approximately 20%. Yet, this stock still trades at a 21% premium. Go figure?
(An even more obscene CEF investment is Cornerstone Total Return Fund (NYSEMKT:CRF) a smaller sister CEF that is trading at a 48% premium.)
Horejsi Group (Horejsi) continued its May buying of both Boulder Total Return Fund (BTF) and Boulder Growth & Income Fund (NYSE:BIF) into June. Horejsi acquired an additional 15,945 shares at an average price of $13.09 and 6,509 shares at $5.52 per share, respectively.
(Click here for a hyperlink to the Joe Eqcome's CEF Weekly Insider Report.)
CEF Distribution Announcements This Week: The following is a link to a table of CEF distribution announcements this week as well as the previous week's with yet expired ex-dividend dates. The list is not intended to be inclusive. (Click here for Joe Eqcome's Weekly CEF Distribution Announcements.)
Significant CEF Corporate Events: MBIA Capital/Claymore Managed Duration Investment Grade Municipal Fund (MZF) announced today that it will be changing its name to Managed Duration Investment Grade Municipal Fund, effective June 3, 2010. The Fund's ticker symbol will not change as a result of the Fund's name change.
Western Asset Variable Rate Strategic Fund Inc. (GFY) announced Tuesday that, in accordance with its tender offer for up to 1,664,686 of its issued and outstanding shares of common stock (a total of 4,690,964 being properly tendered), which expired on May 24, 2010, the Fund has accepted that number of shares today for payment at $15.87 per share. These shares represent approximately 20% of the Fund's outstanding shares.
Aberdeen Chile Fund, Inc. (NYSEMKT:CH) announced this week the preliminary results of its cash tender offer for up to 2,542,026 shares of its common stock, representing approximately 25% of its outstanding shares. The offer expired at 11:59 pm EDT, on Friday, May 28, 2010. Based on current information, approximately 6,135,574 shares of common stock or 60.34 % percent of the Fund's outstanding stock were tendered through the expiration date.
CEF Focus Stock for the Week: The focus stock of the week is Swiss Helvetia Fund (NYSE:SWZ). SWZ has been the subject of a shareholders' proposal for the adoption of an "interval fund structure", whereby the Fund conducts periodic tender offers at least semiannually for at least 10% of currently outstanding common shares at a price of at least 98% of net asset value (NAV).
It appears that the Board of SWZ has allegedly adopted "war footing" on this proposal and has hired a team of advisors (lawyers) to circumvent the proposal at great cost to shareholders.
I can provide no further justice for this topic beyond a series of informative and entertaining articles by a SeekingAlpha contributor on the topic, Swiss Helvetia CEF Confronts Shareholder Democracy (Part 1) [5], by Gwailo. They're an instructive read and I recommend them for serious CEF investors.


---
[*] All things being equal, price and NAV should move in tandem. A price movement greater than the NAV generates a positive PrcNAVSprd and may be interpreted as negative on a near-term basis and indicate that the stock is overvalued relative to its NAV which in theory is the stock's intrinsic value. The opposite would be true for a negative PrcNAVSprd
---
[1] here
[2] here
[3] here
[4] here
[5] here

Disclosure: Author owns a diversified portfolio of CEFs including SWZ