Boardwalk Pipeline Partners (NYSE:BWP) currently presents a pretty interesting opportunity for investors. Prior to the 80%+ dividend cut, BWP was not attractive in any way for the conservative investor. With high debt, a high payout ratio, and rising cap ex, BWP was priced too high for any potential reward. Now after falling 50%, BWP is a company that sits at just a $3 billion market cap with 2014 distributable cash flow (DCF) expected to come in around $400 million. This values the company at a mere 8x 2014 DCF. The downside is that the distribution only yields about 3.2%, which is dismal for a MLP. However to me, this presents a good long term buying opportunity in the company based on its current valuation and future growth. The large collapse in price has already happened and today's prices include enough margin of safety to warrant a purchase.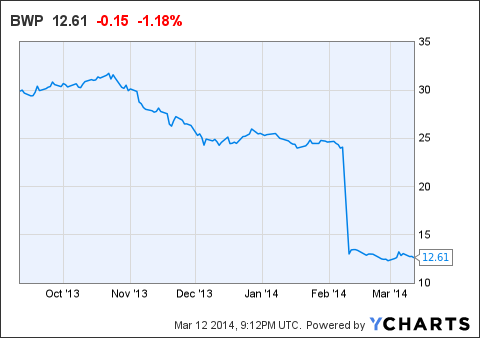 After the distribution cut, fear spread through the market with investors wondering if this problem would spill over to their MLP. This is ridiculous considering that BWP's problems were company specific. First, the company had grown their dividend too fast. Plain and simple, they didn't leave enough wiggle room to fund operations and growth over the years. Instead they raised it almost every quarter in the face of industry headwinds and company problems. The second item can be found if you read some of the old annual reports and balance sheets. Most of the reports mention how natural gas is the preferred energy source of the future and that long term, gas is a growing industry. This shows that management was unprepared for an extended period of low natural gas prices. From this lack of preparation and management's expectations of natural gas prices to rise in the near future, they grew their debt load to fund growth. The third problem, the more recent one, was running into trouble with their basis differentials and contracts. After that the dominoes began to fall and this led to the dividend cut.
So far anyone reading this would assume that the company has some pretty lame management. It would be hard to argue that they have been managed well thus far. However, the first smart move the company did in a long time was cut the payout. After a series of dumb decisions, they had to make an intelligent one and cut distribution by a large amount. They essentially "hit the reset button" just as General Electric (NYSE:GE) did back in 2009. GE is now working on repairing its reputation and making sure that a dividend cut never happens again. Management can learn from mistakes and its better they cut the dividend, than risk building a debt so high it destroys the company. A company can come back from a cut just like GE is currently. GE's cut was 5 years ago and I would say they are making pretty good progress repairing their image and trying to increase shareholder returns. Furthermore, anyone that bought GE post cut has made some great gains. I can see BWP's post dividend cut panning out similar to the way GE's did.
Many investors thought BWP's reduction was too drastic of a cut, but I would disagree. They need large amounts of cash to fund growth and pay off their debt simultaneously. It is clear that the debt load was getting ridiculous. From just 2007 to 2009 the debt nearly doubled. Right now it stands at about $3.4 billion. Management did not have confidence that, with their current balance sheet, they would be able to obtain further loans if anything unforeseen occurred. With EBITDA coming in at $688.7 million for 2013, the debt to EBITDA ratio is well over management's target of 4. Debt would have to come down significantly to hit this ratio so it appears this will not be done in the short term. Do NOT expect any dividend increases within the next two to three years. Judging from the last conference call, it appears the debt load will not improve much, if at all in 2014. $100 million of DCF will go to distributions for the year and about $300 million will go to growth CapEx. This leaves almost no room for deleveraging in 2014. These numbers tell a story of a very slow deleveraging process that will also be accompanied with growth projects. It seems like this will take a few years at the least.
So Why Invest?
Right now investors can get units of BWP at about half the price it would have cost them a month or two ago. Not all much has changed for the company besides the dividend. That debt load has been there for years growing and nagging at the company. Natural gas prices have been low for a few years now too. In essence, a distribution cut made everyone finally start reading the balance sheet of the company they owned and now they noticed things were not too rosy. Given that investors owned BWP for the dividend, the cut led to massive selling. For the value seekers, this selling opened an opportunity to get a major American natural gas and NGL pipeline company for a cheap price. The price to book for this company now sits at a low 0.77.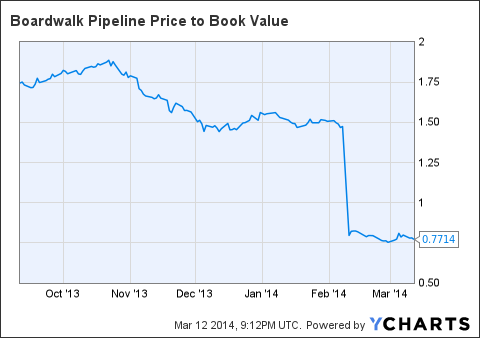 There are concerns with the company, notably a large reduction in DCF for 2014. This occurred from some problems with contract renewals and the fact the company is not going to make any money on gas storage in 2014. Competition is growing in the pipeline space, but management is doing whatever it can to gain contracts and customers. They have been and are willing to reverse gas flows where needed, shut down pipes that are no longer in use, and expand where they see growth. The demand for natural gas still has sufficient future growth overall and over the long term, the company will be able to work these issues out.
Those that bought around $25 to $30 per share are now in a predicament as their units are yielding less than 2%. Those that did not buy that high may now obtain units that will yield over 3%. Admittedly that is low, but with a payout ratio of 25% of 2014 DCF, there is plenty of room for growth once deleveraging kicks in. If the DCF never grows but the company increases the payout to $300 million dollars, the yield at $12.50 would be just under 10%. As you can see this stock has some potential at the current price even with no growth. This no growth scenario proves there is a decent margin of safety in the company as well. With a little growth, this stock could easily be yielding 12-20% in 5-10 years.
Boardwalk definitely does have growth initiatives in place. This year $250 million will be used to fund the Southeast Market Expansion project which should come online at the end of the year adding 500 million cubic feet of capacity per day to the Gulf South division. The project is already fully contracted. They are also working on flow reversals, which as mentioned, have been an issue. They have gas going in different directions than they'd like. The Ohio to Louisiana access project is one such endeavor that will add 600 million cubic feet per day of natural gas once it is complete. I would also not be surprised to hear about more flow reversal projects in the near future. The company needs to reconfigure some areas of its pipeline to adapt to the changing landscape of the natural gas scene. While these projects will eat up cash now they should pay dividends in the future.
If the Bluegrass project comes to fruition, I expect a larger amount of growth from the company bringing the chance for an extremely high potential yield on cost. Bluegrass is the secret weapon that could easily put this company back on the map. This is a project of building NGL pipeline to connect Ohio, Pennsylvania and West Virginia with Boardwalk's Texas Gas Pipeline. It will involve connecting existing pipeline with new pipeline and converting some natural gas pipeline already in place to NGL. A map of the proposed pipeline can be seen here. This joint venture between BWP and Williams (NYSE:WMB) is still in the planning stages, however it seems likely the project will happen.
The Dreaded Debt
The debt level of the company is high, but it is definitely manageable. Now that the company has slashed its dividend and freed up cash flow, they're in a much better financial situation than before. Taking control of the debt will mean they will be able to access the debt market if they encounter future problems or need money for growth. If they continued with their current payout, it seemed unlikely that they would have been able take out additional debt in the face of any headwinds. Below we can see the maturity dates for BWP's long term debt. This was taken directly from the 2013 Annual Report.
| | |
| --- | --- |
| Maturities of Debt | $ (millions) |
| 2014 | - |
| 2015 | 525 |
| 2016 | 250 |
| 2017 | 975 |
| 2018 | 185 |
| Thereafter | 1,490 |
| Total Long Term Debt | 3,425 |
About $775 million is due within the next 3 years. Optimistically, they will be able to get rid of most of this without need to refinance. If this occurs and EBITDA stays around the level is it today, then the debt to EBITDA ratio will be within management's goal of 4 to 1. Currently, the ratio is about 5. (3.4 billion debt to $688 million 2013 EBITDA). This is why I am not expecting any dividend raises prior to 2016. I would understand if they kept their payout steady for the next 2-3 years, so long as they are using the cash to pay debt or fund solid growth projects.
Conclusion
An intelligent investor should always run a risk versus reward analysis before actually buying shares in a company. This helps obtain a full and accurate perspective of the company and can help avoid bad investment decisions. Investigate the debt load and potential worst case scenarios for the company. For a company like Boardwalk, they are very close to their worst case scenario now. After analysis it appears that they are equipped to weather this storm and restructure their business. I expect shares to be range bound in near future. However, since markets are forward looking, news of Bluegrass can easily send the price higher. At today's prices, BWP present a good value pick with limited downside and a much higher upside.
Good luck to all.
*All information gathered from BWP conference calls, annual reports and quarterly reports.
Disclosure: I have no positions in any stocks mentioned, and no plans to initiate any positions within the next 72 hours. I wrote this article myself, and it expresses my own opinions. I am not receiving compensation for it (other than from Seeking Alpha). I have no business relationship with any company whose stock is mentioned in this article.
Additional disclosure: I may go long BWP at any time.