General Motors' (NYSE:GM) stock has declined about 6.5% more than the S&P 500 over the past three days, losing nearly $3.5 billion of market capitalization as a result of a new round of negative fallout from the faulty-ignition-switch recall. The recall itself is not a particularly damning issue, but revelations that the company was aware of the issue for 10 years prior to taking action is highly problematic as evidenced by the consequent calls for congressional hearings and internal investigations.
Recall's are an inevitable cost of doing business when you sell a highly complex product that interacts with people and is very heavy and very fast. The direct cost is probably no more than $500 million or about 5% of this year's consensus EBITDA estimate. I reckon that as: $200 per replaced switch times 1.6 million units plus $1.5 million times 31 accidents plus $10 million times 13 fatalities. The actual cost will probably be lower because an ignition switch is about a $50 part plus $100 of labor to install. The legal liability could be much lower because Motors Liquidation (MTLQU) retained liability for incidents that occurred prior to the 2009 bankruptcy. I hope GM does something for the survivors as part of taking responsibility, but I doubt it will voluntarily waive the bankruptcy related protection.
The bigger issues, for investors, are the potential long-term market share impact and what this reveals about GM's corporate culture. Motors Liquidation's market value has declined about 9% (or $80 million) over the past three days, which implies the reputational damage is about $3.4 billion. With regard to market share, I think that the bungled recall will prove to be the result of overly-complex bureaucracy and that in the absence of intentional malfeasance it will blow over in time. And, to put the current recall in context, below is a list of the top 10 recalls from the past decade according to Automotive News. It is noteworthy that Ford (NYSE:F), which today enjoys an excellent reputation in the marketplace and among investors, is the most heavily represented.

On the culture point, anyone who thought GM had fixed the diffusion of responsibility and lack of accountability is now grossly disappointed, although I doubt many were that gullible. Culture change in an organization as large and risk-averse as General Motors takes a long time. The bankruptcy created a crisis that did enable some improvement, but that impetus has receded with the subsequent commercial success. Perhaps this recall is just the wake-up call GM needs to further streamline more of its mid-level bureaucratic tangle.
From a risk reward standpoint, I think GM remains a solid value with an expected return of 20%, a reasonable worst case downside of about 15-20% and upside of 40-50% if everything goes very well. Moreover, I think that once the weather and 2013 inventory finally clears in the next few weeks, that demand will spring back and incentive levels will moderate leading to a new round of enthusiasm for the stock.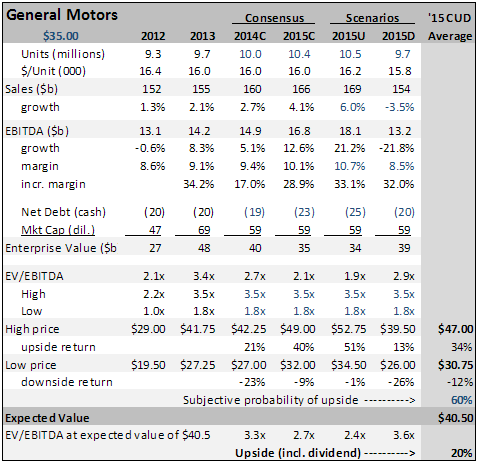 Disclosure: I am long GM. I wrote this article myself, and it expresses my own opinions. I am not receiving compensation for it (other than from Seeking Alpha). I have no business relationship with any company whose stock is mentioned in this article.