A stock that we've been watching closely is Cree Incorporated (NASDAQ:CREE) which is a U.S. based developer and manufacturer of light emitting diode [LED] products and other types of compound semiconductors. We've been following this stock since the price was in the mid-$40 range and the P/E was in excess of 50.
CREE recently touched a high of $83 and has pulled back to the $70 range. The P/E ratio has expanded to 60 with the expectation that earning will rise 154% in 2010 (from average estimates on 6/3/10 by $0.66 to $1.68) and followed by a rise of 37% that is expected in 2011 (from $1.68 to $2.30). On a forward earnings basis, stock looks reasonably price at 30 times next year earnings. The caveat here is that it is based on next year earnings.
Competitors
Thursday June 3rd's article from The Wall Street Journal titled "LED's Bright Prospects Could Dim", reaffirmed our thinking of what was the hottest companies in 2009 could become the coldest ones in the not too distant future. Currently, CREE has a healthy operating margin of 19.7% while the industry's margin sits at around 8.22%. The key is question is, will CREE be able to protect its competitor from creeping into its margins? Our answer to that is, it is only a matter of time before competitors start crowding into the market in pursuit of the healthy margins. Some of competitors are Lumileds [Philips], Sharp, Nichia, Toyoda Gosei, Taiwan Semiconductor (NYSE:TSM), and many smaller companies in China.
More Clues From Equipment Supplier
The talk of competition is where things get pretty interesting. Seeing the fat margins that are ripe for the picking, Kulicke & Soffa (NASDAQ:KLIC), a $500 million market cap company that sells assembly equipment seems to be getting in the game. KLIC is one of the largest companies in their market. What's important is KLIC serves as a leading indicator for the chip industry, LED included. KLIC's most recent earnings report provided great insight into the state of their backlog. Increasing backlog is an important indicator because it typically leads to excess inventory. Increased inventory leads to a possible contraction of profit margins.
Below is the breakdown of the current and historical backlog for KLIC:
2010 - $132,000
2009 - $15,000
2008 - $73,000
2007 - $59,000
2006 - $60,000
2005 - $62,000
If you take the average of the last six years, the backlog is $66,833. Taking the average of 2005 - 2008 (excluding the extremes), we get $63,500. In both cases, the recent surge to $132,000 is extraordinary. This is caused by KLIC trying to rebuild inventory after depleting it during the credit crisis. Adjusting for the extreme situation, our calculations show that the backlog in 2010 is up by 97.5% from the average of the last 6 years and 108% above the average excluding the extremes.
Additionally, Kulike & Soffa isn't your typical LED equipment supplier as noted by the CEO:
The other point I guess I'd make is that in the 2007-2008 peak we had no LED business. So the LED business is all incremental to that.
This tells us that LED makers are going the last mile to make LEDs. Kulicke & Soffa is also expanding their product offerings so we could be completely wrong in that respect. Regardless, the capacity build up is real. Here's another statement from the CEO from the conference call:
When I look at how we've got bonders allocated in the current quarter and into the future, we're seeing a big spike in LED bonders above those levels. So there is a lot of good things happening in terms of stories. And the other thing about the LED again is that that seems more like a secular story than a cyclical story; it should have longer legs to it.
The bullish tone is great for Kulicke & Soffa but doesn't bode so well for CREE.
Technical Picture
The chart below is a weekly chart containing the P/E ratio and rolling earnings of CREE going back to 1999. The tech bubble in 2000 carried the stock above $100 mark and P/E ratio well above 200. The stock has been stuck in a trading range of $15 and $30 for most of the decade.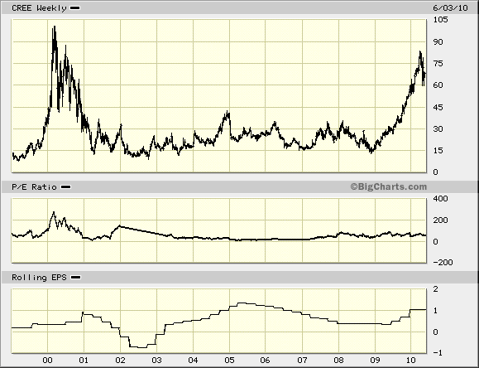 The important part is that earnings haven't improved materially over the intervening period. Current earnings of $1 is still below the 2005 mark but the price has moved well out of proportion to the historical norm. If the stock can get above $105 with good support from earnings, then the stock is off to the race on the upside. Although we can't imagine anymore upside without calling it a bubble based on the chart.
Bottom Line
We think CREE is overpriced and we point it out not as a short selling opportunity but as an observation. CREE has the tone of a growth stock with expanding multiples (P/E) coming to an end. Some of what we have explained above may be more complicated than it needs to be. If so, a simple way to look at it is that CREE trades at more than 60 times its current earnings, very expensive by any standard. They will probably face more competition in the coming years if not months. As a result, profit margins should diminish. This will eventually lead to lower earnings that will likely lead to (all things being equal) a drastic decline in the stock price.
Disclosure: No positions