This article was written by Roy Vimer
In 2013, the markets had an amazing bull run, with biotechnology as one of its leading sectors. For the 2014 market, investors will need to work harder to identify undervalued and undiscovered companies with strong potential. For small and individual investors, one way to succeed is to follow Buffet's portfolio for guidance. For investors in the healthcare/biotechnology sector, the Baker Brothers portfolio is "the smart money" and a good place to start. For this article, I chose an undervalued company, TG Therapeutics (NASDAQ:TGTX) , which the Baker Brothers picked for their portfolio. Should you pick it too? I let you be the judge, but first, a few words on the Baker Brothers.
Baker Bros. Advisors is a mall and micro-cap focused biotechnology investment firm run by Julian Baker and Felix Baker. Classified as a hedge fund, it has generated outstanding returns in 2013. This excellent record appears poised to continue in 2014. In their investments, the Bakers wisely pick and take early positions in companies that soon became huge success stories, e.g., Pharmacyclics (Nasdaq; PCYC), Acadia Pharmaceuticals (Nasdaq: ACAD) and most recently, Intercept Pharmaceuticals (Nasdaq: ICPT), that climbed over 400% in the first quarter of 2014. The Baker Bros portfolio produced immense returns to its holders, with each of the listed companies' shares soaring several hundred percent and more (The Baker Brothers are up well over 2500% in Acadia since their initial investment). The portfolio's success invites the question: can a small private investor be part of the Bakers' bonanza?
After carefully scanning the recent 13F Holdings activities for 31.12.31 of the Bakers' Portfolio, TG Therapeutics, a small biopharmaceutical company was identified as one with great potential. In this review, I lay out the fundamentals of why TG Therapeutics could reward not only Bakers' fund holders but also private small investors like myself. TG Therapeutics is one of my holdings in 2014.
TG Therapeutics holdings tripled in Bakers' portfolio
In Q3 2013, the Baker Brothers started a new position in TG Therapeutics with 0.6M shares equivalent to a $3M stake in the company. According to the recent Q4 2013 Filing Report, the Bakers' initial investment (0.6 M shares) in TG Therapeutics more than tripled by adding 1.6M shares for a total of 2.2M shares (up to 266%), equivalent to a $9M stake in the company. While this is not a large sum relative to the Bakers' portfolio size, more than tripling their position in TG Therapeutics (from 0.6 M shares to 2.2M shares) sends a strong bullish signal. Given the Bakers' outstanding track record in detecting promising biotechnology companies in early phases, TG Therapeutics may just be a winner.
TG Therapeutics is an innovative biopharmaceutical company focused on the acquisition, development and commercialization of pharmaceutical products for the treatment of cancer and other underserved therapeutic needs. Currently, the company pipeline includes two pharmaceutical products, both of which are still in relatively early stages. While this may cause investors to steer towards companies with products at a more advanced stage of investigation, a closer look at TG Therapeutics' pipeline reveals several potential blockbuster products, including those indicated for non-Hodgkin lymphoma (NHL), chronic lymphocytic leukemia (CLL), Mantle Cell Lymphoma (MCL) and possibly other hematologic malignancies or autoimmune diseases. With such indications, TG Therapeutics's current valuation offers significant potential, given multiple catalysts in 2014 that could drive up the value.
TG Therapeutics pipeline
TG Therapeutics is developing two novel pharmaceutical products for hematological malignancies, TG-1101 (ublituximab), a third generation anti-CD20 monoclonal antibody, and TGR‐1202, the Company's next generation PI3K delta inhibitor. In this article I will discuss the potential of these two novel drugs for treatments and their market value.
TG-1101 Ublituximab- An orphan drug designation
TG's first product candidate is TG-1101 (Ublituximab), a novel Glycoengineered monoclonal antibody that targets a unique epitope on the B-lymphocyte CD20 antigen. TG-1101 has been bioengineered to deliver enhanced clinical activity and potency Anti-CD20 for the treatment of B-cell proliferative disorders, including Non-Hodgkin's Lymphoma (NHL) and Chronic Lymphocytic Leukemia (CLL). The anti-CD20 targets and aids in the depletion of B-lymphocytes. Also, the anti-CD20 antibody has been shown to be effective in treating select autoimmune diseases such as Rheumatoid Arthritis, Systemic Lupus Erythematosus and Multiple Sclerosis. TG-1101 has Orphan Drug Designation in the U.S for the treatment of Nodal Marginal Zone Lymphoma and Extranodal Marginal Zone Lymphoma, both rare subtypes of non-Hodgkin's lymphoma for which there are limited effective treatments.
TG-1101 Superiority to Rituxan:
In the same class as Rituxan, Biodgen Idec's (NASDAQ:BIIB) blockbuster drug that generates over $4-billion in sales annually in the U.S. and $7 billion globally, TG-1101 targets the B-lymphocyte CD20 antigen. However, investors' excitement over TG-1101 derives from the phase I/II clinical data indicating efficacy safety and potential superiority to Rituxan®.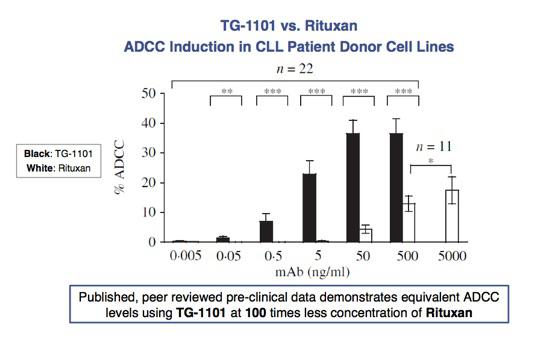 Moreover, the TG-1101 glycoengineered anti-CD20 monoclonal antibody mechanism supports its potential to be used in the growing Rituxan® refractory population, given the unique CD20 epitope to which TG-1101 binds. The company plans to present additional data from the ongoing TG-1101 Open Label Phase I/II Study in Patients with Relapsed or Refractory B-cell Non-Hodgkin Lymphoma at one or more conferences in 2014. The estimated study completion date is April, 2014. Anticipated trial data updates are likely to occur in Q2 2014.
TG-1101 Combination trials
1. TG-1101 and Lenalidomide
In addition to the TG-1101 single agent study, the company has a Phase I/II Study combination trial with lenalidomide (Revlimid®). Lenalidomide is an immune modulating agent, recently approved for the treatment of mantle cell lymphoma in patients with B-Cell lymphoid malignancies who have relapsed or are refractory after receiving the CD20 directed antibody therapy. Given that TG-1101 demonstrated enhanced ADCC over Rituximab®, in addition to the display of significant single agent activity in a relapsed CLL setting, TG Therapeutics mounted a combination trial of lenalidomide and TG-1101 in NHL and CLL patients. The estimated study completion date for the combination trial is March 2014. Trial updates are anticipated in Q2 2014.
2. TG-1101 and Ibrutinib
On January Dec. 6, 2013 TG Therapeutics initiated a multi-center Phase II clinical trial to evaluate the safety and efficacy of the combination of TG-1101 (ublituximab) and ibrutinib (IMBRUVICA(NYSE:R)) for patients with Chronic Lymphocytic Leukemia (CLL) and Mantle Cell Lymphoma (MCL). Ibrutinib, the oral Bruton Tyrosine Kinase (BTK) inhibitor, was recently approved by the U.S. Food and Drug Administration (FDA). TG Therapeutics has partnered with the US Oncology Network, Columbia University and other select centers throughout the United States on the study. The study will be the first clinical trial evaluating the combination of TG-1101 and ibrutinib. TG Therapeutics hypothesized that combined TG-1101 and ibrutinib will significantly enhance the efficacy demonstrated with ibrutinib alone in patients with CLL and MCL. The clinical rational for the hypothesis is based on the different mechanisms of these two drugs: TG-1101 attacks outside the cells, while ibrutinib attacks inside the cells. Thus, an integration of two different attacks on cancer cells is superior to a solo attack. The estimated primary completion date is set at September 2014. We anticipate updated trial data in Q4 2014.
TGR-1202: novel, next generation PI3K-δ (Delta) inhibitor
PI3K-δ is highly expressed in cells of hematopoietic origin and is often up regulated in lymphoid malignancies. TGR-1202 is a novel, next generation PI3K-δ delta inhibitor shown to inhibit Akt phosphorylation and induce apoptosis in lymphoma and leukemia cell lines. TGR-1202 displayed activity in numerous pre-clinical models with potentially superior pharmacokinetic (NYSE:PK) properties to other PI3K-δ inhibitors in development.
PI3K-δ is one of the hottest targets in recent years, and several pharmaceutical companies are developing different PI3K inhibitors. As such, TGR-1202 shares similarities with other PI3K-δ inhibitors such as Gilead's (Nasdaq: GILD) idelalisib and Infinity's (NASDAQ:INFI) IPI-145. While idelalisib and IPI-145 structure displays very high similarity (over 80% homologous) and contain nitrogen based heterocyclic backbones known to interact with hepatic enzymes, the TGR-1202 structure has a unique and different backbone. The chemical structure of TGR-1202 was designed specifically to avoid heterocylic nitrogen moieties in the backbone of the molecule, known to interact with hepatic enzymes, in an effort to mitigate the observed class effect of hepatotoxicity. Below are the chemical structural similarities and differences between the inhibitors.

Currently TGR-1202 is in a phase I trial as a single agent being conducted in the United States in patients with relapsed and refractory Chronic Lymphocytic Leukemia (CLL), non-Hodgkin's Lymphoma (NHL) and other select hematologic malignancies. On Dec. 9, 2013, the company presented data from that trial indicating that TGR-1202 has an excellent safety profile and linear pharmacokinetics, with evidence of meaningful activity in a relapsed/refractory patient population. The estimated primary completion date is April 2014. Anticipated updated data regarding the trial most likely will occur in Q2 2014.
In my view, although current data is from phase I, it nonetheless suggests that TGR-1202 has the potential to become the leading PI3K-δ inhibitor. Furthermore, given the market worth for PI3K-δ inhibitor products, which includes a broad and vast range of indications, I conclude that TGR-1202 was probably the main drive behind the Bakers' initial investment in TG Therapeutics.
The power of TG-1101 and TGR-1202 as simple as 1+ 1= 3
I am bullish on both potential blockbuster products TG-1101, a novel glycoengineered monoclonal antibody and TGR-1202, the next generation PI3K-δ delta inhibitor. However, what makes TG Therapeutic a unique and promising biotechnology company are the two products at its core that create a strong and matchless synergy for this small company.
TG Therapeutics' Synergetic Power
On Nov. 25, 2013, TG Therapeutics initiated a multi-center Phase I trial to evaluate the safety and efficacy of the combination of TG-1101 and TGR-1202 for patients with relapsed and/or refractory Chronic Lymphocytic Leukemia (CLL) and non-Hodgkin's Lymphoma (NHL). As with the clinical rationale for combining TG-1101 and the Ibrutinib (See above), the underlying rationale for this combination trial of TG-1101 and TGR-1202 is targeting and attacking the cancer cells both from outside and inside the cells. TGR-1202 is a novel PI3K inhibitor with 'in vitro' activity in both B- and T-cell lymphoma. TG-1101 (Ublituximab) is a novel anti-CD20 monoclonal antibody with promising clinical activity in patients with relapsed lymphoma. In pre-clinical trials, the TGR-1202 and ublituximab potently synergize in the activation of caspase 3 in B-cell lymphoma models. Although the Phase I trial of the combined TG-1101 and TGR-1202 was only recently initiated, there is ample preclinical data to suggest that the rational for the synergy is strong and promising. Firstly, TGR-1202 and TG1101 synergistically activated caspase 3 in the DLBCL Cell Line LY1. Secondly, TGR-1202 and TG1101 synergistically activated caspase 3 in the Burkitt Lymphoma Cell Line Raji. Thirdly, TGR-1202 and TG1101 synergistically activate caspase 3 in diffuse large B Cell and Burkitt Lymphoma and lastly TGR-1202 and TG1101 synergistically activate caspase 3 in Mantle Cell Lymphoma. The company planned to present available data at major medical meetings throughout 2014, with initial preliminary data expected by mid-year.
The accumulation of promising pre-clinical data, with the fact that TGR-1202 has the potential to be a leading PI3K-δ inhibitor in its class together with TG-1101 that has shown to be potentially superior to Rituxan® gives a strong reason to be bullish on TG Therapeutics.
TG Therapeutics Financial Position:
The consolidated net loss for the year ended December 31, 2013 was $20.5 million. At December 31, 2013 the company had cash and cash equivalents of $45.7 million. On March 11th, TG Therapeutics announced an underwritten sale of 2,702,809 shares of its common stock at $6.71 per share, without any discount (the closing price on March 11th), to JP Morgan Asset Management's Global Healthcare Fund. Gross proceeds from the sale are expected to be approximately $18.1 million. According to this financial data, TG Therapeutics will have approximately of $63.7 million in available cash. Based on this financial data the company has enough cash to fund operations through 2016 without the need to raise additional equity capital which is always a great advantage for any developmental biotechnology company.
Analyst Ratings for TG Therapeutics:
The current average rating for TG Therapeutics is a BUY with a price target of $11.75 (Upside of 80% from its current price). Price target summary below:
| | |
| --- | --- |
| Mean Target: | $11.75 |
| High Target: | $13 |
| Low Target: | $9 |
| No. of Brokers: | 4 |
Summary and Conclusion
Strong fundamentals signal that the small TG Therapeutics has the potential to conquer markets in a big way. TG Therapeutics currently has two core products in developmental stages, and each could turn into blockbusters separately, with even greater possibilities in the synergy of both. The two products, TG‐1101 and TGR‐1202, focus on indications for cancer treatments, a hot development area within the wider pharmaceutical industry. Both TG Therapeutics products are promising and have significant potential to play a future role in the evolving standard of care for B-cell malignancies.
After considerable research of the products' potential, I came to understand the possible reasons that Baker Brothers decided to invest and more than triple their holdings in TG Therapeutics. In my view, the novel technology and supporting data of the TG-1101 and the TGR-1202 differentiate TG Therapeutics from the rest of the pack. While each of the products has the potential for success, by leashing their synergetic power to treat cancer TG Therapeutic has the potential to turn into an important player in the drug-cancer market.
To summarize, in my view, TG Therapeutics is a great investment candidate and biotech investors should take serious look at this company for both long- and short-term positions. With market capitalization around 250M, no liquidity problems for the next several years and potential novel blockbuster products, I believe that the company is greatly undervalued. With clinical results for TGR-1101 and TGR-1202 due in Q2 and Q4 2014, I anticipate TG will attract greater attention of large partners or even become a buyout candidate. This past week's successful financing with the sale of its shares without any discount and with a premier biotechnology investor puts TG Therapeutics in a more favorable and stronger position when negotiating with potential partners or a buyout.
Taken all together with its near-term catalysts coming up and the Baker Brothers' bullish bet, TG Therapeutics might be a big winner in 2014. My short-term price target opinion is at a conservative level of $12 compared to other analysts such as Roth Capital and Brean Capital which rate TG Therapeutics as a "buy" with a $13 price target. Strong trial results in Q2 could provide additional upside toward the level of $15-17. I am long TG Therapeutics and plan to revisit at the end of third quarter of 2014.
Disclosure: I am long TGTX. I wrote this article myself, and it expresses my own opinions. I am not receiving compensation for it. I have no business relationship with any company whose stock is mentioned in this article.
Additional disclosure: BioGroup Team is a team of professionals with a shared interest in trading and investing in the healthcare and life sciences sectors. Our experts' editorial team is comprised of individuals with extensive background in research, science, economics and trading in the biotechnology/health sectors. This article was written by Roy Vimer, one of our group analysts. Neither BGT nor Roy Vimer received compensation for this article (including from Seeking Alpha), and we have no business relationship with any company whose stock is mentioned in this article.