The 180 day lockup period, following the September 25, 2013 IPO of Foundation Medicine Inc. (NASDAQ:FMI) will come to an end on March 24, allowing outstanding shares in the cancer diagnostic firm, held by significant pre-IPO shareholders, to be sold.
These shareholders include venture capital firms and investment management firms, along with FMI executives and directors. The sudden flood of FMI shares available for sale on the market may likely lead to a temporary decrease in the price of shares, possibly creating a short opportunity for aggressive investors.
FMI's strong IPO, which priced above its expected range at $18.00 per share, was followed by a truly outstanding first day on the market that saw a price increase of over 96%. The stock slowly cooled over the following months, diving as low as $20 per share in mid-November, but 2014 has been kind to FMI with steady and sometimes spectacular gains; FMI closed at $41.33 per share on March 12.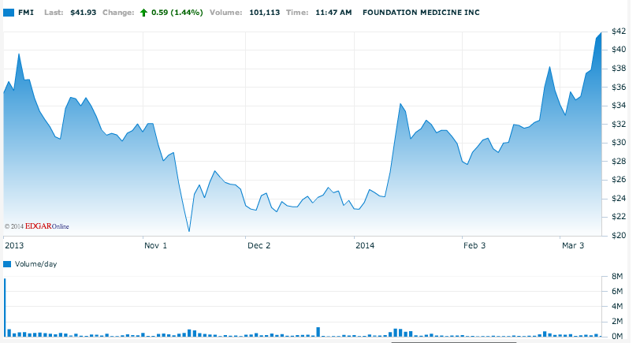 Click to enlarge
(Nasdaq.com)
Share Unlocking
The March 24 lockup period expiration will render approximately 21.3 million shares of FMI stock available for sale, far more than the 5.9 million shares offered in the firm's IPO. Several venture capital firms and investment management firms hold large stakes in the firm, and are likely to sell at least some of their shares in order to raise capital and return funds to their investors.
These firms include Third Rock Ventures, the largest FMI shareholder with 6.6 million shares; KPCB Holdings, with 3.5 million shares; Google (NASDAQ:GOOG) Ventures 2011, with 2.4 million shares; and Gates Ventures and Wellington Management Company, each with 1.1 million shares. FMI directors and executives are also likely to sell at least some of their shares in the interest of diversification, as they've had no opportunity to sell during the past six months and current prices for FMI shares are at all-time highs.
Business Summary
FMI is a commercial-stage medical diagnostic firm that sells diagnostic products to physicians and biopharmaceutical companies. The firm's products are enabled by its molecular information platform, and assist physicians in analyzing tumor tissue samples across all types of cancer. FMI's diagnostics provide genomic information about cancer on a patient-by-patient basis, allowing physicians to specify their treatments to each patient's needs and biopharma companies to develop better-targeted oncology therapies.
The firm's FoundationOne product is the only commercially available comprehensive molecular information product designed to be used in the routine care of cancer patients. Over 1500 physicians from academic centers and community-based practices have ordered FoundationOne since its 2012 commercial launch.
Competition
FMI must compete with other firms, whose products or research profile genes and gene expression in various cancers, especially from diagnostic firms that offer molecular diagnostic tests that capture the most well-known gene alterations. Competitors and potential competitors include Bio-Reference Laboratories Inc (NASDAQ:BRLI), Quest Diagnostics Inc (NYSE:DGX), Genomic Health Inc (NASDAQ:GHDX), Myriad Genetics Inc (NASDAQ:MYGN), and Sequenom Inc (NASDAQ:SQNM).
Disclosure: I am short FMI. I wrote this article myself, and it expresses my own opinions. I am not receiving compensation for it (other than from Seeking Alpha). I have no business relationship with any company whose stock is mentioned in this article.