I find Valero Energy Corporation (NYSE:VLO) stock to be a rare combination of value and growth dividend stock. Although the stock price has risen 62.0% since the beginning of 2013, it is still an excellent buy right now. This is compared to the 31.0% rise of the S&P 500 index and the 43.2% rise of the Nasdaq Composite Index during the same period. In this article, I will explain why, in my opinion, Valero stock is a remarkably promising long-term investment.
The Company
Valero Energy Corporation is the world's largest independent petroleum refiner and marketer supplying fuel and products, with 16 refineries and 10 ethanol plants stretching from the U.S. West and Gulf coasts to Canada, the United Kingdom and the Caribbean. Valero Energy Corporation was founded in 1955 and is based in San Antonio, Texas.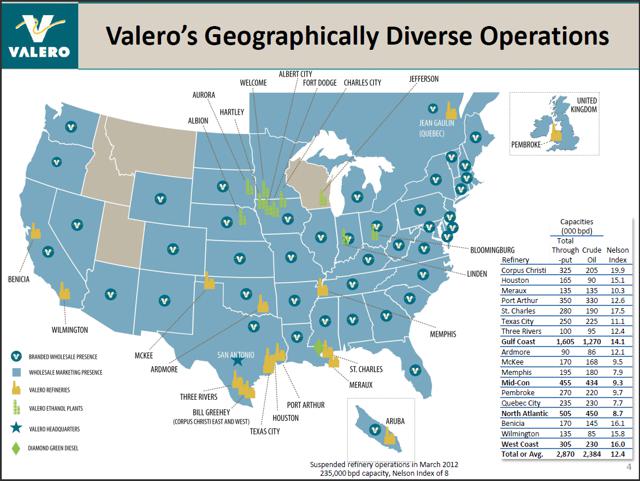 Source: Bank of America Merrill Lynch Refining Conference
Valuation Metrics
The table below presents the valuation metrics of VLO, the data were taken from Yahoo Finance and finviz.com.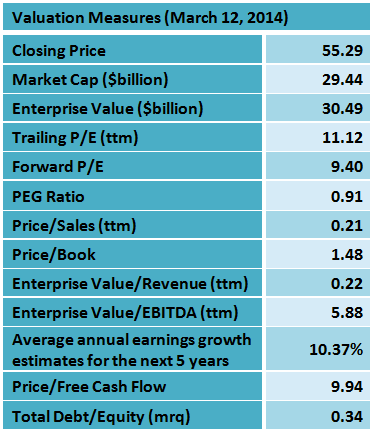 Valero's valuation metrics are extremely advantageous; the enterprise value-to-revenue ratio is exceptionally low at 0.22, and the enterprise value-to-EBITDA ratio is also very low at 5.88. According to Yahoo Finance, VLO's next financial year forward P/E is very low at 9.40, and the average annual earnings growth estimates for the next 5 years is high at 10.37%. These give a very low PEG ratio of 0.91. PEG Ratio - price/earnings to growth ratio is a widely-used indicator of a stock's potential value. It is favored by many investors over the P/E ratio, because it also accounts for growth. A lower PEG means that the stock is more undervalued.
Latest Quarter Results
On January 29, Valero reported its fourth-quarter and full-year 2013 financial results, which beat EPS expectations in the fourth quarter by $0.12 (7.20%). The company reported adjusted fourth-quarter earnings of $963 million, or $1.78 per share, down from $1.05 billion, or $1.88 per share in 4Q12. The year-over-year decline reflected increased depreciation and amortization due to new hydrocracker units at two of the company's Gulf Coast refineries, higher operating costs, and a decrease in throughput margin. These negatives were partly offset by strong results in the ethanol business.
In the report, Valero Chairman and CEO, Bill Klesse said:
We had a great fourth quarter and ended the year on a strong note. Our refineries and ethanol plants ran well and at a high utilization rate in the fourth quarter. In refining, we took advantage of favorable crude oil discounts at most locations, while our ethanol business enjoyed high margins and set a record high for quarterly and annual operating income.
Major Development
On September 19, 2013, Valero formed Valero Energy Partners LP (NYSE:VLP), a master limited partnership, to own, operate, develop and acquire crude oil and refined petroleum products pipelines, terminals and other transportation and logistics assets. Valero retained significant ownership and control of VLP, 68.6% of LP ownership comprised of common and subordinated units. According to Valero, it has substantial portfolio of retained logistics assets to grow VLP, and it expects at least 20% average annual distribution growth rate over next three years.
On May 1, 2013, VLO completed the spin-off of 80% of the outstanding shares of its retail segment, CST Brands, Inc. (NYSE:CST), to its stockholders, and in November 2013, Valero liquidated its 20% retained interest in CST common stock, or 15 million shares. CST Brands is now Valero's largest wholesale customer, and Valero provides CST with ethanol-blended fuels.
Dividends and Buybacks
Valero is accelerating cash returns to shareholders through buybacks and dividends. In the fourth quarter, it paid $120 million in dividends and repurchased 8.3 million shares for $339 million. For the full year, the company repurchased 22.4 million shares for $928 million, and paid $462 million in dividends. This is more than double the cash returned to shareholders in 2012. On January 22, Valero announced an 11% increase in its dividend to $0.25, or $1.00 annually. Valero has been paying uninterrupted dividends since 1989, but had decreased its dividend payments during 2010 and 2011. The forward annual dividend yield is at 1.81% and the payout ratio only 17%. The annual rate of dividend growth over the past five years was quite high, at 10.41%.
Valero's dividend is paid every quarter, as shown in the charts below.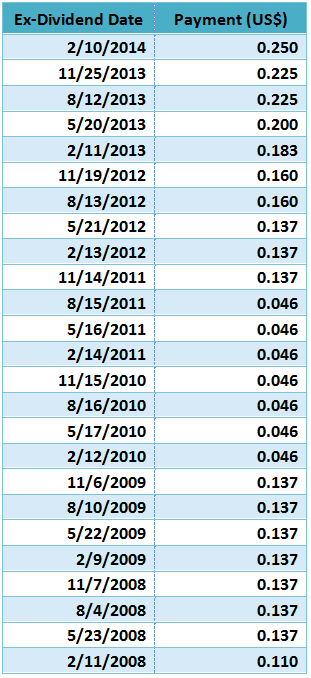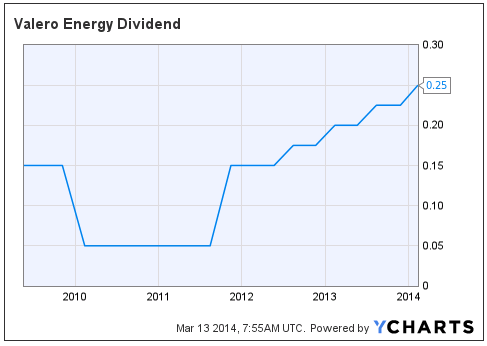 Competitors and Group Comparison
A comparison of key fundamental data between Valero and its main competitors is shown in the table below.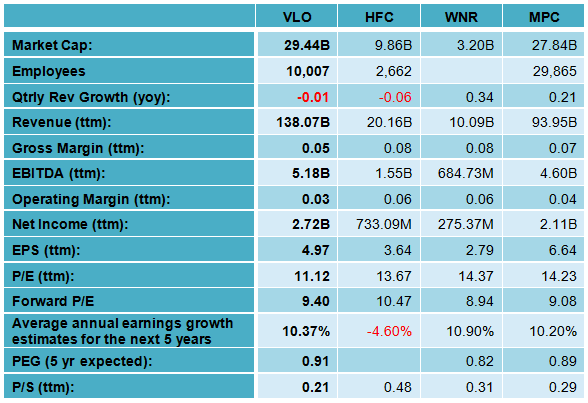 Source: Yahoo Finance
The valuation parameters of the four refiners are quite similar, Valero has the lowest trailing P/E among the group, but the forward P/E is almost the same.
Most of Valero's efficiency and stock valuation parameters have been better than its industry median, its sector median and the S&P 500 median, as shown in the tables below.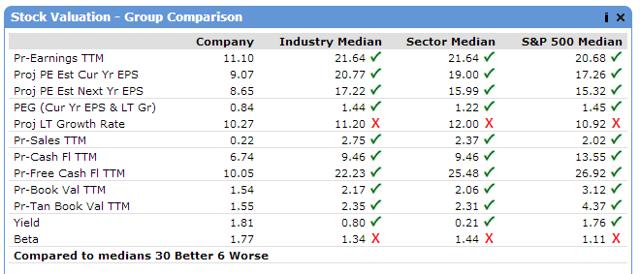 Source: Portfolio123.com
Technical Analysis
Personally, I am using only fundamental analysis for my investment decisions. After many years of experience, and after having tried all kinds of decision-making, including technical analysis, I have reached the conclusion that relying on fundamental information is giving me the highest return. Nevertheless, some investors are successfully using technical analysis to find the proper moment to start an investment (I am not talking about traders; my analysis is only for investors). The charts below give some technical analysis information.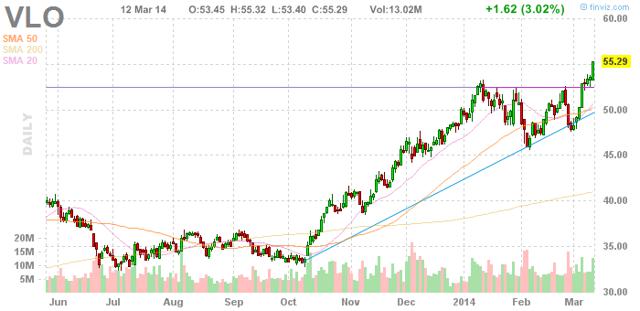 Chart: finviz.com
The VLO stock price is 9.87% above its 20-day simple moving average, 10.29% above its 50-day simple moving average and 34.80% above its 200-day simple moving average. That indicates a strong short-term, mid-term and long-term uptrend.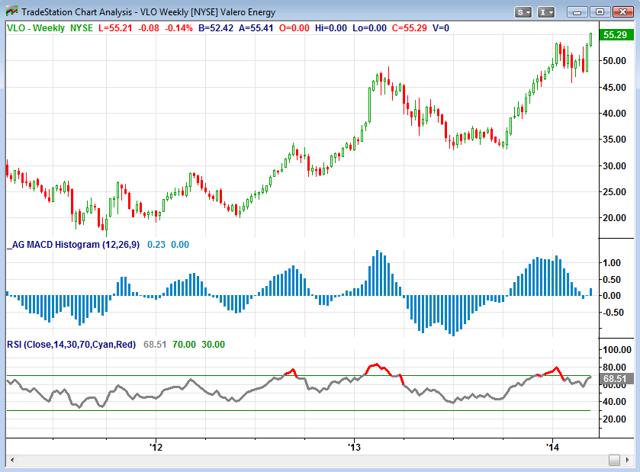 Chart: TradeStation Group, Inc.
The weekly MACD histogram, a particularly valuable indicator by technicians, is negative at 0.23 and ascending, which is a positive signal (a rising MACD histogram and crossing the zero line from below is considered an extremely bullish signal). The RSI oscillator is at 68.51, approaching overbought conditions.
Analyst Opinion
Analysts' opinion is divided, but most analysts recommend the stock. Among the eighteen analysts covering the stock, five rate it as a strong buy, seven rate it as a buy and six rate it as a hold.
Discussion
Valero is well-positioned to benefit from the growth in U.S. and Canadian shale development. Most of this oil is traveling through the Mid-Continent and heading toward the Gulf Coast. Valero is the largest Gulf Coast refiner, and it is benefiting from the increasing supplies and from the lower feedstocks price. Lower-cost North American natural gas also provides competitive advantage and upgrading opportunities. Significant production from shale basins is expected to keep U.S. natural gas prices low and disconnected from global oil and LNG prices for the foreseeable future. Valero's refinery operations consume approximately 800,000 mmBtu/day of natural gas, split roughly in half between operating expense and cost of goods sold. Valero is upgrading natural gas to liquid methanol, the U.S. is a growing methanol market and represents about 10% of the global market, and on average, the U.S. imported about 89% of its supply. Another growth driver for the company is the higher global distillate demand; distillates (diesel, kerosene, jet fuel) margins are significantly higher than gasoline due to less spare distillates production capacity versus demand.
Risk
Valero's financial results are affected by volatile refining margins, which are dependent upon factors beyond the company's control. A significant portion of Valero's profitability is derived from the ability to purchase and process crude oil feedstocks that historically have been cheaper than benchmark crude oils. These crude oil feedstock differentials vary significantly depending on overall economic conditions, and trends and conditions within the markets for crude oil and refined products, and they could change in the future, which would have a negative impact on the company's results of operations.
Conclusion
Valero is generating strong free cash flows, and it is accelerating cash returns to shareholders through buybacks and dividends. In addition, Valero has returned value to its shareholders by spin-off of its retail segment and by creating a master limited partnership.
Valero has compelling valuation metrics and good earnings growth prospects; its PEG ratio is very low at 0.91. Furthermore, according to Portfolio123, its two-year Sharpe ratio, which measures the ratio of reward to risk, is very high at 1.845, much better than the industry median of 0.074 and S&P 500 median of 1.027.
All these factors lead me to the conclusion that VLO stock has still plenty of room to move up. Furthermore, the solid growing dividend represents a gratifying income.
Disclosure: I have no positions in any stocks mentioned, but may initiate a long position in VLO over the next 72 hours. I wrote this article myself, and it expresses my own opinions. I am not receiving compensation for it (other than from Seeking Alpha). I have no business relationship with any company whose stock is mentioned in this article.