In my previous article on BHP Billiton (NYSE:BHP), I had mentioned that declining iron ore prices is a matter of concern for the company. This month iron ore price has touched a new low of $104.70 per tonne followed by a decline in copper prices. In this article, I will discuss how the fall in copper prices will impact the company's profit after tax or PAT in fiscal year or FY 2014.
Declining copper prices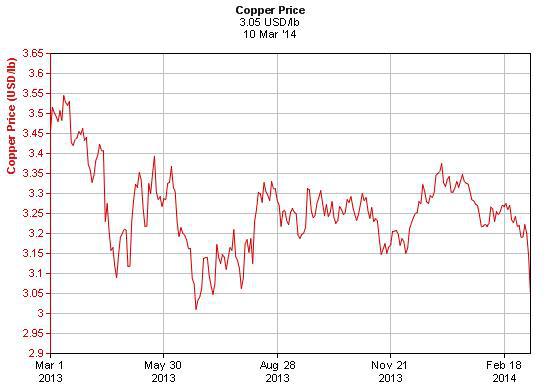 Source: Infomine.com
In March 2014, copper prices touched a seven-month low of $3.05 per pound due to financing problems in China's warehouses. Goldman Sachs expects copper prices to average $3.11 per pound in 2014, down from an estimated average of $3.32 per pound in 2013.
Copper is one of the main pillars of BHP Billiton, contributing 23.32% to the company's earnings before interest and taxes or EBIT in first half or H1 of FY 2014. The company's FY 2014 PAT is sensitive to the copper price as shown in the table below.

Source: BHP Billiton
The company's FY 2014 guidance for copper production is 1.7 million tonnes or Mt, out of which 0.84 Mt has been produced in H1 of FY 2014. The copper price has declined over 9% since the beginning of 2014. The company's PAT changes $25 million with 1 cent change in copper price per pound. If copper prices fall below the support level of $3.0 per pound then this could further reduce the company's PAT in the current FY.
Conclusion
In my previous article on the company, I had discussed how the declining iron ore prices could reduce the company's PAT for FY2014. The declining copper prices could further add to PAT reduction.
BHP Billiton plans to reduce its net debt to $25 billion by June 2014 followed by share buyback program in August 2014. The declining copper and iron ore prices could affect the company's profit margins, which can affect the company's share buyback, and debt reduction program.
Disclosure: I have no positions in any stocks mentioned, and no plans to initiate any positions within the next 72 hours. I wrote this article myself, and it expresses my own opinions. I am not receiving compensation for it (other than from Seeking Alpha). I have no business relationship with any company whose stock is mentioned in this article.