Due to supply and demand dynamics, natural gas prices continue to be volatile in 2014. Speaking of natural gas prices, companies in the exploration and production industry expect 2014 natural gas prices to remain relatively flat compared to 2013. However, crude oil prices were fairly stable throughout 2013, and oil continues to be more precious than natural gas. Consequently, companies operating in this industry have been shifting their focus to the growing field of oil production. To make a shift toward liquid plays, companies are investing billions to acquire assets, while disposing of non-core assets to stay consistent with their business strategies. The shift in strategy has worked for companies in 2013, as liquid plays offer much better volume and margins.
In this article, I picked two companies, ConocoPhillips (NYSE:COP) and Devon Energy (NYSE:DVN), which have been strongly working on shifting their asset portfolio to rich liquid plays. Let's compare ConocoPhillips with Devon Energy to see which company is offering better returns for investors in these rapidly changing business environments. I will keep my focus on their ability to sustain returns by looking at their business plans, financial situations and future prospects, so I will be able to point out if either of these stocks are good to buy or hold.
Where does ConocoPhillips stand?
ConocoPhillips is one of the world's largest E&P companies. Its diverse portfolio includes lower-risk legacy assets in North America, Australia, Europe, Asia and many other regions. The company has resource-rich shale and oil sands assets. Since the recovery in the economy and increase in oil prices, the company has been investing heavily in growth opportunities all around the world. However, with stagnant gas prices, ConocoPhillips is shifting most of its investments toward liquid-rich plays. It is looking to invest in projects that offer higher organic growth and margins.
With this strategy, ConocoPhillips is looking to concentrate its investments in higher-margin oil, LNG projects and restricted investments in North American conventional natural gas. These investments are bringing more liquid production online, which offers higher organic growth and improved margins. In 2013, it effectively brought three projects online. One of these projects was Jasmine and Ekofisk South, and the company is still in the process of bringing Siakap North-Petai and Gumusut to the web.
At the end of 2013, with the shift toward higher liquid-rich resources, liquid accounts for around 56 percent of ConocoPhillips's total production. Its growth from liquid-focused assets, especially the oil sands in Canada, the Lower 48 unconventionals and the higher-margin production from the Asia-Pacific segment, contributed to production levels and reserves. Its total production was standing at 1,502 millions of barrels of oil equivalent a day (MBOED) by the end of last year, which was slightly less than in 2012 due to tensions in Libya.
All in all, ConocoPhillips managed to increase its earnings from $8.4 billion in 2012 to $9.2 billion in 2013. Strong growth in its bottom line has allowed it to generate significant growth in operating cash flows. The company is supporting its capital investments from the cash flow it has been generating, along with the amount received from its disposition of non-core assets. Last year, it received around $10 billion from its disposition of assets and invested around $16 billion in growth opportunities. The company has generated $15.8 billion in operating cash flows, which are providing support to capital investments and allowing the company to pay dividends.
The company looks to be in a strong cash position, and its dividend looks to be completely safe. As the company is strongly working on reserves replacement and reserves addition in order to shift more toward liquids plays, its capital expenditure may reach $16 billion again in 2014. Nevertheless, it is in a strong cash position, with around $6.5 billion of cash and short-term investments on hand and with a positive stance for margin improvement that will grow cash from operations.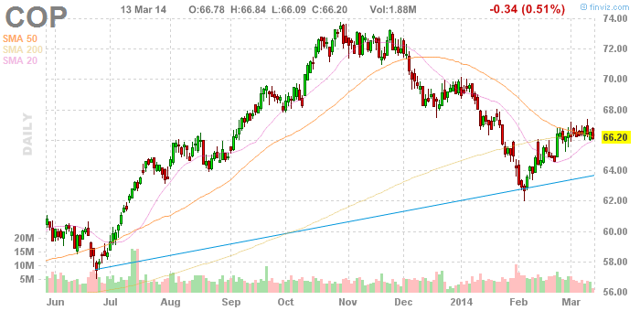 Looking at the company's strategy, which has been working so far as it has been enhancing margins and reserves to generate 4 percent to 5 percent annual volume and margin growth, the market has not responded well, as is apparent in its stock price. ConocoPhillips is trading at a discount and is offering an opportunity to take position. It is only trading at 10 times to earnings, while the industry average is much higher, at 32 times. COP is a good stock with a strong dividend yield of 4.1 percent. Also, it has been in a strong cash position to sustain dividends and work on capital programs. The below table demonstrates a buying opportunity in the company:
| | | |
| --- | --- | --- |
| | COP | Industry Average |
| Price/Earnings TTM | 10.4 | 32.5 |
| Price/Book | 1.6 | 1.9 |
| Price/Sales TTM | 1.4 | 2.7 |
| Operating Margin % TTM | 25.8 | 18.8 |
| Net Margin % TTM | 15.7 | 7.9 |
| ROE TTM | 18.3 | 5.9 |
| Debt/Equity | 0.4 | 0.6 |
Source: Morningstar.com
Where do the other players stand?
Devon Energy Corporation is an independent energy company engaged in the exploration, development and production of oil, natural gas and natural gas liquids (NGLs). Due to depressed gas prices and robust increase in oil and NGLs, the company's growth strategy and capital allocation have shifted more toward higher-margin oil and liquid resources. To further implement its strategy, Devon entered into two significant agreements at the end of 2013. The company entered into an agreement with GeoSouthern Intermediate Holdings to acquire leasehold mineral interests, certain oil and gas properties and related assets located in the Eagle Ford Shale in south Texas for $6 billion. Further, Devon and Crosstex Energy announced plans to merge all of Devon's U.S. midstream assets with Crosstex's assets to structure a new midstream business.
Devon's strategy also involves divestitures of non-core assets. Recently, it announced plans to divest specific non-core properties in Canada and the U.S. The company announced its first divestiture program, in which it agreed to sell the majority of its Canadian conventional assets to Canadian Natural Resources Limited for around $2.8 billion. This program will generate sufficient cash for the company to support its growth initiatives and enhance organizational and operational efficiencies. It is looking to continue the divestiture of non-core assets throughout 2014. Once these dispositions and mentioned acquisitions are complete, its oil production will account for more than 30 percent of its total production.
In 2013, the company increased U.S. oil production, its highest-margin product driven by its development programs, in the Permian Basin. This increased its light sweet crude production to 78,000 barrels per day, an increase of 32 percent compared to 2012. Its strategy to focus on liquid resources resulted in higher revenues and improved profitability in 2013. Its company-wide oil revenue grew by 23 percent. This revenue growth, along with the strong concentration on cost-cutting improved its operating cash flow by 10 percent. Consequently, the company has increased its quarterly dividends by 9 percent to $0.24/share. Its cash flows are also supporting the company's strategy to expand assets toward liquid plays. In 2013, 80 percent of its operating cash flow was used to fund growth projects, and the company has been looking to generate cash from asset sales to support its expansion strategy.
With the shift toward liquid plays that offer superior margins, Devon is expecting more cash from operations in 2014 to support investments and return cash to investors. Investors also seem confident with the company's capital allocation strategy. As a result, its stock has had momentum over the years, with few shortfalls.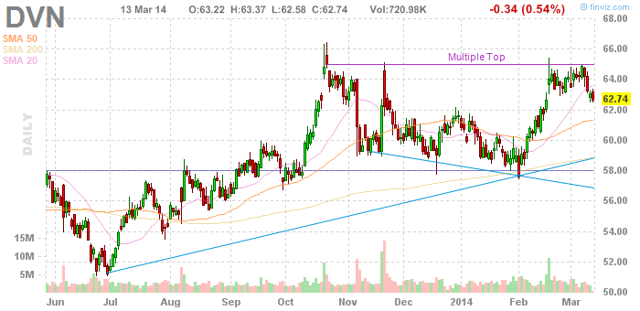 In conclusion
Both companies are investing heavily to combat the changing business environment. Both companies are shifting their focus to higher-volume and higher-margin liquid assets to enhance their profitability, both of which have been working for them so far. However, ConocoPhillips is offering a much better entry point with a strong yield, while Devon is well set to generate big profits in 2014. However, Devon does not offer an attractive entry point at the moment, and its dividend yield is much lower than ConocoPhillips, at only 1.36 percent.
Disclosure: I have no positions in any stocks mentioned, and no plans to initiate any positions within the next 72 hours. I wrote this article myself, and it expresses my own opinions. I am not receiving compensation for it (other than from Seeking Alpha). I have no business relationship with any company whose stock is mentioned in this article.