As I search through the high yield landscape for companies to add to my experimental high yield portfolio, I came across a Midstream MLP that initially seems like nothing special. However, when one peers deeper under the surface, one finds true potential for high income and strong growth.
Company Overview:
Enbridge Energy Partners (NYSE:EEP) is a large Midstream MLP that primarily operates in 2 areas:
1. Crude oil transport from Canada and Bakken formation:
80% of income.
6,265 miles of pipe lines
Enbridge is the largest transporter of Canadian oil into the U.S.
It transports 2.2 million barrels/day of Western Canadian crude into the U.S. It also possesses 240 miles of gathering pipelines and 39.4 million barrel storage capacity.
2. Natural Gas and NG liquids transport, storage and processing; mainly in Texas and Oklahoma:
20% of income
11,400 miles of pipes, 26 processing plants, 11 treating plants
Total capacity is 2.5 billion cubic feet of gas/day including 15% of the natural gas produced in Texas.
Catalyst For Growth:
Enbridge along with its general partner Enbridge Energy (one of the largest energy companies in Canada) has embarked on a 4 year, $14.8 billion series of expansion and investment projects. These projects are designed to take advantage of some of the largest and fastest growing oil formations in the world; the Alberta Tar Sands and the Bakken/Three Forks shale.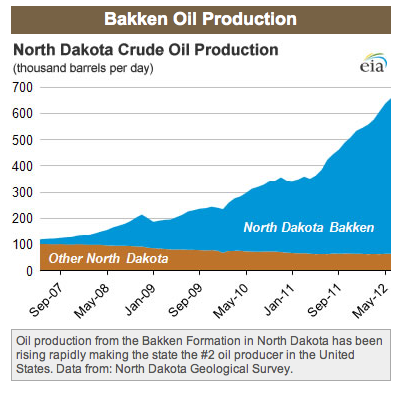 These expansion projects include Sandpiper which establishes a new export pipeline out of North Dakota's Bakken shale formation. It includes feed in pipelines from expanded oil production into the mainline to carry Bakken crude to Chicago and Flanagan, Illinois.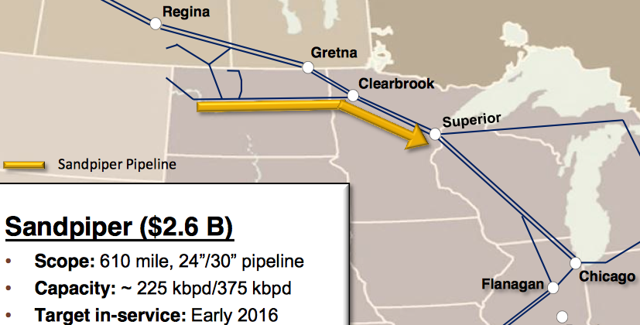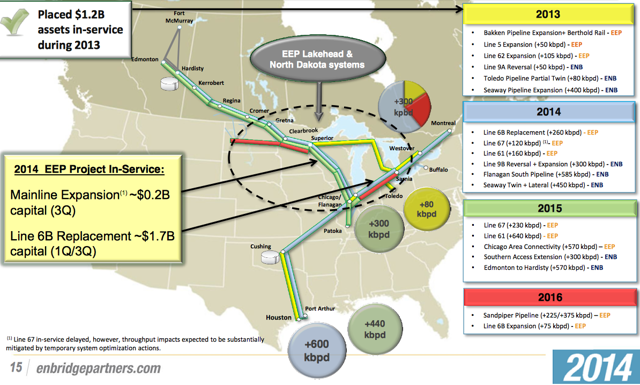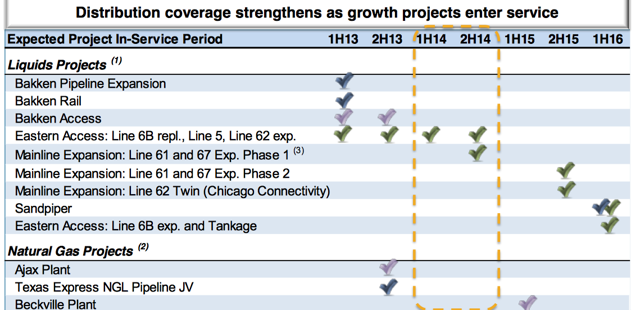 Images Source: Morgan Stanley Midstream MLP and Diversified Natural Gas presentation
$2.4 billion has been budgeted for an expansion of 3 pipelines across the Midwest while $2.4 billion more is to be spent on the Eastern Access expansion through Wisconsin and Michigan.
On March 10, 2014, Enbridge announced the single largest project they have ever undertaken. A complete replacement of its number 3 mainline which runs between Hardistry, Alberta and Superior, Wisconsin. The $6.3 billion project will replace the 34 inch pipeline with a brand new 36 inch pipeline made of high strength steel. This will increase safety and decrease the risk of oil spills such as the Kalamazoo River incident. In 2010 the company experienced a leak from this pipe that wasted 1 billion gallons of oil and cost the company $750 million to clean up.
The larger number 3 pipeline will also be able to carry 760,000 barrels/day, which is up from the 390,000 barrels/day that regulators have determined is the safe limit. The number 3 mainline replacement is expected to be done by mid 2017.
In total, when all the expansions and investment are complete Enbridge energy will increase its crude oil transport capacity by 95% or 2.1 million barrels/day.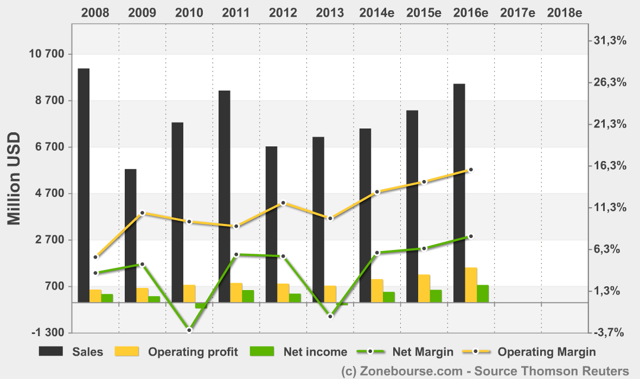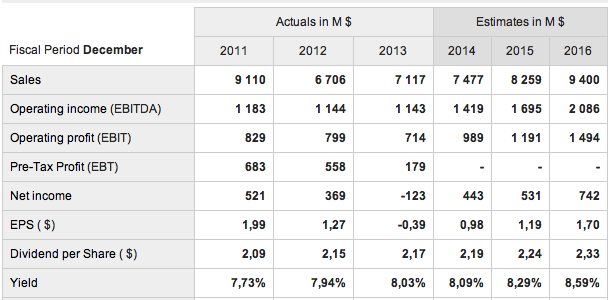 As seen in the above table from 4-traders.com, revenue growth is projected to be 33% from 2013-2016. Earnings are projected to climb by 77% but what is more important is that the distribution growth rate will start to accelerate. It is projected to grow from 1% in 2014 to 2.8% in 2015 and reach 4% in 2016. Management has a long-term target of 2-5% distribution increases and the ongoing cap-ex will help them reach it.
Valuation and Future Returns:
Enbridge Energy Partners has a 5 year average yield of 7.1%. At the current 7.9% yield the market is pricing Enbridge at a 11.3% discount to its historical valuation.
As I'm about to show the discount to potential growth verifies this discount.
A good rule of thumb for projecting long-term total returns (including dividend reinvestment) is:
(yield+CAGR of distribution)*average yield
This models the current income, capital gains and dividend reinvestment.
Using management's guidance targets of 2-5% CAGR distribution growth we get a projected total return CAGR in range of 10.8-14%.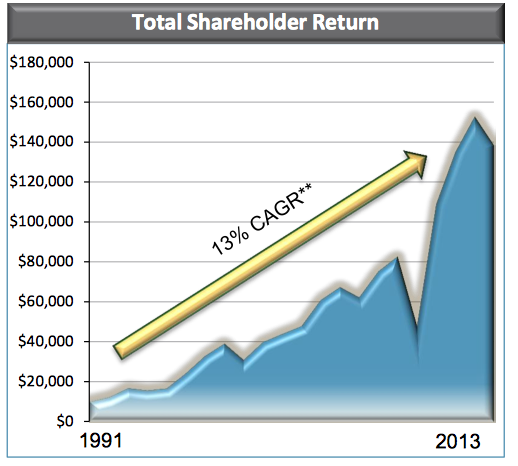 Source: Morgan Stanley Midstream MLP and Diversified Natural Gas presentation
As seen here, this projected 5 year total return is in line with Enbridge's historical 22 year results.
I should note that I agree with the analyst projections of 4% growth in 2016, and I would expect the newly announced number 3 mainline replacement to result in 5% CAGR distribution growth after 2018.
To determine a fair price I model the historical 13% CAGR total return which I believe will be achieved due to the increased distribution growth rate.
This growth rate would result in a 93% return over 5 years which results in a price of $52.37. Discounting by the stock market's historical 1871-2013 total return of 9% CAGR (11.1% with dividends), allows me to calculate the fair price.
Fair Price: $29.4
Discount to fair value: 8.2%
Conclusion:
Enbridge Energy Partners represents something unique in the MLP world. It is a turnaround play and speculation regarding increased distribution growth rate. It just so happens to be paying nearly 8% annually to wait for something that is very likely, at least in the long-term. Enbridge's access to Bakken and Canadian oil is part of a larger mega trend that will see North American oil productions soar and the partnership's fortune with it. Patient investors can gain access to market beating returns as long as they are willing to patiently collect their distributions while letting the thesis play out.
Disclosure: I have no positions in any stocks mentioned, and no plans to initiate any positions within the next 72 hours. I wrote this article myself, and it expresses my own opinions. I am not receiving compensation for it (other than from Seeking Alpha). I have no business relationship with any company whose stock is mentioned in this article.