It is always nice to pick a couple of winners. All three of these have outperformed the markets since I first covered them four months ago in early December. If you started a small position in any of them you should be fairly happy by now. As we near the end of the first quarter I felt it was appropriate to look at each of them in turn, and evaluate potential continued investment going forward.
Allied Nevada Gold Corp (NYSEMKT:ANV)
Since my last article there have been 6 focus, 6 related and 6 pro articles covering Allied Nevada. That is just here on SA, there have also been a few on Zacks and The Street. It seems like everyone is now paying attention and the stock has performed handsomely. So what should we do?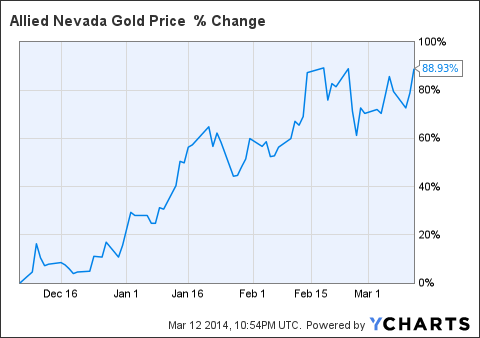 ANV data by YCharts
To start with, let's take a look at the actual news. The phony buyout offer.
On Jan 14th some made up Chinese company said it would buy Allied Nevada for the bargain price of $7.50 per share. The stock had closed the previous day at $4.31 and opened that morning at $4.94. The company was quick to respond saying that they did not think it was a real offer and over the next day or so the stock returned to $4.31. What happened next was interesting. There has always been speculation that Allied Nevada was a possible buy-out opportunity. It seems that the fake offer had at least attracted some attention to the company and it started to move slowly higher.
On January 30th the company released its production figures for Q4 and FY 2013. Just over 60,000 Oz for the quarter, 6000 Oz higher than my low end estimate in the last article. The stock marched higher to $5.98 ahead of earnings. We should also remember that this was partly due to improving gold prices. At the end of December I wrote an article about why I felt gold had bottomed a day or so earlier. Many readers thought I was crazy, but I appear to have been right so far. We will come back to this later when we look at where we are headed.
February 24th the company released earnings. At first glance ($0.05) per share was a disappointment. You will remember that I had hoped for as much as $0.07. Output was much improved and gold prices had stabilized during the quarter, so what had happened? Well, a whole bunch of year end accounting and write-downs that made up the entirety of the loss. The stock sold off for a couple of days until everyone had managed to digest the information in the conference call. Since then the stock has been steadily marching higher. Today we are sitting about $0.10 below that previous January high and looking good.
Looking Good? I mean from a technical point of view. The 50 SMA is poised to cross the 200, and do so just as we get positive divergence from MACD. The last time these two crossed it was in the wrong direction, the death cross at the start of January 2013.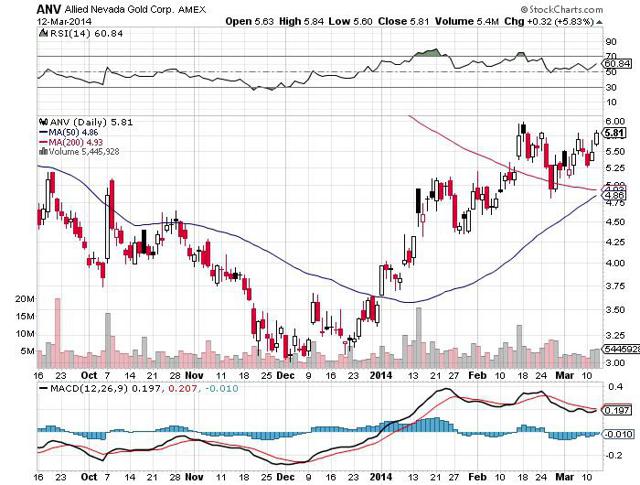 The year ahead will be marked by higher gold prices as I outlined in that previously mentioned article on gold. Although tapering has begun, QE is still having an effect. During the last market pullback there were significant inflows to gold ETFs. It would be reasonable to assume that any market correction later this year would have a similarly positive effect on gold prices. Uncertainty over the Ukraine and other Russian gambits could also move precious metals higher. All of this would be good for Allied Nevada's bottom line. If for some reason the stock pulls back along with the broader markets, it could present a buying opportunity.
Guidance for 2014 is around 230K Oz, and I expect an average price for gold to be $1345 an Oz for the year. I expect production costs to be slightly higher through the summer air conditioning season in addition further uncertainty about the Ukraine would push energy prices higher. I would consider $800 per Oz in productions cost to be reasonable once they are offset by silver production. With silver holding steady above $20 Oz it should be enough to counter any run up in energy prices.
($1345 - 800) X 230000 = 125.4 million
They have over 72million to do in cap ex for the year which leaves around $0.45 - $0.50 per share for the year. That is about double 2013, but production should now be at sustainable levels and the 230KOz is the low end of guidance.
Truett-Hurst, Inc (NASDAQ:THST)
I should be able to keep this one a little shorter as I provided an update after earnings, at the beginning of February. I might not have needed to include them here, but apparently no one else in the world is following them. Unlike Allied Nevada there is no coverage of this stock at all. Not just here on SA, I can find nothing anywhere other than press releases and Edgar online. Very surprising for a stock that has gains of over 70% in four months.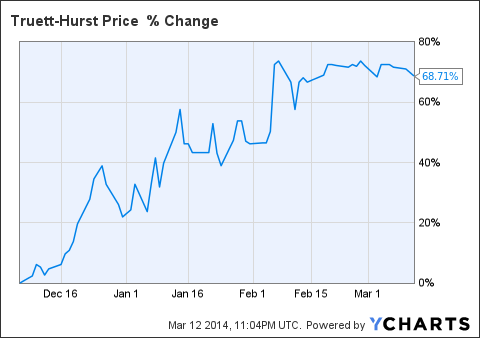 THST data by YCharts
There have been two important developments over the last month that need to be looked at closely.
"The Company's existing paper bottle supplier for its PaperBoy brand has been placed into administration in the United Kingdom, a process similar to the bankruptcy process in the United States. As a result of the supplier's failure, the Company will rely on a new supplier in the United States, with which it has negotiated a multi-year supply arrangement. Chief Executive Officer, Phillip L. Hurst, states, "While we expect to meet our fiscal 2014 PaperBoy sales goals we may experience an out of stock situation in early fiscal year 2015 due to the supplier change and expect to be back on target in mid-fiscal 2015. We believe this new supply relationship will provide the stability the Company requires to meet its PaperBoy sales goals." ".PR Newswire March 6th
It might have been nice if they had told us who the new supplier is. The change in guidance is a 400K deposit that they have lost. They will recognize that in the 3rd quarter, and is seen as a one off issue. It is only $0.14 per share, but analysts only had them doing $0.05 for the year. In my own opinion I had felt they would do a little better, but the news is still a nasty surprise at the end of the fiscal year. I will remind you that 4th quarter 2014 runs from April - June and so the supply constraints would occur this summer. Given the company's growth rate, I expect these constraints to have a negligible effect on sales or revenues in fiscal year 2015. I also expect them to be able to recoup some of the $400K through legal action, if that is a cost effective venture.
Drought in California still looms large on the horizon.
Although national media has stopped covering the drought in favor of things like elections and the Ukraine; drought conditions still exist. There has been rain, I just do not know if it has been enough. I know that Oregon's Governor recently declared a state of emergency for one of the counties due to drought. I also have no idea exactly what the companiesy's exposure to this is other than they mentioned they could have "some" during the last conference call.
So is it all doom and gloom for Truett-Hurst?
No, not at all and as you can see by the chart the stock is also holding up well. The anticipated 320% growth rate for FY2015 probably has something to do with it.
Without knowing exactly what the company's exposure to continuing drought conditions are, it may be prudent to take a little profit. A 70% gain, is a 70% gain after all. I had previously suggested that we could see $9 by August, we might not get there. I do think that there will be an opportunity to sell into strength in late May and June at levels higher than currently available. If, after year end figures are released, there is a sell-off, I would view that as another buying opportunity. I can still see an $11 share towards the end of fiscal 2015; just expect some volatility along the way.
ATA Inc (NASDAQ:ATAI)
"They are adding more testing capabilities and more customers, and for some reason they are at one of the lowest prices in the company's history. Even delivering earnings in-line should send this one substantially higher." By me in the last article.
So what did happen with earnings on February 24th?
"Gross profits increased about 16% to RMB 92.5 million from about RMB 18 million in the prior year period. Gross margin for F3Q 2014 improved to 49.0% from 44.4% in the prior-year period. As I mentioned before, the increase in gross margin was due to increased revenue contributions from the private sector business and decreased monitoring costs." - From the conference call.
So why did the stock go nowhere?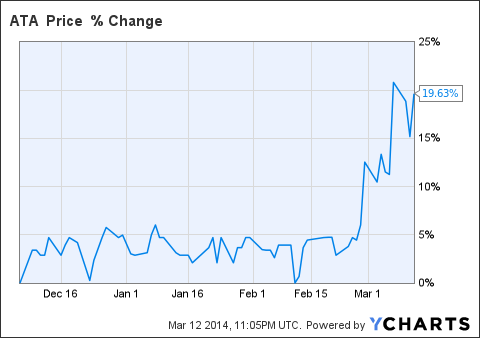 ATAI data by YCharts
Admittedly there were some issues regarding currency conversion that offset some of these gains for US investors. Was there another issue that could better explain what was happening? I really could not find one. Then all of a sudden, the stock jumped to a high of $6.41 at the end of last week.
None of this makes much sense to me, and that always makes me nervous. I do not like stocks that I cannot predict well. One of my regular followers pointed out that he should have sold some then, and I tend to agree with him. If I get another shot like that, without some verifiable news to explain it, I will be joining him at the exit.
ATA has outperformed the general market and for that I am thankful, but I am also raising my stop to conserve some of those gains. On another run up, I will be left playing with only the houses money and that is never a bad thing.
Summary
Allied Nevada still has legs to run and I intend to hold for the long term. The 50/200 cross may lead to a breakout here. In addition the stock is holding above that all important $5 level making buyers more readily available. Gold price is helping out and the only immediate risk comes from energy prices.
Truett-Hurst is a different matter. Long term I am 100% behind this little company, short term there are some barriers to visibility. If you are up huge, it never hurts to take a little bit of a profit. I believe that there will be opportunity to do this going into the next earnings announcement if that is your bent. It may help to settle your stomach for the ride at the end of the year. As previously stated I think that the yearend announcement will give us an opportunity to load up again and run through 2015.
ATA Inc I am not even going to try and pretend I understand what is happening and so will be leaving unless I can get some clarity soon. I will be sure to update either via Instablog or some earth shattering article if either of those happen.
Please remember that this article is for information purposes only. It only expresses my own views and those are only relevant to my own situation. You should always conduct your own due diligence and, or seek the advice of an investment professional. I wish you all the very best as always
Disclosure: I am long THST, ANV, ATAI. I wrote this article myself, and it expresses my own opinions. I am not receiving compensation for it (other than from Seeking Alpha). I have no business relationship with any company whose stock is mentioned in this article. This article may contain certain forward-looking statements. I have tried, whenever possible, to identify these forward-looking statements using words such as "anticipates," "believes," "estimates," "expects," "plans," "intends," "potential" and similar expressions. These statements reflect my current beliefs and are based on information currently available. Accordingly, such forward-looking statements involve known and unknown risks, uncertainties and other factors which could cause actual results, performance or achievements to differ materially from those expressed in or implied by such statements. I undertake no obligation to update or provide advice in the event of any change, addition or alteration to the information contained in this article including such forward-looking statements.
Editor's Note: This article covers one or more stocks trading at less than $1 per share and/or with less than a $100 million market cap. Please be aware of the risks associated with these stocks.