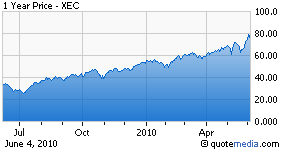 Buy-recommended Cimarex (NYSE:XEC) offers unlevered appreciation potential of 20% to a McDep Ratio of 1.0 where stock price would equal Net Present Value of $75 a share. On the strength of rising production, NPV is up from $65 on February 19, $60 on January 19 and $50 at the beginning of 2010. In guidance accompanying first quarter results released on May 7, management confirmed that current production may be sustained for the rest of 2010, resulting in a 26% gain over 2009. There is room for further gains in NPV to reach the higher level indicated by reserve life and cash flow multiple in an industry context.
Risk factors that have come up in the past include rapid decline in production from a critical well, drilling cost increases and oil price decline. Thorough analysis of the rate of return expected on each well keeps management alert and able to respond quickly to surprises. Systematic execution of a conservative strategy by the same management team for two decades is now paying off with high profitability in the Cana Shale of Western Oklahoma, big Yegua formation wells on the Texas Gulf Coast and horizontal oil in the Permian Basin.
Originally published on May 10, 2010.