As described in Impact Of U.S. Air Force Budget Cuts On Military Aerospace Manufacturers, the bulk of budget cuts will hit military aerospace manufacturers in 2014.
Boeing (NYSE:BA) plans "Business Optimization" for the Military Aircraft Division to overcome this:
We are competing in an environment where cost, quality, capability and value are all critical to both new business growth and in maintaining existing contracts
is written in an internal memo seen by Reuters and confirmed by Boeing.
US budget cuts and losing 2 export orders for tanker aircraft this month have triggered the business optimization.
RELATIVE IMPORTANCE OF MILITARY AIRCRAFT DIVISION
The outlook for the military aircraft division is not good, but the negative impact of it on Boeing should not be overestimated.
As the following chart and table show, it is a relatively small part of Boeing's total business. Boeing's commercial aircraft division is much more important.
(Source: Confero)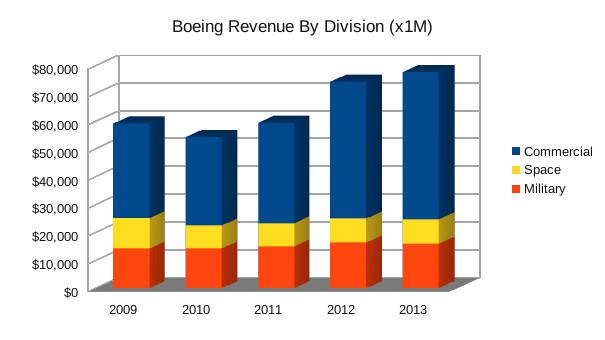 | | | | |
| --- | --- | --- | --- |
| Revenue | Commercial | Military | Space |
| 2009 | $34,051 | $14,304 | $10,877 |
| 2010 | $31,834 | $14,238 | $8,256 |
| 2011 | $36,171 | $14,947 | $8,375 |
| 2012 | $49,127 | $16,384 | $8,639 |
| 2013 | $52,981 | $15,936 | $8,749 |
NEW BUSINESS
Helicopters
Demand for AH64 Apache and H47 Chinook helicopters will remain. Helicopters have a higher loss-rate than fixed-wing aircraft and require a lot of maintenance.
Both helicopters also have a wide range of foreign customers. Piecemeal replacement orders and parts will keep coming in.
Combat aircraft
After losing the Brazilian fighter bid to Saab, which is described in Swedish Phoenix Rising, there are no immediate prospective buyers for the F-18 Super Hornet.
It is very unlikely that Boeing is able (or wants) to develop a new combat aircraft. Lockheed-Martin's (NYSE:LMT) Joint Strike Fighter is chosen as the new US fighter, and will likely serve well into the second part of the 21th century.
There are still F-15s and F-18s produced from the backlog, but no new export orders can be expected. When the backlog is empty, the production lines will be closed.
KC-46 Pegasus tanker aircraft
The largest new business growth is in the KC-46 Pegasus tanker aircraft that will replace the aging KC135 Stratotanker, which has been in service since the late 50s. Milestones in the Pegasus project are:
First test aircraft in 2014 Q1;
First flight in 2015 Q1;
First delivery to USAF in 2016;
Last delivery to USAF in 2027.
From these milestones can be concluded that it will take a few years before production revenue is seen in the results.
However, in the FY2015 budget the USAF has cut the procurement budget with 33% to $1.6B. When budget sequestration happens, the USAF announced that they will do additional cuts in the KC-46 procurements.
Limited export possibilities KC-46
Exporting the KC-46 will be difficult.
In 2008, the USAF initially chose the Airbus (OTCPK:EADSF)-Lockheed-Martin Airbus A330 MRTT in the KC-X next-generation aerial refueling tanker aircraft request for proposal, but retracted it after a complaint by Boeing.
While the KC-46 is still in development, the Airbus A330 MRTT [Multi Role Tanker Transport] is operational and being sold to countries to replace Boeing KC-135 [or Boeing 707 based] aircraft:
United Kingdom (through the AirTanker consortium) to replace VC10 / Tristar tankers;
Australia (which used to have Boeing 707 based tanker aircraft);
Saudi Arabia (to replace Boeing KE-3 tanker aircraft);
United Arab Emirate;
Singapore announced earlier this month it is buying the A330 MRTT (to replace Boeing KC-135 tanker aircraft;
France announced it will buy Airbus A330 MRTT (to replace Boeing KC-135 tankers);
Spain announced it would buy Airbus A330 MRTT (to replace Boeing 707 tankers).
Other Boeing-based tanker operating countries are:
Chile (started using the KC-135 only in 2010;
Turkey;
Iran (which is a very unlikely customer).
Israel also operates Boeing 707 tankers, but IAI (Israel Aircraft Industries) outbid Airbus in Brazil this month with converted Boeing 767 tankers. It is likely that Israel will buy replacement tankers through IAI, bypassing Boeing.
EXISTING CONTRACTS
The largest budget cuts by the US Government, which is by far the largest customer of Boeing, have been made in FY 2014. This will be done by squeezing the costs and canceling existing orders.
The C-17 production line will be closed in 2015, and it is possible that C-17s will be divested earlier than planned. This will have an negative impact on Boeing's maintenance and parts revenue.
The C-17 fleet made a tremendous amount of flying hours during the deployments to Iraq and Afghanistan. Airframes need major maintenance and overhauling much earlier than expected.
Air transport demand by the USAF is decreasing and C-17s might be put in permanent storage at AMARG Davis-Monthan in Arizona to avoid costly overhauling and maintenance.
Maintenance and services are more profitable than new aircraft, so profits may be hit harder than revenue in 2014.
Sequestration is greatest risk
Sequestration is Boeing's greatest risk. The USAF has announced that it will:
Make more cuts in the KC-46 tanker program;
Divesting the Boeing KC-10 tanker fleet.
Boeing's business optimizing isn't a surprise, and efficiency and cost reduction is something in Boeing's sphere of influence. Government and politics is not. Sequestration will severely hurt Boeing.
Disclosure: I have no positions in any stocks mentioned, and no plans to initiate any positions within the next 72 hours. I wrote this article myself, and it expresses my own opinions. I am not receiving compensation for it (other than from Seeking Alpha). I have no business relationship with any company whose stock is mentioned in this article.