The market is at all-time highs, but tinged with nervousness. Commodities (copper and iron) are breaking down, as is oil. This, and a rise in the bond market suggests an economic slowdown, and perhaps something brewing in China. Given all this, you'd think a dividend payer with steady revenue such as AT&T (NYSE:T) would be viewed favorably. For some reason, the market sees AT&T as a glass half full - with concerns about subscriber loss, revenue mix and lack of a European strategy amongst other things. Here are a few excepts from AT&T 's most recent 10-K that suggest the company is in much better shape than sentiment suggests, and may be the kind of "spicy" dividend payer that will reward you on a total return basis.
Healthy Product Mix. The latest 10-K suggests that AT&T is well on its way to turn into a pure play wireless company, with some reasonably healthy wireline services around broadband and cable. Even though the revenue between wired and wireless is currently balances (54% wireless, 46% wireline), already about 75% of the profits come from wireless. This wireless profit number has grown rapidly from 50% to 75% in only two years, so the trend is a friend.


Churn Fairly Steady. There is much angst about the switching battle between T-Mobile and AT&T, and how this might hurt AT&T both in the near term (in incentives) and long term (non-contract plans). While the former might have some legs, AT&T's churn rate has held quite steady, suggesting that the T-Mobile concern is overblown. Additionally, AT&T's CEO has repeatedly mentioned that coverage and service quality are the primary customer priorities in their market surveys. This is borne out both my direct and indirect social network.

4G CapEx soon to be in the past. While AT&T's earnings show steady to slow growth, the 10-K suggests that the CapEx (mostly 4G related) spend peaked at about $21B early this year and is going to fall back to the $19-20B historical number. With the 5B or so shares float, that is a tailwind of about 20 cents per share on T's stock going forward.

Valuation. T has been in a trading range between $32 and $36 over the last year. At $32 and change, it is currently trading very close to the lower end of this fairly well-defined trading range.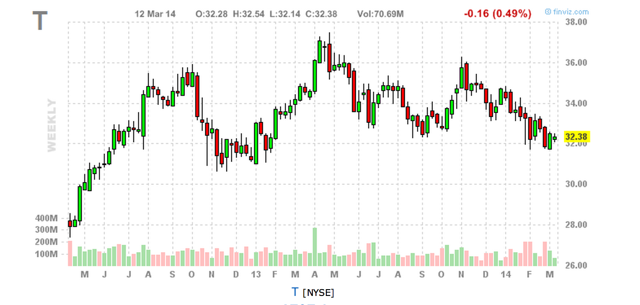 In a time of potentially higher volatility, T gives you about 6% dividend, the potential of 10-12% capital gains over the next 12 months, and dividend tailwinds from reduced CapEx.
Disclosure: I have no positions in any stocks mentioned, and no plans to initiate any positions within the next 72 hours. I wrote this article myself, and it expresses my own opinions. I am not receiving compensation for it (other than from Seeking Alpha). I have no business relationship with any company whose stock is mentioned in this article.