By Sumit Roy
Despite the falling price, storage builds going forward must greatly outpace last year.
Natural gas was last trading down by more than 2.5 percent to $4.38/mmbtu - a two-month low - after the Energy Information Administration reported that operators withdrew 195 billion cubic feet from storage last week, within the range of analyst estimates.
The latest withdrawal was above last year's draw of 145 bcf, and the five-year average draw of 101 bcf.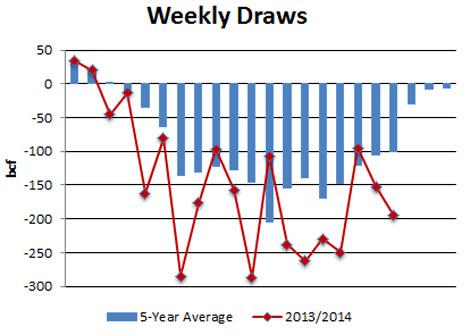 In turn, inventories now stand at 1,001 bcf, which is 937 bcf below the year-ago level and 857 bcf below the five-year average (calculated using a slightly different methodology than the EIA).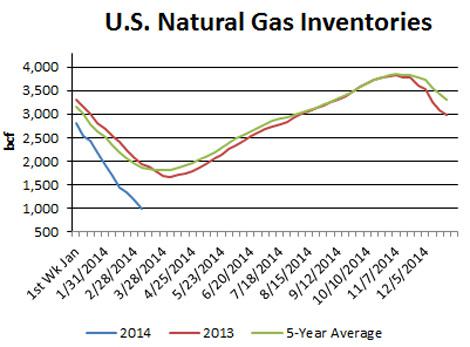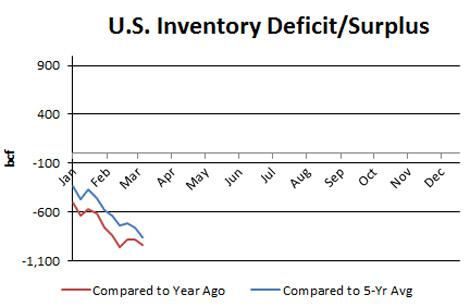 The weather last week was much colder than normal.
According to the Edison Electric Institute, utilities generated 80,142 GWh in the week ending March 8, which was 6.2 percent above the same week a year ago.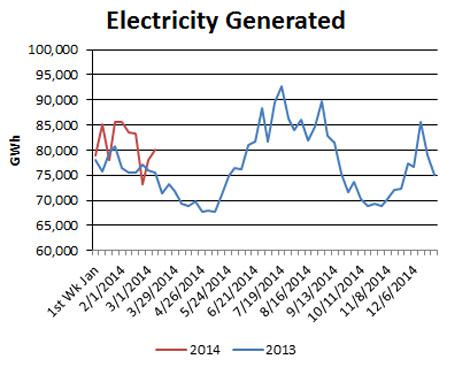 Looking forward, the NOAA's 6- to 10-day outlook calls for colder-than-normal temperatures across the eastern half of the country.
NOAA 6- TO 10-DAY OUTLOOK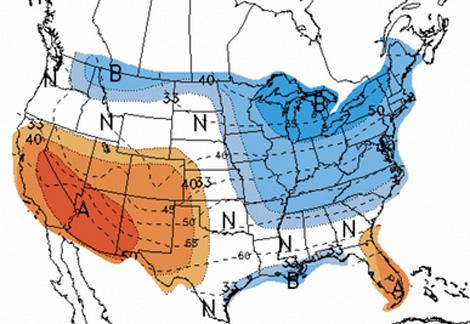 Meanwhile, Baker Hughes reported that the number of rigs drilling for natural gas in the U.S. rose by 10 to 345 last week after hitting the lowest level since 1995 in the previous week.
Natural Gas Rig Count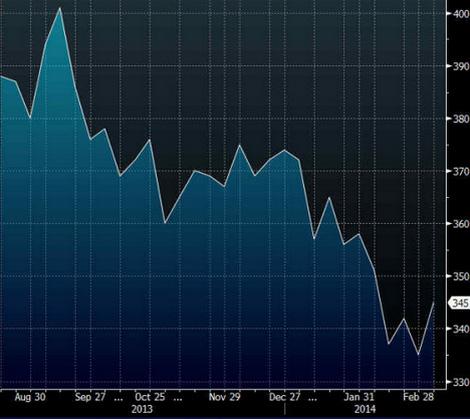 Natural Gas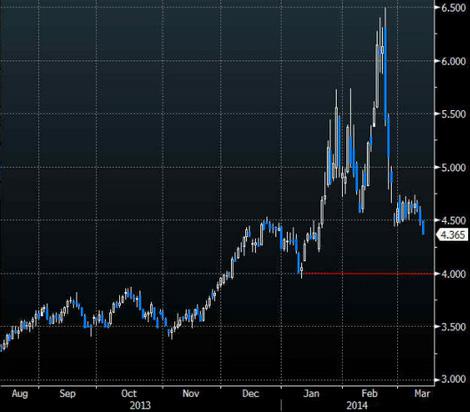 Bottom Line: The latest inventory data from the EIA were bullish, as the inventory deficit against the five-year average rose from 762 to 857 bcf.
We anticipate that storage will continue to decline through the end of March, bottoming out between 800 billion and 900 billion cubic feet. That would be roughly 800 bcf below last year's trough and 1,000 bcf below the five-year average trough.
Yet prices have fallen to a two-month low today as traders and analysts express confidence that production will rise and inventories will be refilled at a record rate this spring and summer. But it might not be as easy as many think.
Assuming a winter-ending trough of 850 bcf, injections must average 95 bcf per week in order to refill inventories to 3,800 bcf - a level reached in each of the past five years.
Last year, injections averaged about 70 bcf per week. Thus, weekly injections must increase 25 bcf (3.6 bcf/day) in order get inventories back to "normal" levels. While it's certainly possible that injections could increase dramatically this year, as we've noted in the past, if production doesn't rise as much as expected or a hot summer increases demand, inventory builds may not live up to expectations.
In our view, with prices well off their recent highs, bullish risks now outweigh bearish risks. A move to the psychologically significant $4/mmbtu level is possible, but we would be buyers on any such pullback.