Philip Morris' (NYSE:PM) stock price shows little ambition to reclaim the territory it lost over the last year. Philip Morris marked its 52-week high nearly a year ago at $96.73 and its stock performance is everything else but exciting: The stock is down 18% since its 52-week high in April 2013, 13% over the last year and 8% year-to-date. Temporary phases of weakness in stock prices are nothing extraordinary - except that they offer income-hungry, long-term investors a good opportunity to add a dividend champion to their portfolios.
Disappointing one-year share performance
Philip Morris' stock price declined throughout much of 2013 even though stock indices had a pretty good year.
(Source: Yahoo Finance)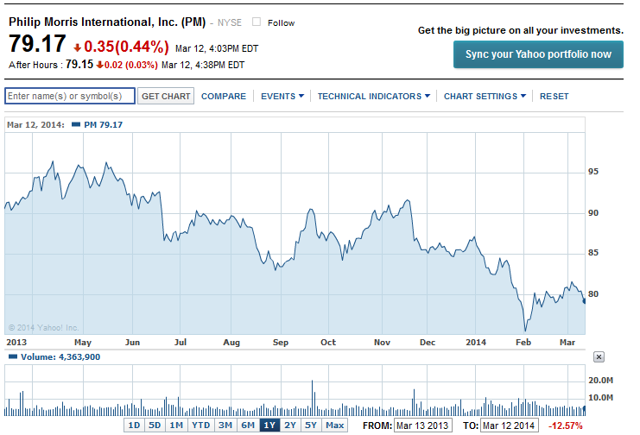 From a comparative point of view, Philip Morris is the most underperforming tobacco company in the peer group over a two-year performance measurement period. Reynolds American (NYSE:RAI) and Lorillard (NYSE:LO) recently sparked news with respect to a possible merger and rumors clearly helped both companies' short-term share price performance. After rumors about a potential takeover bid from Reynolds American made headlines, share prices of both companies surged (see chart below) while Altria's (NYSE:MO) and Philip Morris' shares remained largely unaffected. However, Philip Morris' relative underperformance is striking and, in my opinion, undeserved.
(Source: Yahoo Finance)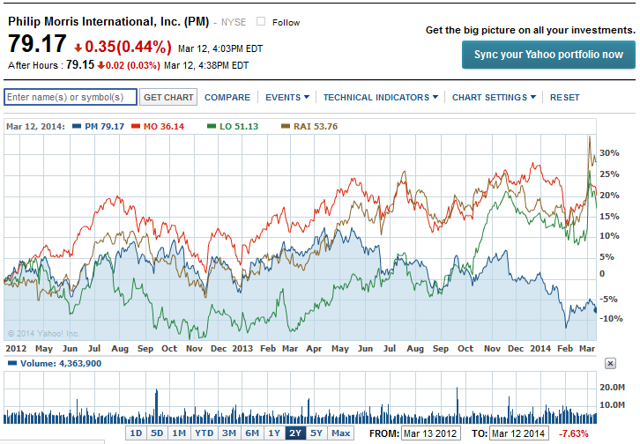 Background
Philip Morris had a decent fourth quarter and also presented strong underlying business results for fiscal year 2013. Philip Morris' adjusted diluted EPS excluding currency effects increased 10% y-o-y to $5.74 vs. $5.22 in fiscal year 2012. Though Philip Morris' business results took a hit from one-off impairment charges and currency effects, its main business challenges come from contracting industry volumes. The only ways to mitigate declining volumes is to build a strong brand portfolio (Marlboro, L&M), increase market share (especially in the premium segment) and optimize costs. Philip Morris excels in all these areas.
(Source: Philip Morris CAGNY Conference Presentation)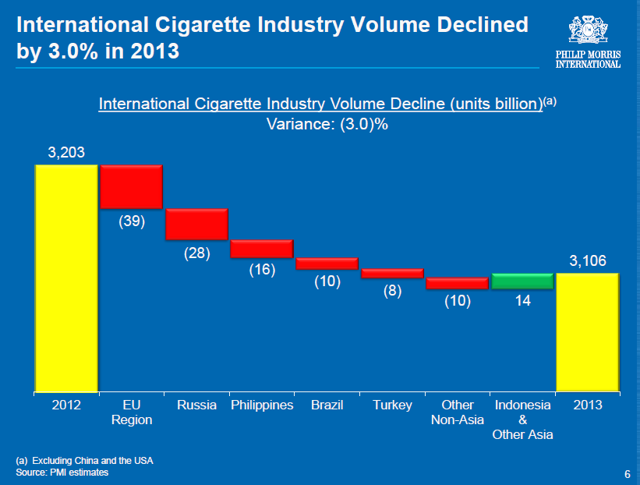 Philip Morris reported solid PMI market share growth momentum in the six largest European cigarette markets in 2013 and built on its leadership position in the premium segment (especially Marlboro).
Currency effects had a negative impact on Philip Morris' fourth-quarter performance, however, I believe that currency influences cancel out in the long-run and cause no headaches for long-term investors.
Market valuation
Tobacco companies still offer investors reasonable earnings multiples and attractive dividend yields. The peer group average P/E ratio stands at only 13.85 while Philip Morris fetches a forward earnings multiple of 14.21.
(Source: Achilles Research, Finviz.com)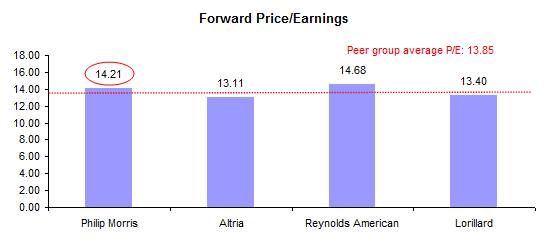 From an income perspective, tobacco companies make attractive additions to yield-focused portfolios. Philip Morris has an extraordinary shareholder remuneration policy deploying capital both for share repurchases as well as recurring dividends. The company now pays investors a quarterly dividend of $0.94 ($3.76 annually) which translates into an annualized forward dividend yield of 4.75%. I estimate that Philip Morris increases its quarterly dividend to about $1.00 in 2014/2015 which would bring the estimated annualized dividend yield to a solid 5.1%.
(Source: Achilles Research, Finviz.com)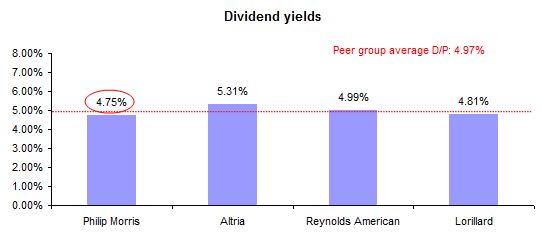 A summary table with key valuation metrics is provided below:
(Source: Achilles Research, Finviz.com)

Conclusion
Philip Morris has a great product portfolio, strong free cash flow and a convincing shareholder remuneration record. Investors who desire high income at an acceptable level of risk should consider Philip Morris for their income portfolio. While currency effects and other one-off items like impairment charges affected Philip Morris' financial results in 2013, its underlying business performance and free cash flow generation remained solid. Investors purchasing Philip Morris now benefit from a cash flow yield of 4.75% with likely higher yields down the road. Long-term BUY.
Disclosure: I am long PM. I wrote this article myself, and it expresses my own opinions. I am not receiving compensation for it (other than from Seeking Alpha). I have no business relationship with any company whose stock is mentioned in this article.