As we enter the new trading week, the S&P 500 sits at a new correction low on a closing basis. Below we highlight our trading range charts for the S&P 500 and its ten sectors. For each chart, the blue shading represents between one standard deviation above and below the 50-day moving average. The green shading represents between one and two standard deviations below the 50-day, and vice versa for the red shading. Moves into or above the red shading are considered overbought, while moves into or below the green shading are considered oversold.
Investors certainly don't have to worry about an overbought market at the moment! As shown, the S&P is currently trading just below the bottom of the green zone, which means it's more than two standard deviations below its 50-day. The index has been bouncing around current levels for a couple weeks now, and we'll likely soon find out whether traders want to break this thing below February support or not.
click to enlarge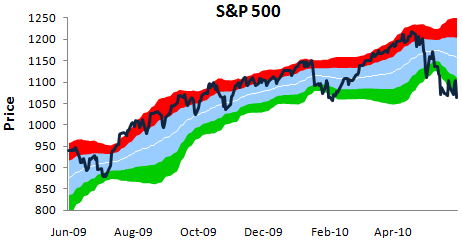 All ten sectors are oversold at the moment as well. Along with the overall market, Materials, Industrials, and Financials sit at correction lows. Technology and Consumer Discretionary have been holding up better than most other cyclical sectors, but that's not saying much right now.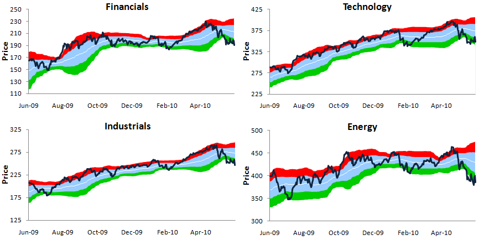 Click to enlarge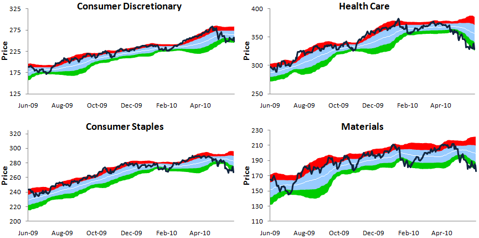 Click to enlarge

Click to enlarge