Who doesn't enjoy receiving free stuff? I know that I like the occasional "freebie" whether it is a taste of Starbucks' (NASDAQ:SBUX) newest flavor or merely checking my free Yahoo Mail (NASDAQ:YHOO). Free is a powerful word. I am sure that many of you started to read the story just because the word "free" is in the title (actually it is there twice, but whose counting?) and were intrigued with possible thoughts that I might be giving away something for free! I will begin by apologizing because I have no free goods to offer. What is even better than receiving free products and services? Investing in companies that can actually profit from these business models. When a company is able to at least partially remove price from the equation, you have a fierce competitor, and one that I would consider adding to my portfolio. Hopefully I have been able to keep your attention.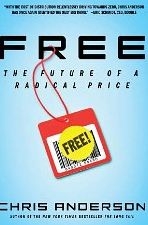 After reading Free: The Future of a Radical Price by Chris Anderson, I am hard pressed to think of companies that do not participate in the "free economy" in some way. Companies that operate predominately in the digital realm are involved in free to a greater extent than those in the traditional brick-and-mortar world but exceptions do exist. The time I spent reading this book invaluably enhanced my understanding of the business models of numerous companies; therefore, it would be to your advantage to invest some time in reading this book. Fortunately this book is a delight to read and Mr. Anderson's writing style is simultaneously vibrant and informative. You can put your fears to rest as you do not need to be either a tech geek or a financial scholar to understand this book. While the ideas presented are not truly as radical as the title proclaims (at least to those under twenty-five), they are still certainly worth your time. To provide an early example, if you are one of those investors who wonders not only how Google (NASDAQ:GOOG) is able to stay in business, but how it generated over $20B in revenue in 2008, this is a must-read.
You may know Mr. Chris Anderson from his articles here on Seeking Alpha, from his work at WiReD magazine, or from his first book, The Long Tail. His most recent book Free goes into detail of companies that employ various free business models to different degrees. Mr. Anderson divides free into the following six categories: "Freemium" (giving away a basic product to spur sales of a premium version of the product), Advertising, Cross-Subsidies, Zero-Marginal Cost, Labor Exchange, and The Gift Economy. Some of these categories may be obvious (advertising) but for a primer on these categories, and the book in general, please check out an article from early 2008 by Mr. Anderson. These broad categories are further refined in the book.
These concepts are especially relevant given the current economic malaise. As consumers are becoming more reluctant to spend, why not invest in companies that profit from giving away products/services for free? In brief, you need to understand "how free works" to invest in companies that operate at least partially in the free space. The degrees of "free-dom" are different for different companies: for example, Wal-Mart's (NYSE:WMT) free is on a much smaller scale than competitor Costco's (NASDAQ:COST). Will understanding how companies that you invest in utilize free improve your investing decisions? Yes. Will learning more about business models and the strategies employed give you an advantage on other investors? Yes. Will reading this book substitute for fundamental research? No.
For investors trying to learn about how the free business model, many portions of the book are not directly relevant (although interesting tangents) and can be quickly skimmed. For example, Mr. Anderson goes into detail about the origins of the word "free", the learning curve, the origins of the radio industry, and other concepts. These are appealing background sections for leisure readers but are not necessary if you are short on time. Also, these are some of the more technology heavy sections of the book that may require more background knowledge than the book as a whole.
I would be remiss to conclude this article without mentioning the controversy surrounding the book. It was discovered that Mr. Anderson quoted portions of this book from Wikipedia without proper citations. These omissions are addressed by Mr. Anderson on his blog. Regardless of your opinion on this issue, it does not take away from the valuable insights provided by the book.
Free is available at Amazon and Barnes & Nobles. In addition, the book is available as an audio book online via WiReD or iTunes for the low, low price of Free! There are also various excerpts available via Google Books.
Now that you understand why reading (or listening) to Free can help your investing, I have compiled a list of companies that operate to some extent in the free economy. The vast majority of the examples listed below come from Mr. Anderson's book but I have supplemented it with personal examples of other publically traded companies. This is by no means an exhaustive list but this should serve as a representative starting point. With Mr. Anderson's assistance, I narrowed down the company index considerably. The index below focuses on companies that uses free as a significant competitive advantage over peers. Given the economic climate, companies that implement free more than its competitors may be in a position to generate excess returns.
Company Index:
American Express (NYSE:AXP) – Reward points/cash back
Amazon (NASDAQ:AMZN) – Shipping, Zappos
Apple (NASDAQ:AAPL) – Apple Store classes, free iTunes singles and applications
Coach (NYSE:COH) and other luxury retails – Impact of knock-off, black-market products
Comcast (NASDAQ:CMCSA) – DVR
Costco (COST) – In-store free product samples
eBay (NASDAQ:EBAY) – Skype
General Electric (NYSE:GE) – NBC and Hulu
Google (GOOG) – YouTube, search engine, Google Docs, Gmail, Google Maps, etc.
McDonalds (NYSE:MCD) – Free products, sample days (Mocca Mondays recently)
Microsoft (NASDAQ:MSFT) – Bing search, Facebook investment, free content on Xbox Live
New York Times (NYSE:NYT) – Online paper
News Corporation (NASDAQ:NWS) – Wall Street Journal (partially)
Ryanair (NASDAQ:RYAAY) – Air travel
SIRIUS XM Radio (NASDAQ:SIRI) – Free radio with subscription
Starbucks (SBUX) – Free WIFI, in-store free product samples, iTune songs of the week
Yahoo! (YHOO) – Flikr, search engine, Yahoo! Mail, etc.
Yum (NYSE:YUM) – Recent KFC grilled chicken giveaway snafu

Disclosures: I am long AAPL, GE, GOOG, and WMT. I have no personal stake in the success of Mr. Anderson's books, nor am I being compensated for writing this article. I communicated with Mr. Anderson when writing this article and thank him for his time.