For those looking to benefit from the deepwater drilling moratorium in the Gulf of Mexico, I suggest two stocks: Petrobras (NYSE:PBR) and Murphy Oil (NYSE:MUR).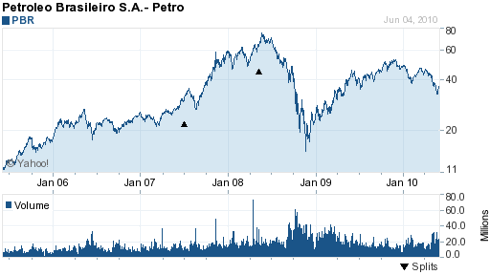 (Click to enlarge)
Let's first look at Petrobras. The drilling moratorium will very likely cause deep-water rigs to relocate away from the United States. This is obviously bad for America's energy security, job creation, and national security - but we have gotten used to the US government not caring about such minor issues. Regardless, these deep-water drilling rigs will most likely move to off-shore Africa or Brazil. This is a potential big opportunity for Petrobras which could benefit in the following two ways:
Greater access to deep water drilling rigs at more favorable pricing
Increased oil production earlier than previously projected
Petrobras has largely addressed its capital needs, but has been somewhat restrained in access to deepwater drilling equipment. One thing is for sure: the oil is there, and much of it is sweet light crude - just what the market wants and needs.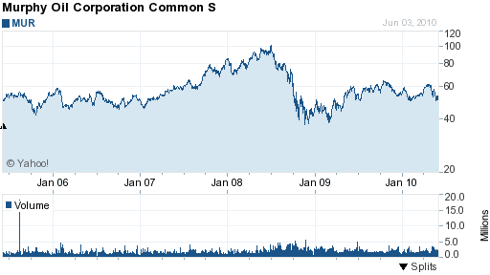 (Click to enlarge)
Another stock which may benefit from the higher oil prices resulting from future decreases in GOM production, might be a company like Murphy Oil (MUR). Murphy has some production exposure to the GOM deepwater, but it is significantly less than 10%. It has large and growing production in Malaysia, as well as a significant stake in the Canadian Oil Sands and in the Congo. Read more about MUR in its annual report, which you can access here.
Like most all the energy companies, both stocks are down signficantly in recent weeks and represent good value going forward.
Disclosure: Author long PBR