Technological innovation has always changed the lifestyles of people over decades. People spend over a billion hours watching TV. However, the traditional TV experience now seems to be outdated. Fast-paced internet connectivity has begun to evolve the way people watch television shows and movies. The world's leading linear TV networks, such as HBO, ESPN and BBC are moving into internet TV. In this rapidly changing internet age, Netflix Inc. (NASDAQ:NFLX) is the leading internet television network with more than 44 million streaming subscribers in over 40 countries. Netflix is increasing its global internet TV network offering movies and TV shows with unlimited viewing on any internet-connected device. Netflix's simple business model, which is flat fee for unlimited viewing, has played a key role towards the growth of the company.
Fourth Quarter 2014 Highlights
The blistering growth of Netflix's fourth quarter has beaten analysts' expectations. The company generated $1.18 billion in revenue for the fourth quarter of 2013 with a growth rate of 5% and 0.6% higher than estimates. The domestic net additions of 2.33 million increased by 14% reaching 33.4 million in total and the company expects this growth to continue in the first quarter of 2014 with net additions of 2.25 million subscribers. This will bring the total number of subscribers to 48 million both from the domestic and international segments.
The net income of $48 million significantly increased from $8 million year over year, resulting in diluted earnings per share of $0.79, which improved from $0.13 year over year.
Netflix added around 2.33 million new subscribers to its international segment. The company also showed a decline in its losses from the international segment; the total contribution loss fell to $57 million in the fourth quarter of 2013 compared to the $74 million loss in the third quarter of 2013. Netflix expects the contribution loss to decrease to $42 million in the first quarter of 2014.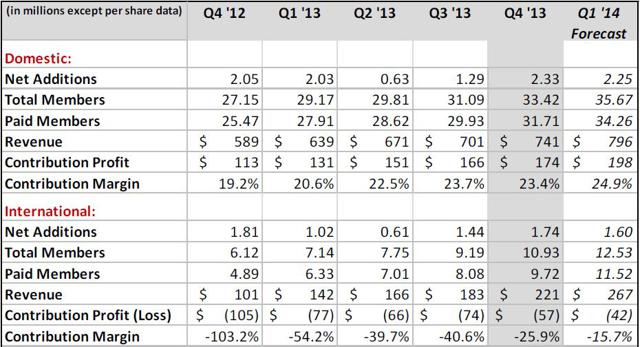 Click to enlarge
Source: earnings presentation
The Global Internet TV market Growth Prospects
According to research, the global internet TV market will reach $81.2 billion by the end of 2017. The demand will be driven by the growing need for running widgets through TV, greater clarity and resolution and a wider spectrum of virtually unlimited channels and entertainment options. The developed markets of the U.S. and Europe will be the largest regions for internet TV growth throughout the period. The European market will draw strength from strong markets such as the U.K., France and Germany. On the global front, Asia-Pacific is set to literally trail blaze ahead at the highest compounded annual growth rate of a robust 59% through 2017.
Netflix successfully increased its international subscriber base by 79% at the end of fiscal year 2013 compared to fiscal year 2012. During fiscal year 2014, Netflix plans to spend $500 million in marketing to attract consumers around the world. This will enhance Netflix's brand awareness along with awareness about content offered across the globe. Netflix expects an increase of around 60% in its international subscriber base reaching 1.60 million in the first quarter 2014. Smart TV demand is increasing and eventually every TV will have Wi-Fi and applications. Smartphone and tablet viewing are increasing. Internet TV apps are improving through competition and continuous updates. Streaming will be the leading source for 4K Ultra-HD video. Netflix is innovating rapidly and driving improvements to capture the evolving market.
Netflix Internet Streaming Expansion in the European Region
The streaming-video services market is still at its initial stage of emergence. It is expected that compared to the rest of the world Western Europe will grow at a faster rate with revenues reaching $1.1 billion by the end of 2017 compared to the estimated $700 million in 2013. Netflix has set its eyes on the European market especially in France and Germany as these two countries are the fourth and sixth-largest broadband markets in the world. Recently Netflix has started discussions with American entertainment companies about licensing popular American content in France and Germany. Netflix has already started talks with the French government and plans to launch its services there by the end of this year. The expansion in Europe is a part of the company's successful initiative to increase its international subscriber base that is currently 10.93 million and expected to increase by 1.6 million in the first quarter of 2014. If successfully completed, this expansion would also help Netflix to significantly improve its earnings from international markets and ultimately will convert losses into profits from international subscribers. Netflix has also been successful in other European countries such as Sweden where it launched in 2012. The potential expansion into France and Germany can be a significant catalyst for the company's growth.
After the popularity of "House of Cards" and "Orange is the New Black", Netflix intends to accelerate the tremendous momentum by releasing a new season of "House of Cards", "Derek", "Orange is the New Black", "Lilyhammer" and final season of "The Killing" during 2014. The popularity of these TV series will accelerate subscription payments and ultimately the growth to earnings.
Conclusion

Click to enlarge
Source: Ycharts
Netflix's total return of 149.5% over twelve months from both price appreciation and dividends has outperformed the S&P 500, Comcast (NASDAQ:CMCSA), and Time Warner Cable (TWC). Netflix has continued to please its investors with healthy returns and investors have high expectations from the company given that it has outperformed estimates over the past two years. As of now, the company's prospects are strong. Considering the fan following the company's original content has built up and the success of the management's efforts to garner greater market shares both domestically and abroad, it seems that Netflix is right on track. The investors should consider adding this growth stock to their investment portfolio.
Disclosure: I have no positions in any stocks mentioned, and no plans to initiate any positions within the next 72 hours.
Business relationship disclosure: The article has been written by a Blackstone Equity Research research analyst. Blackstone Equity Research is not receiving compensation for it (other than from Seeking Alpha). Blackstone Equity Research has no business relationship with any company whose stock is mentioned in this article.