The wisdom of the masses. It's a concept that contends that information collected from a group of individuals is generally more reliable than information gathered from any single individual from within that group. If true, what was the oil and gas industry saying en masse about the types of equipment and materials used to develop offshore wells, particularly those at greater depths, prior to the incident involving the Transocean (NYSE:RIG) Deepwater Horizon rig and BP's (NYSE:BP) Macondo well?
Analysis of data collected via EnergyPoint Research's industry-wide surveys suggests oilfield customers have been significantly less satisfied with the equipment and materials available for subsea and deepwater projects than they have for land- and surface-based applications. In fact, since 2005, subsea equipment received the lowest overall customer satisfaction ratings of the multiple oilfield product segments we track in our independent surveys
(Click to enlarge)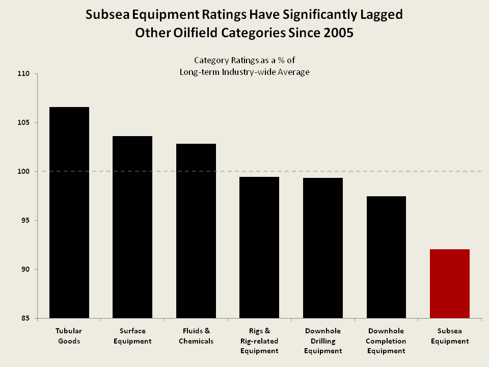 Click to enlarge
Improvements Needed
As the industry searches for ways to avoid a repeat of the current catastrophe in the Gulf of Mexico, it may prove helpful to develop a more thorough appreciation of what drives the conspicuously low customer satisfaction scores for subsea equipment.
Customer satisfaction, to a large degree, is a matter of meeting or not meeting customers' expectations. Accordingly, survey respondents' evaluations suggest that subsea suppliers and their products have fallen short of customers' expectations virtually across the board compared to their surface-based peers.
The ratings shortfall is most acute in the areas of in-house quality control, post-sale support, and product availability and delivery. One survey respondent summed up the situation as a "lack of adequately trained personnel, long delivery times for even routine spares, arrogant responses to technical queries, and exorbitant cost[s]…"
The industry's dissatisfaction with subsea products is clearly exacerbated by the significant growth experienced by the sector over the last several years. This growth has caused some suppliers to spread thin their organizations as they attempt to service greater numbers of projects across the globe while simultaneously developing more technologically sophisticated and expansive offerings.
Survey data suggest customers see subsea BOPs, wellheads and trees, and risers and flexjoints as particularly lacking, followed by umbilicals, controls, manifolds and flowlines. Additionally, analysis indicates respondents' ratings for subsea BOPs, wellheads and trees materially trail those of land-based applications of these same types of products.
Remotely-operated vehicles (ROVs), the robotic submarines performing the high-profile and yeoman's task of taming the Macondo well, enjoy the highest long-term ratings of any subsea product category that EnergyPoint Research tracks. Ergo, the industry can at least take some minor refuge in the notion that the equipment used to deal with problems on the seafloor is more highly regarded than the categories of products used to prevent such troubles in the first place.
ROV manufacturer Oceaneering (NYSE:OII) is one of two major suppliers with subsea ratings that exceed the broader industry average. The other is Dril-Quip (NYSE:DRQ). Heavyweights Cameron International (NYSE:CAM), FMC Technologies (NYSE:FTI), GE Oil & Gas and Aker Solutions all rate below average.
Note -- This analysis is derived from 5,600+ customer evaluations of oilfield product suppliers collected via EnergyPoint Research's independent surveys since 2005.
Disclosure: No Positions