A few days ago Pandora (NYSE:P) disclosed that it now has 250 million registered users. The company's management apparently did not realize how damaging this boastful announcement can be.
The most obvious - and a very disturbing for Pandora stockholders - comparison is that there are approximately 250 million people over 13 years of age in the United States. Pandora is present in Australia and New Zealand, but the U.S. is its biggest market by far. Where will the growth come from, if the number of registered accounts equals the number of all potential customers?
The only logical explanation for this conundrum is that many users have multiple accounts, and that the number of such duplicate accounts must be in the tens of millions. This explanation, however, inevitably leads to an even more disturbing question: when Pandora reports its active monthly users, are they referring to real people or "registered accounts"? Pandora provides an answer to this question in its annual report:
The number of active users may overstate the number of unique individuals who actively use our service within a month as one individual may register for, and use, multiple accounts.
This means that fewer people use Pandora than the headline numbers in the company's monthly and quarterly reports suggest. Considering how many duplicate accounts there must be, the difference, most likely, is very significant. Note that this caveat is included in the annual report, but the company never mentioned it in its monthly audience reports or on quarterly conference calls, and I never saw it in any of the media reports covering the company.
This is not the only conclusion, however, that we can draw from this announcement. We can also use it to calculate the churn rate. A churn rate - the number of customers who drop the service and have to be replaced by new customers - is a very important metric for any company. Pandora does not disclose this information, and the Wall Street analysts are too shy to ask. So, let's do this work for them.
The company disclosed in its annual report that it had 175 million registered accounts as of January 31, 2013. 75 million new accounts have been opened since then. Pandora also reported that 65.6 million of registered accounts were active in January of 2013, and 75.3 million accounts were active in February of 2014.
A very simple calculation reveals that 75 million new accounts translated into an increase of less than 10 million in active accounts. In other words, almost as many accounts (65 million, or 87%) became inactive as the number of new accounts opened during this period. This gives us an annual churn rate of approximately 34.3%, which means that Pandora loses a third of its customers each year.
The actual churn rate might a bit lower if a significant number of people use the service sporadically. From investors' perspective, however, users who skip entire months without accessing the service even once are as good as inactive. The vast majority of Pandora's users pay nothing for the service. If they do not listen, the company cannot make any revenues from them.
This high churn rate is not a new development - the company already had 110 million inactive accounts a year ago. The churn did accelerate, though, as it took Pandora 7 years to accumulate 110 million inactive accounts, and only 13 months to add 65 million more to the total.
Losing customers is never a good thing, but it is less troublesome - and much less noticeable - when the total number of users continues to grow fast. Pandora's user growth is declining for 13 months in a row, and it may soon disappear altogether: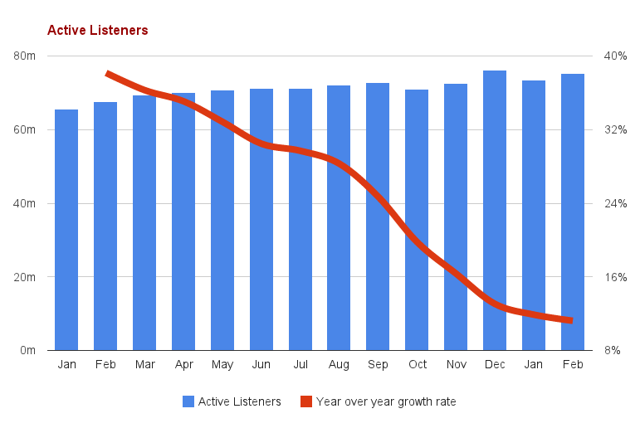 (Source: Pandora's monthly audience metrics)
The high churn rate suggests that going forward a company will have to work even harder to keep its user base from eroding.
A recent report suggests that Apple's (NASDAQ:AAPL) iTunesRadio was able to attract 20 million monthly users in less than 6 months, and it will most likely continue to grow. Apple just started to roll out its CarPlay system for car dashboard integration, and 18 car manufacturers already committed to implementing CarPlay in their models. CarPlay prominently features iTunesRadio, and it even includes iHeartRadio, Spotify and Beats Music, but not Pandora. iTunes Radio may get another boost after it becomes a standalone app in the next version of iOS.
The same report indicates that Spotify was able to at least 10 million active listeners in the U.S. since last March (my estimate based on the numbers reported by Spotify in March of 2013 and before that in December of 2012). Spotify is gearing for an IPO, which will, no doubt, give the company a lot of free publicity and may drive more users to the service.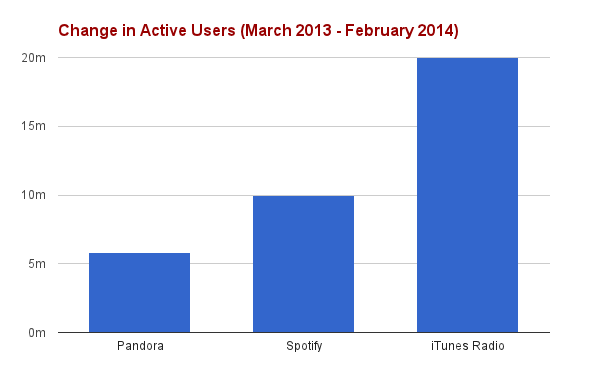 (Source: Edison Research and Triton Digital, Spotify's announcements, Pandora's monthly audience metrics)
A month ago Microsoft (NASDAQ:MSFT) stopped subsidizing Pandora app on smartphones running Windows Phone OS. Last week Samsung launched its own service, Milk Music, to compete with Pandora. Milk Music is free, and, unlike iTunes Radio or Pandora, it has no ads, which makes it a very attractive option.
The scariest (for Pandora investors) data point in aforementioned report, however, is the number of people who use Google's (NASDAQ:GOOG) YouTube to listen to music: last month 45% of Americans over 12 years old (74% in the 12-24 years category) used YouTube compared to 31% who used Pandora. Currently YouTube is not a very convenient way to enjoy music (tip: there is a way to make it easier). When YouTube launches a proper streaming music service later this year, it may quickly overtake Pandora as the leading online radio service.
Amazon.com is also preparing to launch its streaming music service. As we all know well, Amazon is not doing anything on a small scale. According to the recent research, the company had 27 million Prime members, and all of them will likely have free access to its music service.
I doubt that any company can survive direct competition with Apple, Google, Samsung, Microsoft, and Amazon.com at the same time. It is very unlikely that any of these companies will buy Pandora with its 75 million monthly users, considering Pandora's stratospheric valuation, its high churn rate, and the fact that Apple was able to attract 20 million monthly users so easily. Pandora remains an excellent short opportunity.
Disclosure: I am short P. I wrote this article myself, and it expresses my own opinions. I am not receiving compensation for it (other than from Seeking Alpha). I have no business relationship with any company whose stock is mentioned in this article.