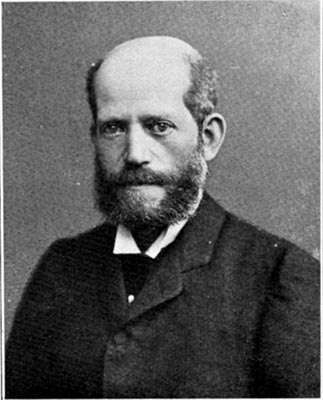 "Baron Rothschild, an 18th century British nobleman and member of the Rothschild banking family, is credited with saying that 'The time to buy is when there's blood in the streets.'" Recent political and military events in the Crimean Peninsula have impacted Russian stocks negatively. This is the contrarian's time to buy good Russian equities. This article covers one such equity, CTC Media (NASDAQ:CTCM) which is traded on the NASDAQ Exchange. (Photo: Atlanta Real Estate Resource.)
CTC Media operates 3 Russian television networks, CTC, Domashny and Peretz. It also has Channel 31, a TV network in Kazakhstan, and another TV channel in Moldova. All of the channels offer entertainment programming with some of the shows being produced by the company. The company has just started a new channel aimed at girls and young women hoping to snag the 11-34 female audience. (All illustrations below are from CTCM Presentation)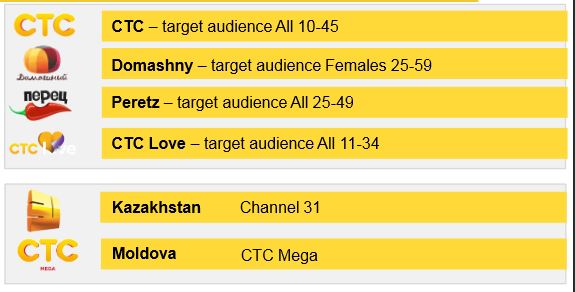 The Russian channels were able to increase their technical penetration from 2012 to 2013:
CTC: from 95.1% to 95.3%
Domashny: from 88.5% to 90.1%
Peretz: from 83.8% to 85.5%
CTCM is preparing to launch the first e-commerce project by a TV company in Russia. The launch is scheduled for April of 2014. The company is also moving to distribute content through other platforms other than TV. It is creating web and mobile platforms to distribute digital content. CTCM also maintains that the Russian TV ad market has significant potential for further development. See the graph below: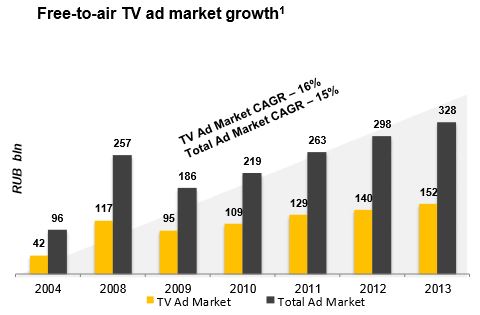 The argument for this growth is buttressed by additional statistics offered by the company's recent presentation. Ad spending as a percentage of GDP is lower than most other countries: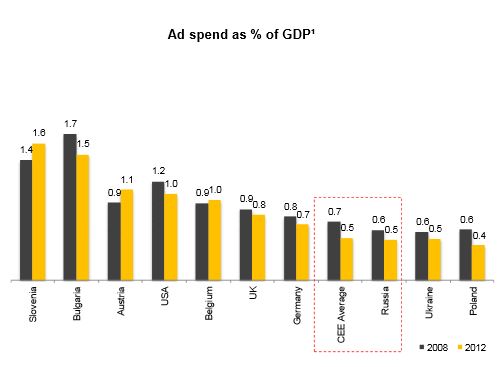 In addition, TV is the only medium with national reach with more free-to-air networks than other countries. Yet the cost per 1000 using TV is considerably less than other mediums in Russia.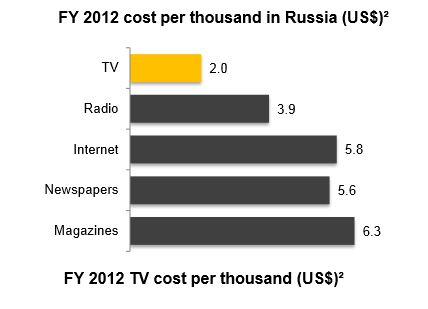 The company's revenue stream is growing with all of its TV channels. The graph below illustrates the growth for each.

Click to enlarge
Financial statistics also look very good for the company. It is presently offering a yield of 7% or a $0.70 dividend per year that the management expects to keep paying for the current year. The P/E is around 9.5 and free cash flow increased from $142 million in 2012 to $173 million in 2013. After paying $82 million in dividends and repurchasing 2.5 million shares at $29.7 million, CTCM still increased its net cash from $180 million in 2012 to $207 million in 2013.
Conclusion:
Rarely do we see a company that is growing its revenue and profits at a greater than 5% rate selling for a P/E less than 10. Furthermore the company is also paying a dividend that is triple the normal yield of most companies on the US market. The complications that hinder the price of the stock are:
Russian accounting often is not up to American standards and subject to mistrust and/or suspicion.
Current political and military climate in Russia, especially now with the advancing army into the Crimean Peninsula are wreaking havoc on Russian stock prices.
This equity is not for the faint of heart, but I am convinced that the opportunity for reward far outweighs the current risk. However, let me suggest that one should not invest more in this equity than one can afford to lose. There is always the possibility conditions could worsen in Russia.
PS. The record date for the $ 0.175 dividend to be paid on March 28 is March 19. If one purchases the stock by March 14, one can receive the current dividend.
Disclosure: I am long CTCM. I wrote this article myself, and it expresses my own opinions. I am not receiving compensation for it (other than from Seeking Alpha). I have no business relationship with any company whose stock is mentioned in this article.