In today's Oxen Group market recap, What's Next For The Market, we will be focusing our attention on Yandex (NASDAQ:YNDX). The Russian search engine company has been hit hard by the Russia/Ukraine conflict down 20% in the past month and 26% YTD. Yet, the question is whether this conflict really has any bearing on the value of the company. We will explore that today. As always, we will also recap what happened in the market today and forecast for the coming days.
Market Insights
The market was hit hard on Thursday as fear over China and Ukraine overrode solid economic data that was announced at home as the market continued lower. China fears were continued as more February data was released that missed expectations. Retail Sales and Industrial Production both declined in their gains as well as missed expectations. Retail sales only rose 11.8% YTD versus 13.5% expectations. Industrial production came in at 8.6% versus 9.5% expectations. Some analysts have noted that a lot of this slow down came during an extended Chinese New Year that see most of the nation close down business.
Still, after the 18% drop in exports earlier in the week, it was enough to spook the market. That news was only furthered by more fear over the Russia/Ukraine conflict. The country began military exercises again with 8,000 troops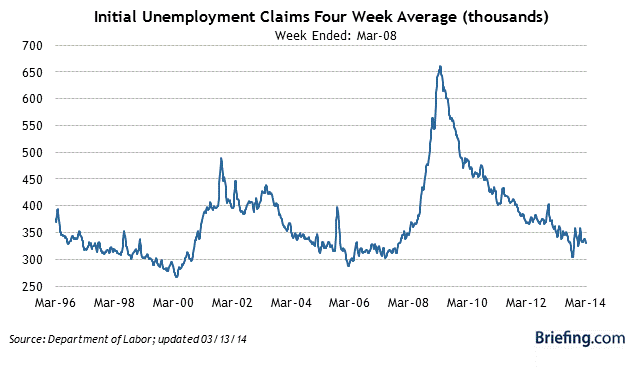 near the border of Ukraine, and more strong words from the West came against Russia. The controversial referendum to vote on Crimea is not supported by the USA, and this potentially explosive situation is concerning investors.
That news overshadowed what was a fairly good day of data for the USA. Jobless claims were strong at 315K, beating 330K-area expectations. Retails sales came in higher than expected as well with 0.3% reading over 0.2% expectations. Export prices were showing some inflation at 0.6%, but import prices were lower at -0.2%. That news was pretty solid after a lot of weakness from January data, and retail sales show some better consumer trends.
Therefore, we are actually feeling more confident now. The Russia-Ukraine conflict seems to be a buying opportunity not a selling one to us unless this blows into a full scale war, although, those times are actually good market opportunities for some industries as well.
At the close, the Dow Jones (NYSEARCA:DIA) is down 231 points. The S&P 500 (NYSEARCA:SPY) is down 22 points, and the Nasdaq (NASDAQ:QQQ) is down 63 points.
In Focus - Yandex
After what was a great 2013 for Yandex, 2014 has seen shares give up ¼ of their value to date. The company saw a 37% increase in revenue in 2013 as well as a 36% increase in operating income. The company's net income was also up 64%. Overall, it was a great year of growth for the company, and we want to take a look at the potential value of the company. The current situation in Russia does have some impact, but it will be minimal if this situation goes away in the next 1-2 months. This recent drop may actually be a great buying opportunity.
Yandex makes almost all of their money from advertising. The company makes about 98% of their money from advertising, and it makes about 86% from text-based advertising, so the key questions and understanding of the company is based on that development. Here was a breakdown of revenue from the latest quarter:
Revenues
In RUR millions

Three months

Twelve months

ended December 31,

ended December 31,

2012

2013

Change

2012

2013

Change

Advertising revenues:

Text-based advertising

Yandex websites

6,181

8,006

30%

20,610

27,584

34%

Ad network

1,462

2,830

94%

4,898

7,885

61%

Total text-based advertising

7,643

10,836

42%

25,508

35,469

39%

Display advertising

964

1,152

20%

2,592

3,379

30%

Total advertising revenues

8,607

11,988

39%

28,100

38,848

38%

Online payment commissions

178

--

-100%

552

394

-29%

Other

34

98

188%

115

260

126%

Total revenues

8,819

12,086

37%

28,767

39,502

37%
The company has seen is most growth in what the company calls its "ad network," which is the company's partnership with Mail.ru. The company began a partnership with Mail.ru in July of 2013, and the company has been increasing partnerships to start the year, which is pretty exciting news. The company also started an ad network deal with Google (NASDAQ:GOOG) near the end of February that continues to increase the power Yandex's ad network. The company's ad network increased as a percent of revenue as well from 17% to 23%. The company looks to want to continue partnerships it seems, and it may be one of the best places for growth for the company. TACs were very high for partner networks in the last quarter at over 118%, outpacing growth. Yet, these costs should start to come down from here.
Another great catalyst is Yandex.Market. The market is an e-commerce model that allows Russians to complete purchses on the web base. Here is some comments from a great article by Dulik Kohomange:
In Late 2013, Yandex transformed Yandex.Market into a marketplace platform by introducing a cost direct model and unified shopping basket to its services. This transformation provides the ability for customers to complete their purchases directly on the site without leaving Yandex.Market. This is a vital makeover as it is taking advantage of the e-commerce boom that Russia is experiencing. eBay CEO John Donahoe branded Russia as first among emerging markets in e-commerce growth. With foreign competition eager to enter the Russian e-commerce market, Yandex is using its already established brand awareness to gain an edge. The company plans to further improve this service by introducing multi-shop integration, a checkout system, client guarantee and recommendation system to attract and engage customers. Currently, Yandex.Market is situated as the #1 Comparison Shopping Destination in Russia, however Yandex has more in plan than being just a comparison site.
The market is a great catalyst to growth, and Yandex continues to dominate the market with over 60% of market share. This infographic from Search Laboratory is a great graphic to learn about Yandex: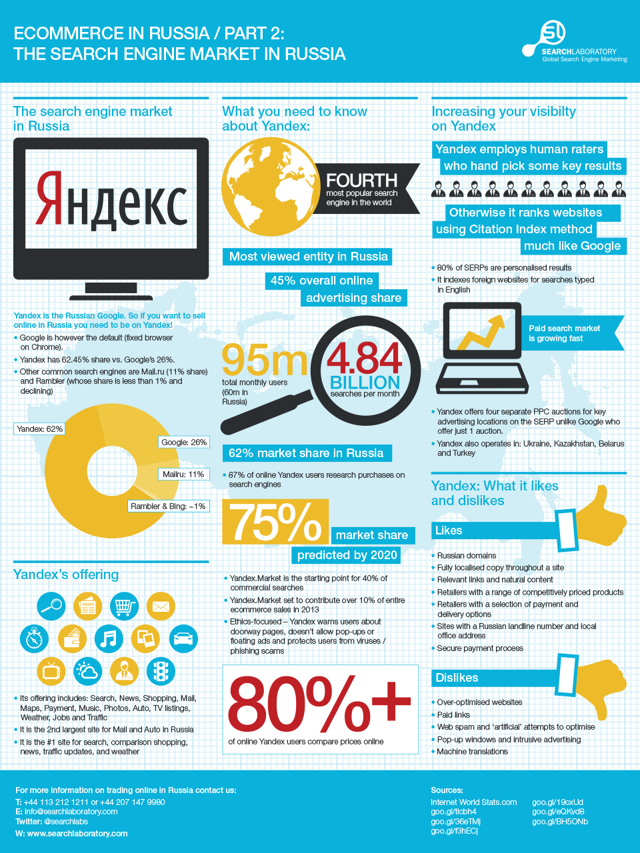 The question we want to ask, though, is whether these recent developments with Ukraine and Russia mean much for the company. Business tends to not take place with political pressure, but it likely will have some hit to the company's growth. At the same time, if the deal is short-term, it will have a little impact. Let's take a look at what the company potentially is worth:
Revenue -
The company is likely to continue to grow revenue at a strong rate, but we would expect some hit to revenue. In our model, we are assuming a 30% growth rate this year falling to 20-25% and stay at 15-20% from there. While we like the growth, the Russian market is consolidating, competition will grow, and the comps get harder.
Operating Income -
The company has noted they want to drop SG&A costs in 2014, which were at 17% in 2013. In 2012, the company was at 17% of revenue as well. TAC is expected to stay at the same levels in 2014, which will see margins rise as revenue grows. We would expect operating margins to decline some due to continued investments and TAC costs potentially rising due to the Russian influence. From there, we would expect things to rebound, but a 32-33% rate seems likely moving forward.
CapEx -
The company projects 14-16% of revenue to be CapEx, which is a rise from 13% in 2013. The company has been at 13-14% from the last couple years, and we would expect it to stay at around this level with some decline potentially.
Discount Rate -
We are using a 4% cap rate, which shows strong growth but a high WACC.
Price Target -
With these inputs, we came up with a $36 price tag.
When we use a model that shows some weakness in 2014, we still see around 25% upside in 2014, and we believe that this pullback does represent a decent buying opportunity. Yet, the risk is still high.
A great way to approach, therefore, is through sold puts that allow you to get YNDX at a lower price but gain as long as it stays flat or only declines slightly less. The 23/20 bull put spread for May17 offers 18% return, which is a solid 20% lower than current prices.
Friday's Outlook
The market pulled back quite a bit on Thursday, and we will see if Friday is a follow through day or a consolidation day further. The market looks like it is paying close attention to China and Russia, so how that situation develops will be the key to the market moving forward. Tomorrow, we don't get any news from China, and we will see how Russia develops towards the referendum on March 16.
Economic data from Michigan Consumer Sentiment for March is key tomorrow. It is the first look at March economic data, and we are very interested to see how that will work out for the country. If that bounces up, it could signal a potential bounce for the market.
Russia will definitely be the key to watch moving into tomorrow, and we are definitely intrigued by the consumer sentiment report. The solid economic data today is a signal that we may be seeing a bounce back from the winter weather issues. If Russia passes and China bottoms, this is a perfect buying opportunity, but this will not be the story yet.
Disclosure: I have no positions in any stocks mentioned, and no plans to initiate any positions within the next 72 hours.
Business relationship disclosure: I have no business relationship with any company whose stock is mentioned in this article. The Oxen Group is a team of analysts. This article was written by David Ristau, one of our writers. We did not receive compensation for this article (other than from Seeking Alpha), and we have no business relationship with any company whose stock is mentioned in this article.