This is part 6 in a continuing series of articles discussing building a portfolio of dividend income equities. The strategy seeks to use value investing principles and apply them to stable companies offering reliable dividends. Further safety is sought by diversifying through a wide range of industry segments and often by using multiple tickers in each of those segments.
Series parts 1, 2, and 3 lay out the philosophy, strategy, and methods of the Tortoise Strategy and Use of Covered Option Writing to boost performance. I recommend readers review each of these first 3 installments. Beginning with each subsequent installment reviews and analyzes one of the 16 tickers identified in the preliminary screen. A full index of the series is available for readers to access past and future installments of these articles.
Bank of Nova Scotia
| | | | |
| --- | --- | --- | --- |
| Bank of Nova Scotia (NYSE:BNS) | $ 58.35 | $ 2.33 | 4.00 % |
Bank of Nova Scotia was founded in 1832 and is based in Toronto, Canada. It provides traditional banking services in Canada and internationally, including personal, retail, and commercial. In addition, it has an asset management and insurance segment, and a global banking and management segment focused on corporate loans, underwriting, merger and acquisition activity, and stock and commodity brokerage.
The company has a strong record of growth, rising from $10 in 2002 to a high of $63.50 this past November 2013. Along the way, price has been volatile at times. Shares plunged deeply during the 2009 crisis, shedding 60% of their value to a low of $19.50. The stock was quick to recover, returning to about $48 by the close of 2009.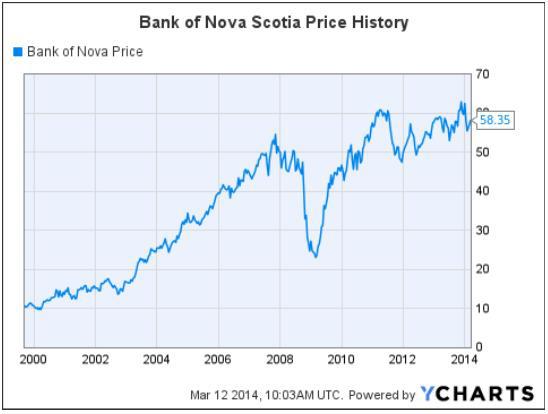 Since dropping through its prior support level at $58 on April 3, 2013, the shares have generally traded in a narrow range between $55 and $58, repeatedly failing to break through the $58 support level except for a breakout lasting from mid October 2013 until January 23, 2014. Subsequently returning to its general $55 to $58 trading channel. Current share price is $58.35 with a 4.00% annual yield ($2.33).
click to enlarge)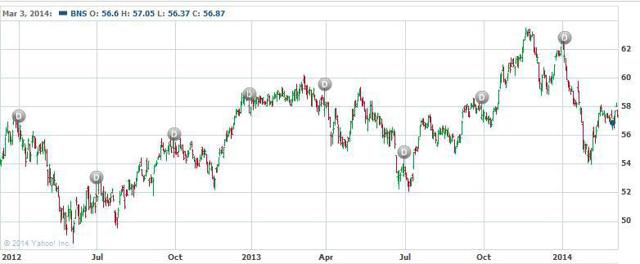 Click to enlarge
BNS has provided a very strong history of a dividend growth for the past decade, with a rising trend in distributions throughout the period except a short pullback in 2009 that was fully recovered by early 2010. The trend continues to rise throughout the close of 2013 but the trend has flattened somewhat since late 2012. The YDP Chart makes these trends and the relationship of Yield, Dividend Distribution, and share price clear. For those not familiar yet with YDP charts, I refer you to my introductory article on YDP chart analysis and its precursor article with several YDP chart interpretation examples.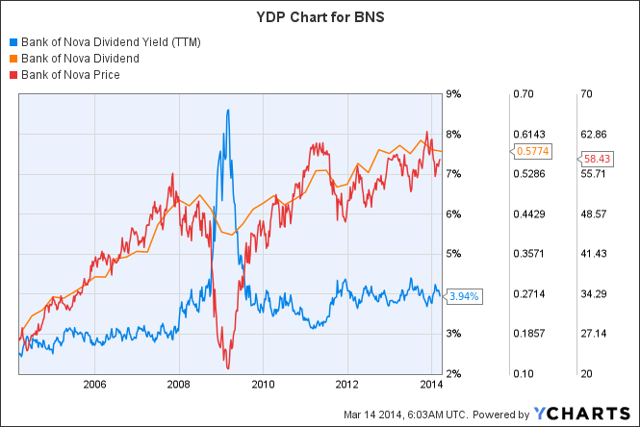 Click to enlarge
BNS Dividend Yield (TTM) data by YCharts
Share price growth has been strongly correlated with dividend distributions, rising and falling along a continuing upward trend path virtually identical to the dividend distribution progression. Yields since mid 2008 have remained in a very tight range focused on 4.0% with the exception of a major departure in 2009 driven by the share price plunge related to the financial crisis. Price and yield were quick to return to the focus of 4.0% and have generally remained there since that time.
The extremely strong correlation between share price and dividend distribution, interacting as investors adjust changes in value (price) to match changes in distributions with a focus on a constant yield rate establishes effective yield as the central measure of value for this dividend income equity. Rarely does a real example track the mathematical relationship of Y=D/P (with Y=Yield, D=Distribution, P=share price) so exactly.
The dividend is one of the safest available, holding near constant close to a very conservative 25% cash dividend payout ratio for the past decade (with the exception of two 1 quarter departures, the most recent of which was a special dividend in early 2014 that I have curtailed the chart at so as to avoid distorting the vertical scale). The present payout ratio is higher than usual at 48%. This probably plays a factor in share prices remaining near the $58 support/resistance level for the last few quarters. I return to a payout ratio below 33% may be needed to restore a sustained share price advance.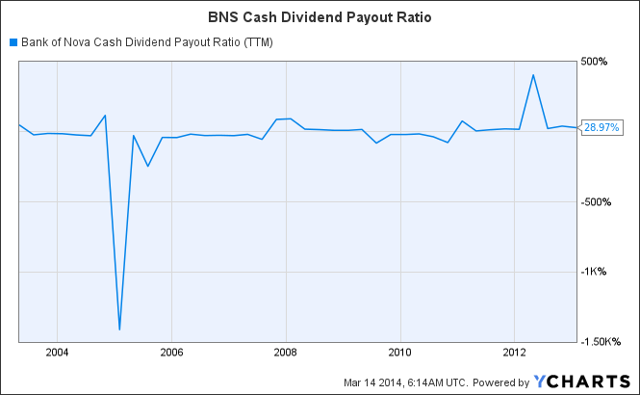 Click to enlarge
BNS Cash Dividend Payout Ratio (TTM) data by YCharts
The shares of BNS are currently right at the ideal value pricing reflected by the 4.0% yield. At $58.35, they are also trading very close to the $58 support/resistance level they recently broke through to the upside. There is also a strong support level at about $54.60 to limit the downside channel risk of anyone price break below $58.00.
A look at the value metrics comparison of BNS and its competitors show it is solidly in the value range for its segment.
(source: finance.yahoo.com)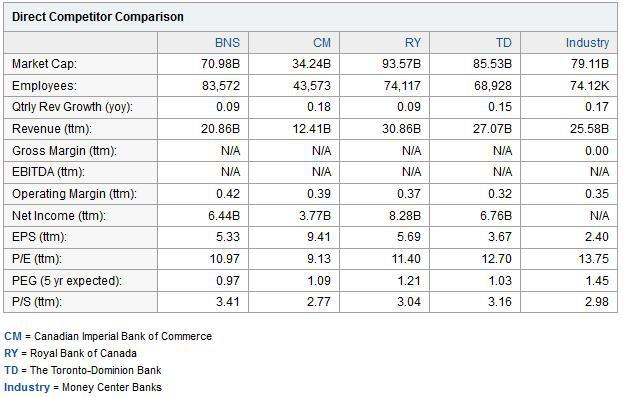 Several factors make Bank of Nova Scotia a good entry now.
Shares are currently at a solid value level at $58.35 and 4.0% yield.
Historical growth trends in distribution strongly correlate with share price advances and can be expected to result in re-enforced returns of both income and share appreciation for long-term investors.
The high short term price volatility coupled with the steady long term growth trends of BNS make it an ideal candidate for repeated covered option trading to boost income, yield, and absolute returns.
Two cautionary points stand out for investors that want to wait for a dip in share price to make an entry:
The breakout above $58 resistance is not yet fully established and weak enough to fail at the present time. A fall back to $55 in the near future not unlikely.
The current 48% payout ratio is high based on BNS's historical levels. Dividend increases and correlated share price advance may lag until the ratio falls below 33% again.
Covered Options to boost performance:
click to enlarge) (source: schwab.com)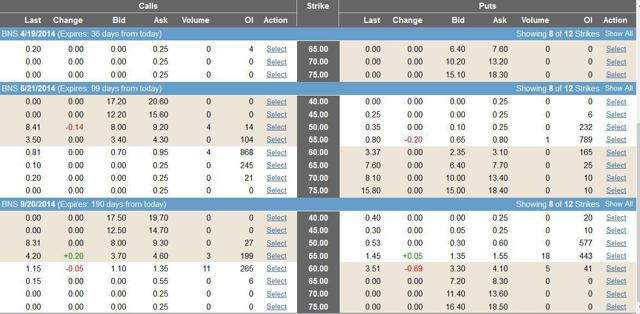 Click to enlarge
Covered Calls: (the left hand columns)
Buy BNS shares now at market price in the $58.50 range. Concurrently sell the $60.00 9/22/2014 Covered Call at a $1.15/share premium ($115 per contract). This provides a 2.0% absolute boost for the 190 day yield (3.78% annualized rate) or conversely provides an adjusted basis value of $57.35 to cushion any short-term pullback through the $58 support/resistance level.
This longer-term contract (I usually favor 30 or 60 day contracts) locks in the premium rate of return and maximizes cash income immediately. It also makes the shares less likely to be called away for a dividend capture since such traders favor short-term contracts to avoid wasting money on time premiums they will not be using.
The 0.3% per month premium is lower than my normal target of 1%+ but the solid long-term performance and reliability of BNS coupled with the fact that dividends and share price advance in strong correlation to give a double gain over time makes it advisable to enter now and get comfortable for a long ride. The 3.78% annual yield boost added to the 4% dividend yield results in a healthy 7.78% annual yield, almost double the dividend return. A call away of shares at the $60 strike would add a $1.50 profit to your $57.35 adjusted basis for a gain of $2.65 (4.62%) in 190 days (8.8% annualized) if the shares are called at the end of the contract. Any earlier call date would further boost annualized yield because the holding period would shorten for the same absolute profit.
Cash Covered Puts: (the right hand columns)
If you prefer to wait for a pull back or stronger test of $58 support/resistance for the reasons discussed above, then you can get paid for waiting by selling the cash covered puts. These are currently offering about a 0.5% per month premium (about 6% annualized yield) for contracts from 30 to 190 days. This is a slightly better yield rate on the premiums than the covered calls. However, this strategy leaves you without the 4% annual dividend yield and the potential lost opportunity for share price gains. Given the quality and strength of BNS overall, I prefer to own the shares now. Put writers should focus on the short duration contract using the 36 day $55.00 Strike 4/19/2014 put for a premium of $0.25 per share ($25.00 per contract) to earn a 0.45% absolute yield (4.61% annualized yield) on your sidelined money waiting for a drop to $55 or below in a test of the $58.00 short-term support/resistance.
Conclusions:
BNS shares are a good buy at value right now.
Buy the shares and sell the September $60 covered calls to almost double the dividend yield to a total 7.78% annual yield (4.0% dividend enhanced with covered option premium).
A short term cash covered put sale on the $55.00 Strike 4/19/2014 Put can earn you 4.61% annualized yield on your cash while you wait to see if shares fall back through short-term support/resistance of $58 and test the long-term support of $55.00.
In part 7, I will discuss Altria (NYSE:MO). Each subsequent part of the series will discuss and evaluate one more of the original 16 tickers identified in the preliminary screen for building your Tortoise on Steroids portfolio. An index to all currently published and future articles in this series can be found here.
I hope you will join me as I detail the use of covered option writing on quality dividend income equities to develop a model portfolio for the Super Tortoise. Simply click on the bold link labeled FOLLOW above the title at the top of this article to get an email notice of my new articles when they are published.
Disclaimer: I am not a licensed securities dealer or advisor. The views here are solely my own and should not be considered or used for investment advice. As always, individuals should determine the suitability for their own situation and perform their own due diligence before making any investment.
Disclosure: I have no positions in any stocks mentioned, but may initiate a long position in BNS over the next 72 hours. I wrote this article myself, and it expresses my own opinions. I am not receiving compensation for it (other than from Seeking Alpha). I have no business relationship with any company whose stock is mentioned in this article.