Apple (NASDAQ:AAPL) has elevated the iPhone brand again and forestalled rivals' ability to claim parity.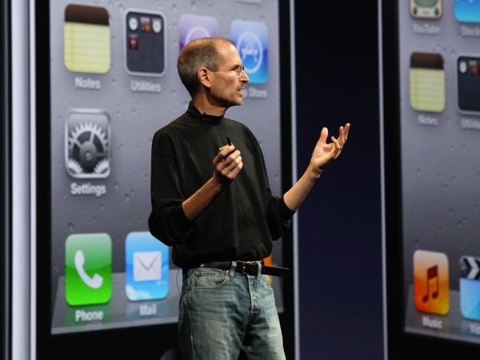 Click to enlarge
Leading up to the launch of the iPhone 4 (Techmeme, live coverage, gallery, all Apple posts), run by the iOS since it powers the iPhone, iPod touch and iPad, there were whispers everywhere about the Android's turbo-charged innovation cycle, the end of iPhone envy and how other smartphones from the likes of HTC were closing the gap.
Now it wasn't like the iPhone was becoming a commodity device, but you could see some parity on the horizon. Even Sam Diaz got over his iPhone envy. Enter Apple CEO Steve Jobs who was having none of that talk. Jobs talked about the mix between technology and liberal arts. The emphasis is on technology as an art form.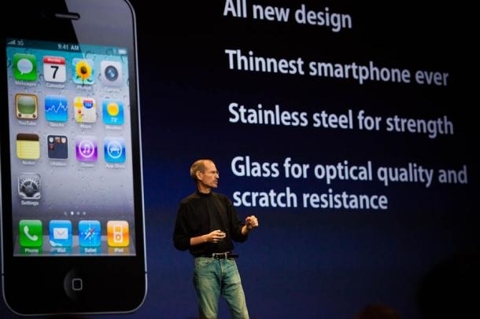 Click to enlarge
Throughout Jobs' talk there were information nuggets that spoke to reclaiming the high-end phone market. Now Jobs did point out that Apple had heft and scale. Jobs wooed developers on many fronts. Jobs mentioned the company had twice the mobile browser share of Android; that developers had access to 150 million accounts hooked up to App Store, iTunes and iBo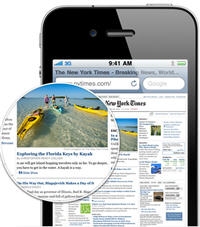 okstore waiting to buy developer apps; and how he loved to return 70 percent of revenue to them. Jobs relished telling developers Apple has forked over $1 billion in payments to them.
But the overall performance was more nuanced. Jobs had many subtle references that indicated that the iPhone was a Mercedes or BMW and the other rivals had more common sedans.
To wit:
Referring to the iPhone 4, Jobs noted how it was thin, but also positioned the device as art. Jobs said the iPhone 4 is "the most precise thing" with "glass on the front and back, and steel around the sides." And then the kicker: Jobs said the iPhone 4 was like a "beautiful old Leica camera." Don't lose the Leica reference since it's unlikely you'll hear something like that from all of the rivals gunning to be an iPhone killer.
Jobs also talked about the iPhone 4's Retina Display, which Apple hopes will set a display standard. "Once you use a retina display you can't go back," said Jobs.
Then Apple talked about FaceTime, its video calling system for between the iPhone 4. FaceTime will run on Wi-Fi for now, but Jobs noted that FaceTime "is one of the moments that reminds us of why we do what we do."
Sure, there are plenty of tech specs to ponder, but Apple is selling a different vibe and a higher calling. Now you can debate forever whether you buy into the Apple zeitgeist, but Jobs accomplished what he had to. Apple is about threading that liberal arts and technology needle and the company just put a little more distance between the big pack trying to hunt down the iPhone.