Many times, articles that are written about AMD are full of technical specifications and other sophisticated facts. While these are helpful, investors would also like to know where AMD's finances are going. This article will make an attempt to address this.
By definition, when people invest their money in a stock (or anything for that matter) their first goal is to make a profit (along with protecting their principal). This is what an investment is all about. Ben Graham would say that when we are buying stocks of a company, we should assume that the company doesn't trade in the market and we will not be able to follow its immediate price everyday. This way, we can buy stocks we are comfortable with holding without losing much sleep. Of course, this type of approach requires some financial analyses because when we buy stocks of a company, we are actually becoming owners of that company and any wise investor would like to know whether their company will be profitable (or at least on the track to profitability). So, let's take a look at AMD's finances.
AMD's stock chart looks a lot like a wild roller coaster where it can swing up and down in very volatile ways. Those who bought at the bottom usually did really well and those who bought at the top have lost their shirts in the process. For many people, AMD has always been a great short-term trading play but not a long-term investment.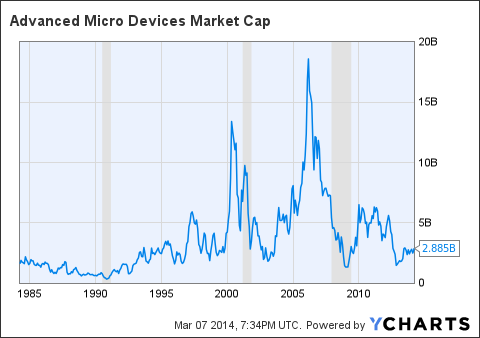 Meanwhile, the company's financial results were pretty volatile, but perhaps some of the metrics were not as volatile as the stock's price. You can notice that AMD's revenues have been trending upwards if we look at the big picture. In late 1980s, AMD's revenues passed $1 billion for the first time; in 1995, they passed the $2 billion mark; and by 2000, the company was generating $3 billion in revenues while the investors didn't have to wait long to see the $4 billion mark. Currently, AMD's revenues are below the peak above $6 billion, but they are still near historically high figures.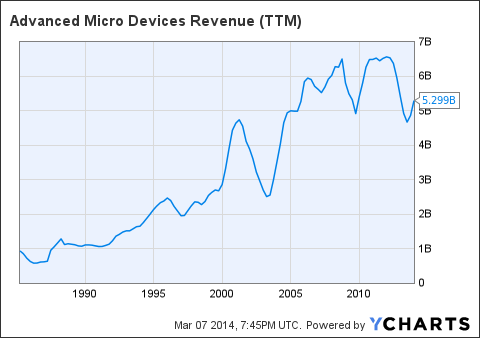 Of course, the revenues will only tell part of the story. The company's profitability has come to question several times in the last couple of decades. There were some wild swings in terms of AMD's net profits and the company reported some large losses along the way. Looking at the chart below, the stock's roller-coaster ride makes more sense.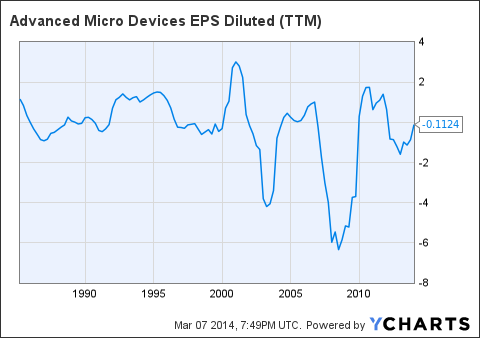 So, how have things been lately? Let's start with gross margins. AMD's gross profits have been on the decline since 2010 and the declining gross margins account for much of this. As the company is moving away from the PC market in an attempt to diversify its portfolio, the company's margins suffered greatly. From 2012 to 2013, AMD's gross margin fell from nearly 50% to just north of 20%. In the last couple quarters, there has been some recovery though and this can give hope to some investors. As of last 12 months, AMD's gross margin sits at 37.33% with gross profits at $1.98 billion.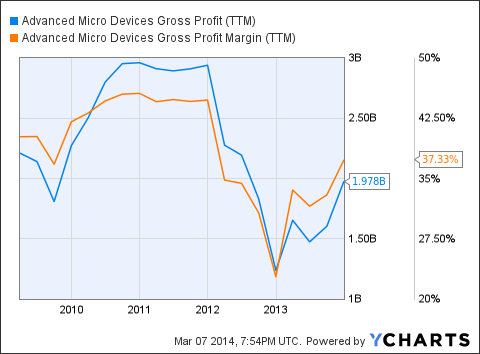 Now, let's move on to operating margins. Well, in the last 5 years, AMD did a good job of cutting some of its operating costs. Between 2009 and 2014, AMD cut its research and development expenses from $1.8 billion to $1.2 billion while cutting sales, general and administrative costs from $1.25 billion to $674 million. As a result, the company's operating costs have improved.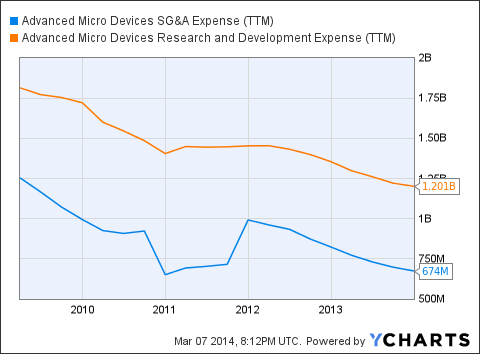 Keep in mind that the company's operating income and operating margins still fell dramatically compared to 2010 and 2011's figures but this was mostly caused by a sharp drop in gross margins. Since last year, AMD's operating margin rose from nearly negative 20% to positive 2%. The improvement should continue as the company's shifting away from the PC business goes underway.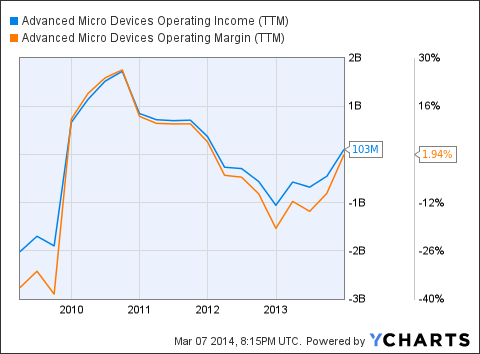 Of course, we still need to look at more things. For example, how does AMD's EBITDA margin stand compared to historical standards? As you can see below, over the years, the company's EBITDA margin was very volatile, ranging from nearly -40% to +40% from year to year. This is because the company has been going through restructuring after restructuring all these years. Many times, long investors believed that things would be different while shorts continued to stay skeptic. In the last year, AMD's EBITDA margin has been rising but it continues to be difficult to predict in the long term by looking at the historical trends.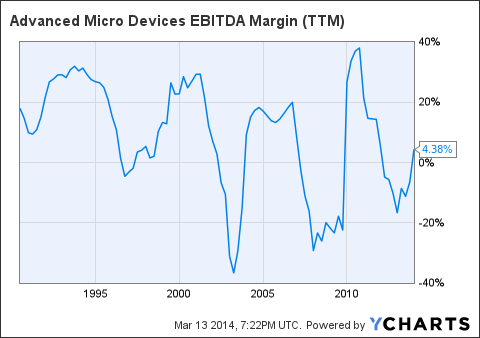 AMD's book value is nowhere near where it was before the great recession of 2008. As the PC market started declining with the introduction of the tablet market, AMD's debt piled on and the company's book value fell from nearly $6 billion to $544 million, which gives it a price-to-book value ratio of 5.15, which is higher than a historical average of 3. Keep in mind that technology companies tend to have higher price-to-book values than companies in other industries and AMD's book value should increase significantly if the company can pay off some of its debt over time.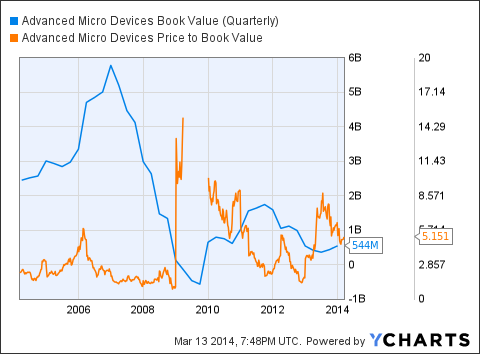 If AMD is able to grow its non-PC business faster than the speed of decline in its PC business, the company will have a higher chance of profitability. Many analysts see stabilization in the company's earnings as we move forward. The company is expected to earn between negative 2 cents and 36 cents per share this quarter, with the median expectation being 14 cents per share. In the following two years, AMD is expected to earn between $0.13 and $0.19 per share. If the company can just meet these numbers, there won't be much upside but if the company can significantly beat these numbers, there may be a lot of upside and a lot of investors of the company are actually banking on a significant earnings beat by the company.
Despite AMD having a market share of 100% in gaming console market, the analysts have been very skeptical about the company's chances of turnaround without a strong presence in the PC market. Every quarter, a lot of people claim that the PC market has finally bottomed but the next quarter, the market keeps shrinking. By now, the PC market should be pretty close to bottoming because almost all consumers that require a low-end machine already moved to a tablet and those who are sticking with a PC through all will continue to do so because they need a PC to get work done (tablets are great for consuming material but not necessarily that good for creating material).
AMD will probably continue cutting costs and making gains outside of the PC market. Currently, this company is a turnaround play and most of the metrics defining its valuation don't look that cheap. When a troubled company is cheap, this will limit the downside (for example, think of Nokia last year as it was trading near the book value) and we may not see this with AMD. On the other hand, if you really believe in AMD's story and its chances of a turnaround, this may be a good time to buy some shares.
Disclosure: I am long AMD. I wrote this article myself, and it expresses my own opinions. I am not receiving compensation for it (other than from Seeking Alpha). I have no business relationship with any company whose stock is mentioned in this article.
Additional disclosure: I may sell my shares at any time with or without notice.