Disney (NYSE:DIS) continues to outperform the market as the company's share price just keeps getting higher and higher each day. This is one of my favorite stocks to hold and it has rewarded me nicely in the last few years I've held it. Last year, when the company's shares were trading for $60, my price target was $80 but now the company trades for $82.21 per share (at the time of writing this article) and this implies that Disney already passed my price target. Is it time to sell and take profits?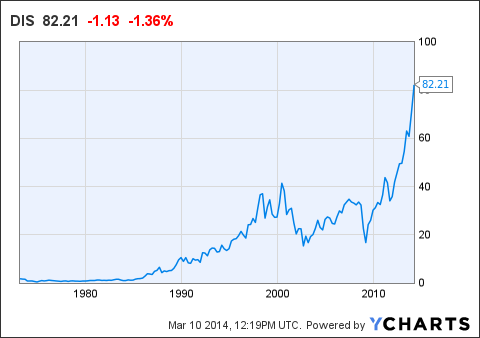 First, let's take a look at how Disney has been performing as a company. In the last 30 years, Disney's revenues kept rising almost every year with the exception of a few years coinciding with recession. In the chart below, the years with recession are highlighted and you can see that Disney was consistently able to grow its revenues in almost all non-recession years in the last 30 years. Not only did the company grow its revenues consistently year after year, the rate of growth never came down either. The slope of growth for Walt Disney has always been consistent and there is very little reason (if any) to believe that this trend will come to a change anytime soon.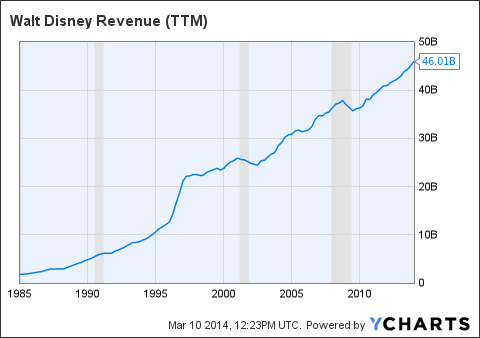 The company's net profits also grew nicely during this period. In the last 30 years, there was only one year where Disney was not solidly profitable. In the last decade and half, the company's net profits grew from $1 billion in 2000 to $6.6 billion last year. More importantly, ever since bottoming out at around $3 billion towards the end of the last recession, the company's net income doubled. The long-term trend is solidly upwards for Disney's revenues as well as profits.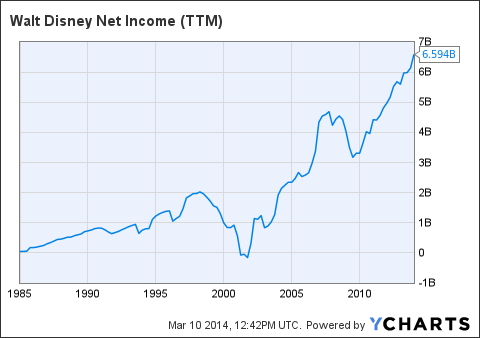 Here is a comparison of growth rates of Disney's revenues, gross profits, operating profits and net income in the last decade. In the last 10 years, Disney saw its margins expand nicely. In fact, the company's revenues grew by 58% during this period compared to its operating income which grew by 157% and the net income which grew by 208%. When a company's profits grow faster than its revenues do, margin expansion will account for the difference. Basically, in the last decade Disney was able to learn how to keep more of its revenues in its pocket and the company is getting increasingly better at that. Notice that the company's gross profits and operating profits were mostly in-line with each other for the most part while net profits grew at a faster rate than both. This is definitely good news for the investors of Disney.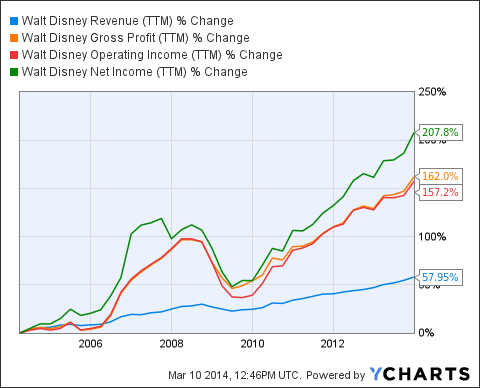 Disney's dividend is nothing to write home about but it is growing nevertheless. The company has been raising its dividend payments consistently in the last 10 years, even though the yield is only 1%. We can blame the stock's great performance in the last few years for the low yield but this is a "problem" many stocks would love to have. At this point, Disney is still a growth stock and dividend is just a side attraction (that's like a nice ride in Disneyland).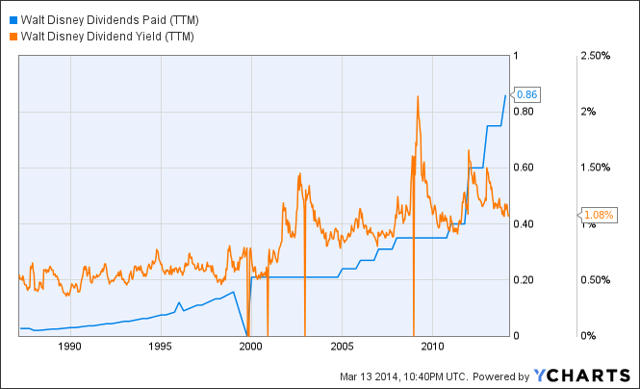 Let's look at Disney's valuation from earnings perspective. Currently, Disney's price-to-earnings ratio is around 22, which is close to historical averages. If we look at the last 30 years, there were two minor spikes in the company's P/E ratio, both of which did not last long. Currently, the market gives Disney about the same potential it gave for the last 30 years. In the early 2000s, the company's P/E ratio was getting closer to 50 but we may not see such high P/E ratios anymore as the company draws closer to maturity. Since there is still plenty of growth left in Disney, I won't be too bothered if the P/E doesn't expand any further.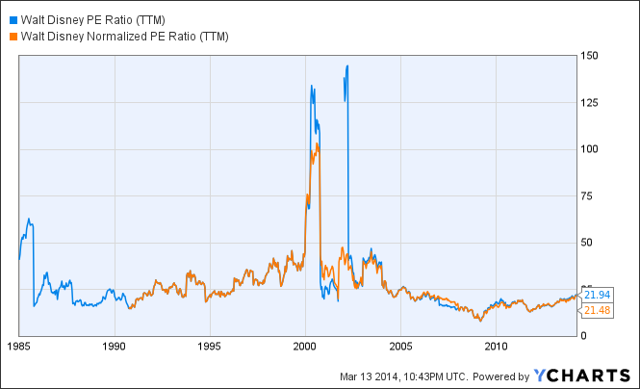 There are still several avenues of growth for Disney. The company's TV networks such as ABC, ESPN and Disney Channel are highly profitable and they will continue to gain viewers across the world. The company will also continue acquiring many national TV networks across the world to increase its global coverage as it has been doing for the last decade. There is a lot of demand for Disney's content in countries like China, India and Russia where the company was not well-known until recently. Furthermore, Lucasfilm's Star Wars project will continue to drive growth for the company not only from movie revenues but also from selling related merchandise. In theme parks, the margins will continue to expand through cutting costs and raising prices. In the recent years, Disney was able to raise its theme park prices several times without any backlash from consumers. It seems like fans love Disney's theme parks so much that they don't mind paying a little bit extra for these parks.
In conclusion, Disney's stock is having a nice run but this is not unjustified. The company's fundamentals are strong, we are seeing both revenue growth and margin expansion and Disney will continue to be a great investment for years to come.
Disclosure: I am long DIS. I wrote this article myself, and it expresses my own opinions. I am not receiving compensation for it (other than from Seeking Alpha). I have no business relationship with any company whose stock is mentioned in this article.