On March 13, General Electric (NYSE:GE) filed with the SEC the long awaited paperwork related to its IPO of GE Capital's North American consumer credit card segment, also sometimes referred to as the North American retail finance unit.
The new business is expected to be named Synchrony Financial and trade under the (NYSE:SYF) ticker. In total, General Electric is aiming to raise about $4.0B for about 20% of the business for a valuation of over $20B. This IPO will be one of the largest for the market since Facebook (NASDAQ:FB) in 2012.
A good first step by General Electric
Steven Winoker, an analyst from Bernstein, has noted that this move should be "a net positive" for General Electric, assuming that the company can continue its share buyback program as well as offset the expected decline in GE Capital earnings with gains on the industrial side. For 2014, 60% of General Electric's profits should come from its industrial segment, increasing to 70% by 2015.
GE Capital has long been seen as weighting down the overall valuation of General Electric. The simple fact is that earnings from the financial segments are not valued as highly as earnings from the industrial segments. Indeed, there are many differences in quality between the two with the finance segment often requiring much more leverage in order to achieve a similar ROE.
While Synchrony Financial is only about 30% of GE Capital by revenue, it does contain some of highest concentration of credit risk for General Electric. That company currently offers private label consumer credit cards for many well-known brands such as Amazon (NASDAQ:AMZN), Belk (OTCPK:BLKIA) (OTCPK:BLKIB), Brooks Brothers, Chevron (NYSE:CVX), Dillard's (NYSE:DDS), Gap (NYSE:GPS), J.C. Penney (NYSE:JCP), Lowe's (NYSE:LOW), Sam's Club, T.J.Maxx (NYSE:TJX) and Wal-Mart (NYSE:WMT).
By offering up only part of GE Capital, General Electric will be able to put a firm valuation on the rest of that segment as well as gauge overall investor interest. In addition, comparisons between General Electric and industrial stocks should become much easier.
General Electric is a buy at current prices
With the IPO of Synchrony Financial fast approaching, General Electric remains a buy at current prices. CEO Jeff Immelt recently bought $3.6 million worth of stock in the company, one of the largest insider buys in dollar terms by a CEO of an S&P 500 company seen in the past year.
General Electric is also quite cheap when compared to its industrial peers. At the moment, General Electric's enterprise multiple, or EV/EBITDA, stands at 12.0x, well below peers such as Siemens (SI) at 16.00x and in line with Honeywell (NYSE:HON) and Emerson Electric (NYSE:EMR).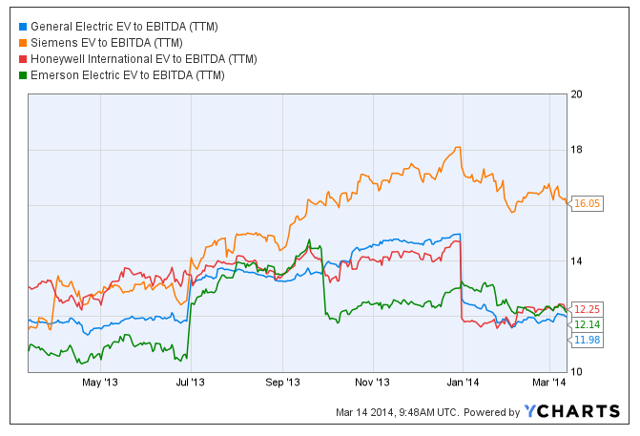 Several of General Electric's industrial segments should provide outsized growth in 2014, with several segments such as the Oil & Gas and aviation expected to post double-digit revenue growth. This growth is backing by the massive order backlog of $244B. Overall, General Electric expects to post 4% to 7% industrial sales growth in 2014. However, EPS will remain flat this year, due to the smaller size GE Capital offset by increased industrial margins.
In addition, General Electric's capital return program will be quite large this year. Last year the company returned over $18B to its shareholder via share buybacks and dividend payments, with even more expected this year. The company plans to ramp up this program through 2016, targeting to reduce its float to under 9.5 billion shares outstanding, while maintaining double-digit dividend growth. Since cutting the dividend 66% in 2009, General Electric has managed to raise the dividend 120% over the past 5 years.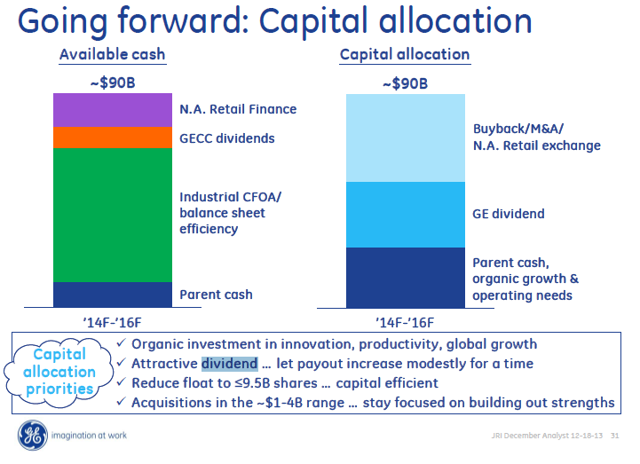 Conclusion
Overall, I think General Electric will start commanding a higher multiple once the vast majority of earnings come from the industrial side.
Yes, General Electric may see lower dividends coming from GE Capital this year. However, by spinning off portions of GE Capital, is lowering the overall risk profile of the combined company. Seen by the recent $1.70B charges paid to Japan's Shinsei Bank (OTC:SKLKF) related to the sold off Japanese consumer operations, GE Capital is chock full of potential losses and unknown risks.
Disclaimer: The opinions in this article are for informational purposes only and should not be construed as a recommendation to buy or sell the stocks mentioned. Please do your own due diligence before making any investment decision.
Disclosure: I am long GE, WMT. I wrote this article myself, and it expresses my own opinions. I am not receiving compensation for it (other than from Seeking Alpha). I have no business relationship with any company whose stock is mentioned in this article.