The BP (NYSE:BP) oil spill has surpassed that of the Exxon Valdez, making it the worst oil spill in US history. At least 22 million gallons of oil have been leaked (the Exxon Valdez spilled 10.8 million gallons). The damage is far reaching – 140 miles of shoreline along Louisiana, Mississippi and Alabama and 80 miles along Florida's coast have been blanketed by the spill, according to the Coast Guard. And yet, the BP disaster hasn't made the ranks of the ten largest spills on a global scale: the worst occurred during the Gulf War, with 240 million gallons spilled into the Persian Gulf. And it isn't the worst disaster Louisiana has seen, either. Hurricane Katrina resulted in a death toll of over 1,000 and damages in the neighborhood of $135 billion. Really, Katrina wasn't a disaster – it was a total catastrophe.
As of yesterday, the cap that BP fitted over the well last week is capturing 10,500 barrels a day (of the 12,000 to 19,000 barrels scientists estimate is gushing daily). And coast guard officials say the cap has the ability to capture 15,000 barrels per day.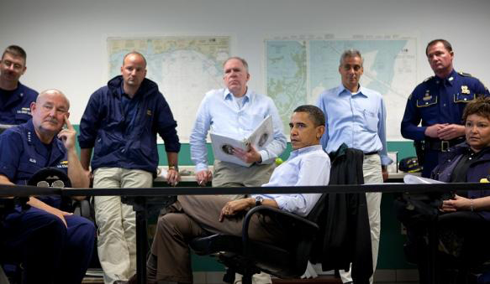 Click to enlarge
BP Oil Spill Briefing

Last week, the White House announced that BP will be the subject of a criminal probe. And the President imposed a moratorium on any new off-shore drilling for the next six months. This will halt 33 deepwater rigs in the Gulf of Mexico (22 of them near Louisiana). The ban is meant to give the administration time to investigate the Deepwater Horizon explosion. But it has unintended consequences: an estimated
Twenty thousand jobs will be lost in the next 18 months. Is that really what the region needs right now? No. And Louisiana Governor Bobby Jindal doesn't think so, either, saying:
The last thing we need to do is to enact public policies that will certainly destroy thousands of existing jobs while preventing the creation of thousands more.
The really bad news: lost wages may reach $10 million per month for each rig that is shut, according to Bloomberg.
On Charlie Rose last week, Vice-President Joe Biden said:
This is not just merely an economic catastrophe, this is potentially going to ruin a way of life; it's more than just you may not be able to shrimp…there's an entire culture. This is a different way of life; it's something that needs to be preserved.
This is absolutely true. The way of life in the gulf region needs to be preserved, and it's not just a way of life that revolves around tourism, shipping and a fishing industry. Oil matters, too; because oil accounts for 10 times more revenue than any other industry in the area. So, if we want to preserve the way of life there, we need to preserve their economic backbone.
Oil production in the Gulf of Mexico matters to all of us. The region accounts for 30% of our domestic production (and 80% of it is in deepwater).
The political milieu suggests that the President has lost his narrative. Hopefully he finds it again in an earnest effort to restore economic stability to a region that has already suffered enough. Now is not the time for shortsighted policy. As Alaskan Governor Sean Parnell warned in a Wall Street Journal article:
The crisis in the Gulf should not be used to implement a misguided strategy that shuts down the opportunities to develop these resources and that further endangers our nation's long-term energy security.
But we need to use this disaster as a catalyst for improved regulation. The US Interior Department's Minerals Management Service will be split into two divisions. But the problem also rests in the manner that drilling applications are handled, according to Eric Smith, associate director of the Tulane Energy Institute. The MMS has 30 days to review an application, and if they don't get to it, the approval is automatic. This is a reflection of systemic dysfunction. And in response, Congress has posed the idea of extending the approval period to 90 days. But, better yet, Smith suggests less regulatory lag by increasing MMS staff and maintaining the 30 day limit.
A ban on deepwater drilling is not a solution. It is an economic mistake. The Exxon Valdez was the worst disaster in US history at the time, but we didn't lose perspective. And Alaska's Governor would say that we can't lose sight today, quoted as saying:
Just as Alaskans did not abandon our belief in responsible petroleum exploration and development after that disaster, Americans cannot afford to take their eyes off the ball now.
And what about investing?
BP's stock has lost 39% since the Deepwater explosion. But that doesn't make it a bargain; there is still downside potential for the stock. Not only will the costs of the spill continue to mount (BP's costs are over $1 billion so far, though they've got the cash to survive), but litigation will go on for years. And there is a reasonable chance that the company could cut its dividend in response to government pressure. Besides that, I don't recommend integrated oil stocks as an energy play.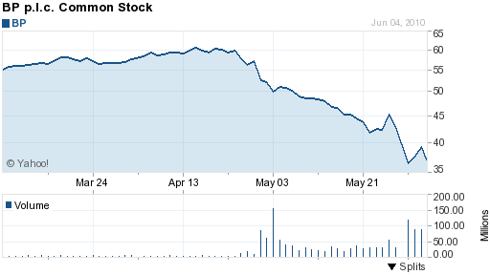 Click to enlarge
(Click to enlarge)
Growth opportunities can be found in oil service companies. I would look at Oil Services HOLDRs ETF (NYSEARCA:OIH): this ETF provides a diversified exposure to oil service companies. Don't buy yet, wait until the downturn ends and we get a confirmed uptrend and buy signal.
Disclosure: Author long OIH