Additional Disclosure here
The fuel cell sector is the best performing sector under our coverage, year-to-date, by a mile. The merits of the group's success are debated on a daily basis among bulls and bears. Both sides have valid points, but so far it looks like the bulls are winning. At the time of this publication PLUG Power (NASDAQ:PLUG) and Ballard Power Systems (NASDAQ:BLDP) are up 373% and 285% ytd (for a brief description of PLUG and BLPD please see the Appendix). The excitement surrounding PLUG stock has exceeded the expectations of even the biggest proponents of the sector. Since its near-death experience in 1Q13, PLUG's stock price is up over 5,300%. In hindsight, most investors wished they were in it. Many investors are looking for exposure in the fuel sector, but do not want to be involved in controversial names such as PLUG. We believe Hydrogenics (NASDAQ:HYGS) provides such an opportunity.
HYGS is unknown to most American investors mainly because they are based out Canada, and yet trade on the NASDAQ with operations around the world. Unlike PLUG, which sells mainly to the forklift market, HYGS sells solutions for a wide range of applications such as onsite generation of hydrogen, backup power systems and energy storage. In this report we identify energy storage and onsite hydrogen generation and as key pillars of growth for HYGS.
Energy Storage Opportunity
The least-discussed opportunity is energy storage, which probably has the potential to provide the most upside. The objective is to convert wasted renewable and other excess energy, such as wind, solar or excess baseload energy into hydrogen.
Wind and solar power are big new contributors to global grid power. In Germany, in 2012, 24% of electrical energy generation came from renewable energy, the majority wind and solar. Unfortunately they don't always provide power when or where it is needed. For example, wind farms sometimes get curtailed (turned off) at night, when the wind blows the strongest, because nobody needs the electricity and it can't be stored. Similarly, solar farm output drops in the afternoons (sun no longer overhead) during the strongest air conditioning demand (afternoon heat). In Germany according to the Monitoring Report 2013 approximately 33% of renewable energy has to be curtailed. HYGS' energy storage solution takes this excess energy to produce hydrogen. Hydrogen can then be distributed via the natural gas pipeline network, where it can be stored for later use in a Natural Gas power generator or transported to where it is needed.
Figure 1: Surplus baseload is the new reality of renewable generation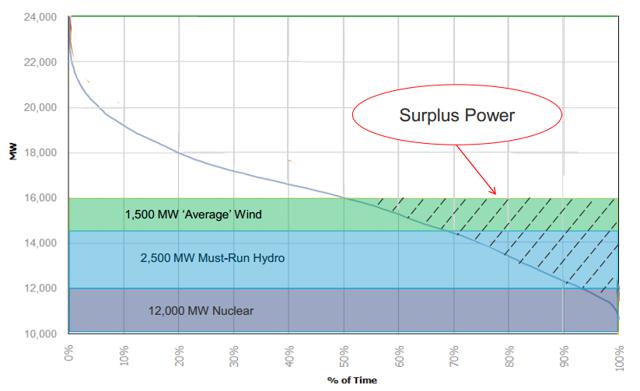 Source: Company filings and the government of Ontario, Canada
Converting wind energy to hydrogen as storage is not a new concept. In 1891 Danish scientist Paul La Cour built an experimental windmill at Akov, where wind energy was used to create hydrogen. Figure 2 illustrates key areas where Hydrogenics is currently targeting to deploy its power-to-gas technology
Figure 2: Commercial support for energy storage and HYGS opportunity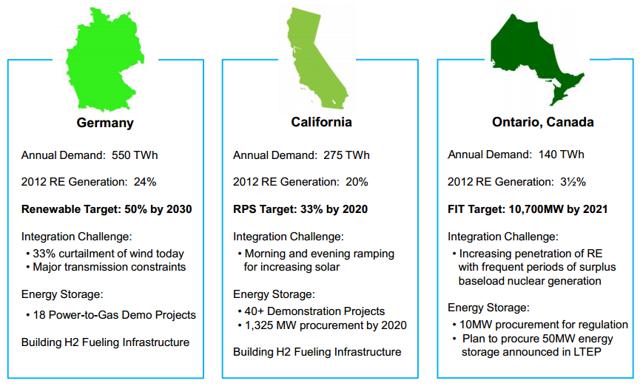 Source: Company filings
In collaboration with Germany's E.ON in 2013, one of the world's largest electrical utility providers, HYGS opened its 2MW Falkenhagen facility which serves as a showcase for HYGS power-to-gas technology. Its first proton-exchange membrane (PEM) fuel cell facility, also in collaboration with E.ON, HYGS is slated to open a 1MW facility by mid-2014 in Hamburg, Germany. This will be the largest PEM-based electrolysis installation producing hydrogen in the world. Currently, HYGS leads the field with four of the five largest installations in the Germany. Domestically, we expect to hear more about the collaboration between Enbridge (NYSE:ENB) and HYG. On the most recent quarterly earnings call, CEO Daryl Wilson claims:
As energy storage still is a maturing segment for us, we have not broken this out in our reporting to provide more detail on this market, but we do view the market to be worth over $10 billion. We noted some major milestones last year in this part of our business and expect to even more achieve this year with orders picking up in the second half of 2014.
Figure 3: Large scale 2 MW plant - collaboration between HYGS and E.ON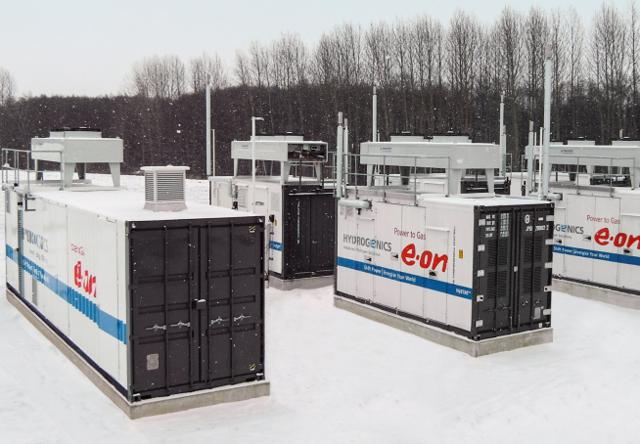 Source: Company filings
Per HYGS, the energy storage market is the largest opportunity at $10 billion. HYGS has received increasing interest and orders for its small, medium and large scale energy storage products for electrical power services such as grid balancing, load profiling and hydrogen generation. The backlog has grown 400% in the past year. Although starting from a small base, we expect the backlog to continue to grow this year.
Onsite Hydrogen Generation
Today, HYGS biggest revenue contributor is onsite hydrogen generation. This segment is most tied to the growth of fuel cell vehicles. Everyone who follows the development of fuel cell vehicle knows the biggest issues are the lack of infrastructure and ability to deliver of hydrogen. Existing gas stations are not designed to store hydrogen nor does infrastructure exist to deliver hydrogen on a massive scale. Based on water electrolysis technology, which involves the decomposition of water (H2O) into oxygen (O2) and hydrogen (H2) by passing an electric current through a liquid, HYGS essentially solves this problem by bringing hydrogen generation to the point of sale. This distribution strategy mirrors the electrical car charging infrastructure that exists today - bring fueling/charging stations directly to the point of sale without spending additional money on other parts of the distribution infrastructure. Today, HYGS is already generating hydrogen at "fueling" stations out of electricity and water, which is readily available in all populated communities. To date, HYGS has built 45 fueling stations, with 4 wins in 2014 ytd. As fuel cell cars begin to roll out in 2015, we expect the demand for HYGS' onsite generation technology to increase.
Figure 4: Hydrogen fueling stations, critical infrastructure to support the adoption of fuel cell vehicles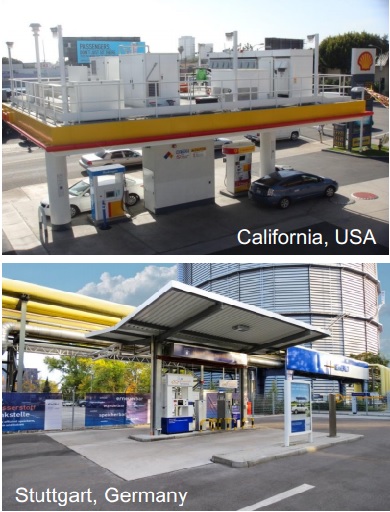 Source: Company filings
Per HYGS, the total current market opportunity is approximately $100M. However, as more fuel cell powered vehicles are adopted, we expect the total available market or TAM to grow significantly.
Path to profitability - HYGS likely the first fuel cell company to be profitable
We believe HYGS will reach profitability in 2014. In the most recent earnings conference, HYGS reported an adjusted EBITDA loss of $1.2M on revenues of $42.4M in 2013. This was a dramatic improvement compared to previous year where they posted an adjusted EBITDA loss of $10.1M on revenues of $31.7M. Strong topline growth of approximately 34% drove the financial improvement, highlighting HYGS strong operating leverage. When comparing BLDP and PLUG to HYGS, they have delivered losses that are on the order of one to two magnitudes larger.
Figure 5: HYGS should reach positive profitability in 2014 far quicker than its peer group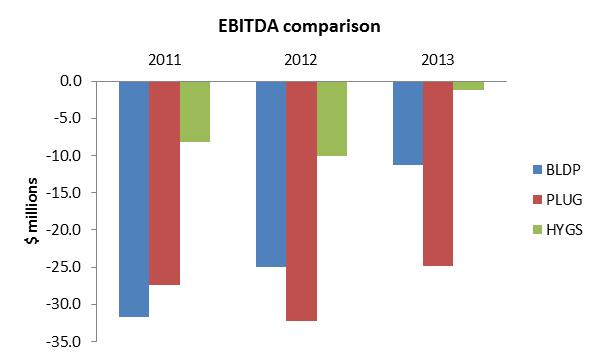 Source: Bloomberg and company filings
We believe strong order flow and bookings from both the onsite generation and power systems category will continue to drive operating improvement.
Share price will catch up to peer group
The fuel cell peer group has been rising at a torrent pace led by BLDP and PLUG. Figure 6 illustrates the magnitude which BLDP (+285% ytd) and PLUG (+373% ytd) has outperformed HYGS (+52% ytd). Given HYGS strong growth and bottom-line fundamentals, there is no good reason why HYGS should not be re-rated to reflect the overall outperformance by the group. We believe the reason why HYGS has not done was well as its peers is because it is a Canadian company that is not well followed by the American investor base. Its topline growth rate of 30% and expected profitability in 2014 should immediately excite the savvy investor. We believe the adoption of HYGS' technology is growing. By targeting three distinct product segments, onsite generation, backup power and energy storage, diversifies and de-risks its revenues.
Figure 6: HYGS has the potential to catch up with its peer group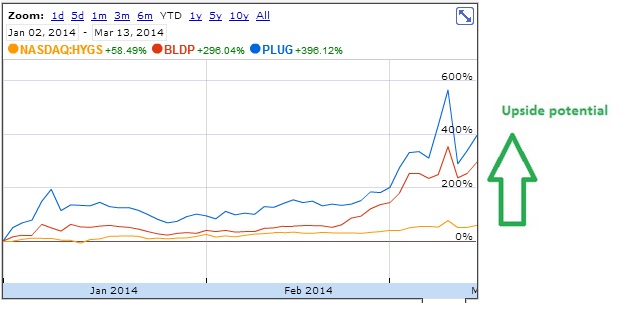 Source: Google Finance
Both PLUG and BLDP have shown strong yoy improvements in their operations. However, HYGS has shown the most consistent operational improvements over the past year. We believe the market will eventually reward consistency and HYGS shareholders.
Why now? Near-term catalysts
We believe there are near-term catalysts that when they come to fruition will drive valuation and sentiment for HYGS.
Onsite Generation
Announcements of more hydrogen fueling stations in Germany and USA
News flow from Toyota, Honda, Daimler and Hyundai, who are expected to launch fuel cell vehicle production starting in 2015
Power Systems: Backup Power
Delivered first commercial orders for backup power systems for cellular towers and Data Center in 2013. Potentially new orders to come in 2014
Energy Storage
Enbridge project in Canada to be finalized in the near future
Existing facilities that use HYGS power-to-gas technology may grow their existing footprint, hence expect brownfield expansion in the near future
Energy Security
European tensions with Russia over Ukraine add urgency to reducing dependency on Russian Natural Gas and increasing the utilization of wind and solar resources. HYGS Hydrogen generation could help.
We believe the aforementioned catalysts will further prove out the viability of HYGS' technology and business model.
Valuation and Conclusion
PLUG and BLDP currently trade at approximately 2015 EV/Sales = 6x and 7x respectively. HYGS on the other hand trades at 3x to next year's sales, a significant discount to PLUG and BLDP. But applying a similar multiple to Wall Street analyst consensus figures, we achieve a price target of approximately $51, which is 70% increase from current levels. Given HYGS' strong fundamentals and viable path to profitability, many argue that HYGS should trade at premium to PLUG and BLDP. Analysts expect strong topline growth for HYGS for the next several years driven by all business segments, but yet the investment community has left behind HYGS in the recent euphoria of fuel cells. Although we reflect a conservative outlook in our modeling, we believe HYGS still has significant upside. We highly recommend investors conduct their own research and develop their own financial models on HYGS.
Figure 7: HYGS is massively undervalued compared to its peer group.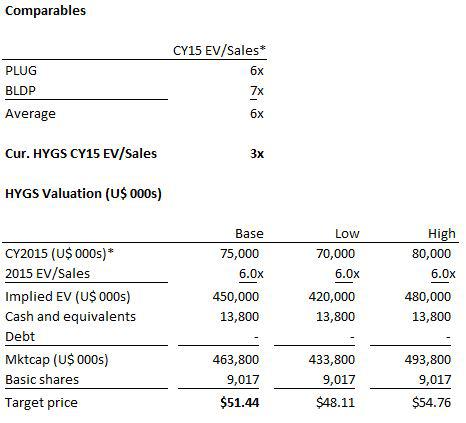 Source: Bloomberg. *Multiples and sales figures (base case) are taken from Bloomberg which provides the average of analyst expectations
Appendix
Ballard Power
Ballard Power Systems Inc. (Ballard) is engaged in design, development, manufacture, sale and service of fuel cell products for a variety of applications, focusing on motive power (material handling and buses) and stationary power (back-up power and distributed generation). It is also engaged in proton exchange membrane (PEM) fuel cell development and commercialization. The Company provides engineering services for a variety of fuel cell applications. It operates in two segments: Fuel Cell Products and Material Products. Its product and services include fuel cell stacks, fuel cell modules, material products, and engineering services. Its subsidiaries include Ballard Material Products Inc., Dantherm Power A/S, AFCC Automotive Fuel Cell Cooperation Corp. (AFCC) and BDF IP Holdings Ltd. In August 2012, it acquired key assets from IdaTech.
Hydrogenics
Hydrogenics Corporation, together with its subsidiaries, designs, develops and provides hydrogen generation and fuel cell products based on water electrolysis technology and proton exchange membrane (PEM) technology. The Company conducts its business through two business units: OnSite Generation, which focuses on hydrogen generation products for renewable energy, industrial and transportation customers, and Power Systems, which focuses on fuel cell products for original equipment manufacturers (OEMs) systems integrators and end users for stationary applications, including backup power, and motive applications, such as forklift trucks. The Company's products include HySTAT hydrogen generation equipment in its OnSite Generation business and HyPM fuel cell products in its Power Systems business. The Company maintains operations in Belgium, Canada and Germany.
Plug Power
Plug Power Inc. (Plug Power), is a provider of alternative energy technology focused on the design, development, commercialization and manufacture of fuel cell systems for the industrial off-road (forklift or material handling) market. The Company is focused on proton exchange membrane( PEM), fuel cell and fuel processing technologies and fuel cell/battery hybrid technologies, from which multiple products are available. The Company is focused on A fuel cell is an electrochemical device that combines hydrogen and oxygen to produce electricity and heat without combustion. Hydrogen is derived from hydrocarbon fuels such as liquid petroleum gas, or LPG, natural gas, propane, methanol, ethanol, gasoline or biofuels. Hydrogen can also be obtained from the electrolysis of water. Hydrogen can be purchased directly from industrial gas providers or can be produced on-site at consumer locations. In May 2013, Air Liquide SA acquired a 14% stake in Plug Power Inc.
Disclosure: I am long HYGS. I wrote this article myself, and it expresses my own opinions. I am not receiving compensation for it. I have no business relationship with any company whose stock is mentioned in this article.