Imperial Sugar's (NASDAQ:
IPSU
) share price decimation is a good thing if you are a potential investor, as it offers a opportunity to buy the stock on the cheap.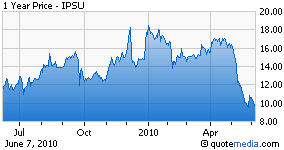 The company's stock price absolutely imploded this past month, thanks to a disappointing earnings report and a subsequent analyst downgrade. Its more than 40% drop was a huge overreaction according to Brad Safalow, a former JP Morgan analyst who now heads up the research firm PAA Research. Safalow says that in his entire investment career, he has never seen such a bigger disconnect between a stock and its inherent asset value or earnings power (IPSU's book value is $20) and theorizes the stock could trade at 12-14 times normalized earnings of $2.14 per share, implying a share price as high as $25 to $30.
What caused the selloff? (1) last month's second quarter earnings report was the principal culprit in sending the stock into a tailspin, when negative earnings were reported of $2.82 per share, due to hedging losses in sugar futures (the price of raw sugar #16 dropped considerably) and the failure of the company's Port Wentworth plant to achieve 100% production capacity (it had reached 90% by quarter's end) (2) these poor results quickly caused IPSU's lone analyst to make an "about face" on his opinion.
BWS Financial's, Hamed Khorsand, changed his buy rating to a sell rating and shaved nearly 50% off his former target price of $20, down to $10.25 -- the main drivers of his downgrade, being: (1) The uncertainty associated with Imperial's impending 66% sale of its Gramercy refinery to Louisiana Sugar Refining LLC (2) The expected large sugar beet crop. (3) Higher depreciation rates due to its new Port Wentworth facility (4) lack of production efficiency at Port Wentworth.
BWS believes that the company in its current state does not deserve a multiple greater than 5.5 times his 2011 "EBITDA" estimate of $1.85. Now that the share price has fallen below Khorsand's target of $10.25, he could upgrade the shares a notch higher from a "sell" to a "hold", because it makes no sense to have a sell rating intact when your target price is higher than the current stock quote.
The positives have been ignored: There were some bright spots to the quarter that Khorsand failed to bring to light: IPSU's 50% ownership in its Wholesome Sweeteners joint venture saw a monster quarter evolve. Its share of earnings, nearly tripled from $172,000 to $479,000 while the equity portion of its Mexican Joint venture generated a 16% earnings bump from $667,000 to $772,000. A further promising development includes a new joint venture formed with Pure Circle Ltd. to parlay the advantages of combining Stevia with Sugar to create a low calorie sweetener. This new joint venture will be called Natural Sweet Ventures LLC. In addition, Management deserves a few kudos in regards to its successful cost cutting endeavors, as it was able to reduce its General & Administrative costs 24% from $11.9 million to $8.7 million.
One Analyst is bullish one way or another: Safalow thinks that management must execute better resolving its Port Wentworth production issues or someone else will seek to unlock IPSU's true earnings power and asset value. According to Safalow, potential suitors `include, Cargill International, Corn Products International and Archer Daniels Midland with a takeout price in the range of $20 to $25 per share. Others are getting sweet on IPSU as well, such as Ben Axler, of "the Street.com" who recently wrote a glowing piece on IPSU titled "A Sweet Spot In a Sour Economy", and the hedge fund Phronesis Partners who just acquired a 5.06% ownership stake.
The bottom line: To say the largest US publically held sugar company (20% market share) with such iconic name brands as Dixie Crystals and Holly Sugar has fallen out of favor on Wall Street is an understatement. In reality, it has disappeared from just about everybody's radar screen. This total lack of interest could be construed as a good thing because the bar has been set so low, that just about anything down the road, will be interpreted as an improvement. Mr. Market loathes IPSU because of the uncertainties related with the price of sugar and the legal issues associated with its Port Wentworth, Feb. 2008 explosion. The legal issues will ultimately be settled, (19 of 44 lawsuits have already been settled) although the price of sugar will continue to fluctuate. Meantime, I would be backing up the truck on this one to exploit the temporary insanity of Mr. Market, by providing buyers with the opportunity to acquire the company at fifty cents on the dollar. The name of the game is to buy stocks that have fallen out of favor, and sell them when they have regained their prominence. How else are you supposed to buy low and sell high?
Disclosure: Long IPSU