The losses weighed on the Nasdaq Composite Index (RIXF), which fell almost 84 points, or 3.6%, to 2,219. The Philadelphia Semiconductor Index (SOX) shed 4.4% and the Morgan Stanley High Tech 35 Index (MSH) slumped by 3.6%. Western Digital Corp. (NYSE:WDC) fell $2.13, or almost 6%, to $34.42, and Seagate Technology (NASDAQ:STX) was off by 79 cents, or 5%, to close at $15.15. According to figures from iSuppli, the companies are both claiming a piece of the title of No. 1 hard-disk drive maker.
With all the emphasis on what is going wrong I decided to look to see if I can find some things that going well. Worldwide semiconductor revenue this year will be stronger than previously projected as shipments of PCs and smartphone's grow rapidly, research firm Gartner Inc. said today. Gartner is projecting semiconductor revenue will reach $290 billion this year, an increase of 27.1% compared to 2009, when revenue totaled $228 billion. Gartner previously projected revenue to grow by 19.9% this year."The improvement is a combination of the economic recovery, an improvement in hardware spending and semiconductor sales exceeding the pace of systems sales," said Bryan Lewis, research vice president at Gartner. Manufacturing constraints have also caused a rise in semiconductor prices, particularly DDR3 memory, he said. Semiconductor revenue could total $307 billion in 2011, according to Gartner's forecast.
Hewlett-Packard (NYSE:HPQ) on Wednesday introduced a variety of products for small and medium-sized businesses (SMBs), a segment that worldwide spends an estimated US$234 billion per year on IT products, the company said. Western Digital Corp. in the first quarter of 2010 shipped the most hard disk drives (HDD) of any storage supplier, surpassing arch nemesis Seagate Technology for the first time ever on a quarterly basis, according to market research. Western Digital shipped a record 51.1 million HDDs in the first quarter, according to iSuppli Corp. and IDC, representing a 3.2% increase from 49.5 million in the fourth quarter of 2009.
WDC has seen its shares fall more than 21% since January, to $35.11 on Friday, a bit of a slap in the face after 2009's meteoric gain of 293%. Much of that loss occurred during May's market wide selloff, in which Western Digital's shares gave up 16% during a month highlighted by broad selling across the tech sector. Seagate shipped 50.3 million units in the first quarter of 2010, up 0.8% from 49.9 million drives shipped during the previous quarter, iSuppli said. They also said that several HDD vendors plan to increase their capital spending.
Western Digital Corp. is investing $1.2 billion over the next five years to further expand its research and development and manufacturing activities in Malaysia. The new investment will involve the construction of a new 1.5 million sq ft multi-storey building for research and development and manufacture of magnetic head and media components and hard disk drives. Construction is slated for completion by the third quarter of 2011 and the facility will be ramped up to full capacity over the following five years.
Recommend you look at Western Digital for a long-term buy with the current depressed prices. The $8.1-billion-market-cap company is generating a lot of cash, with $3.48 in free cash flow per share and a free cash flow yield of almost 10%. It also has a stellar balance sheet, with more than eight times as much in net current assets as it has in long-term debt and Western's has a 6.21 P/E. In both short-term and long-term periods, WDC has shown high correlation (>=0.4) with the S&P 500 index. Thus, this stock would provide only low levels of diversification to a portfolio similar to the broader market. However, despite the correlation is seems to overal perform better as the chart below depicts. Over the last year, WDC's revenue decreased at a rate that was in-line with the Computer Storage & Peripherals group norm. During fiscal year 2010, its annual revenue decreased by 7.7% to $7.5B. (Click to enlarge)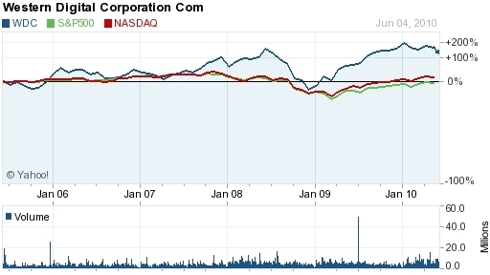 This recommendation is based on the fact I feel WMD is currently undervalued and should be a long-term buy. Current market volatility could influence with the Euro financial stresses that sent the stock market down more than 13% from its recent high, as of Friday morning's low. However, if you are in for the long haul it looks good.
Disclosure: Currently no position in any stock mentioned.