"Out of this nettle, danger, we pluck this flower, safety." ~William Shakespeare
The market gave investors yet another reminder on Thursday that the market in 2014 is a very different beast than it was in 2013 when equities posted better than 30% gains. Indices posted their worst performance in five weeks and the Dow was off better than 200 points at close.
I outlined Monday my reasons for thinking the market looks ready to break down. Although I still think equities will provide a 5% to 10% overall return in 2014, I think the risk is to the downside right now until the market gets confirmation that equities can withstand the "Taper" and that the American and Chinese economies are not decelerating.
I believe the right strategy now is to rotate to those low beta/high yield plays that might be boring but should provide a decent return with much lower volatility than the overall market while we get through this "hiccup." Here are two of these high yield stocks that look attractive here.
It is harder to get much more boring than recommending AT&T (NYSE:T). However, the shares have some attractive features in an increasingly volatile stock market. First, the stock yields almost six percent (5.7%) and a beta that is ~one third of the overall market.
Second, the shares have dropped more than 10% from recent highs on worries about a price war in the mobile space and capex concerns. Both worries seem reflected in the stock and I recently initiated a position as it appears the stock is trying to build a bottom at these levels (See Chart).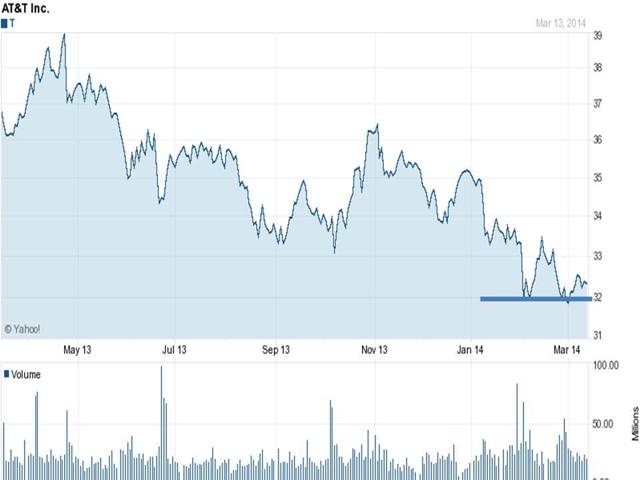 Capital expenditure needs should lessen in 2015 as the company completes a good portion of their 4G network build-out this year. Earnings should increase 5% this year and are not expensive given their generous yield at just over 12x this earnings, which is an approximate 25% discount to the overall market multiple.
Tobacco maker Lorillard (NYSE:LO) is up some 5% since I bought shares last month partly on rumors that Reynolds American (NYSE:RAI) is preparing a buyout offer. The stock currently trades at $51 a share and Wells Fargo recently stated Lorillard could be worth $60 a share in a merger as the industry is ripe for consolidation.
Even without being acquired, Lorillard is attractive as a stand-alone entity. The shares yield a robust 4.6% and the company has doubled its payouts over the past half decade. Lorillard is also making inroads into the burgeoning e-cigarette space with its Blu brand.
Earnings should post a ~10% gain this year on the back of a 6% to 8% revenue gain. The shares are priced at 14.5x forward earnings, a slight discount to the overall market multiple. Finally, the stock has a strong balance sheet and low beta (.33).
The market in 2013 was the time for "greed." However, after last year's huge surge on back of just a 5% overall gain in earnings; now is the time for "caution." Both of the selections above work well within that outlook.
Disclosure: I am long LO, T. I wrote this article myself, and it expresses my own opinions. I am not receiving compensation for it (other than from Seeking Alpha). I have no business relationship with any company whose stock is mentioned in this article.