BMO Capital upgraded Alcatel Lucent (ALU) from Market Perform to Outperform last March 10. BMO raised its Price Target for ALU from $5 to $5.50. I was hoping this endorsement would help ALU post a new 52-week high. Unfortunately, the market did not react as I expected, Alcatel went down by almost 9% this week.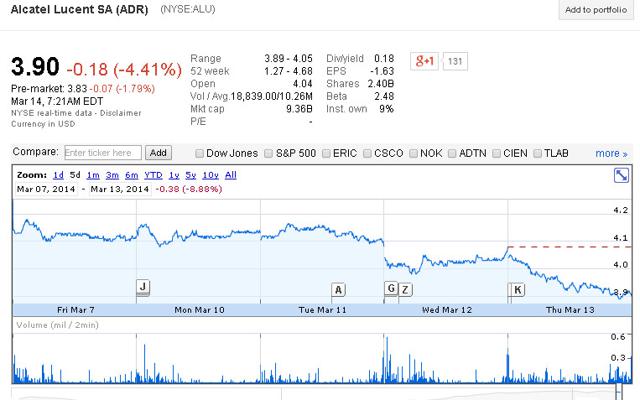 It's sad to see investors go short on Alcatel Lucent on the face of a positive appraisal from BMO Capital. The report justified the firm's bullish assessment of Alcatel Lucent primarily because of growing global capital LTE expansion. ALU's operating margin may hit 10% by Q4 2014 thanks to accelerating 4G infrastructure spending in Asia and North America.
While the short-term outlook is bearish, it's a good opportunity to buy on the low. I believe BMO Capital's projection - the $5.50 price target is achievable before 2014 ends. ALU had a $4.62 high price last January 8 and I look forward to a $5 breach by Q3 2014.
Alcatel is greatly benefiting from its favorable status in China and Emerging Markets. Alcatel will also most likely steal Chinese router market share from American rivals Cisco and Juniper. The Snowden-NSA spying debacle is a long-term tailwind for ALU.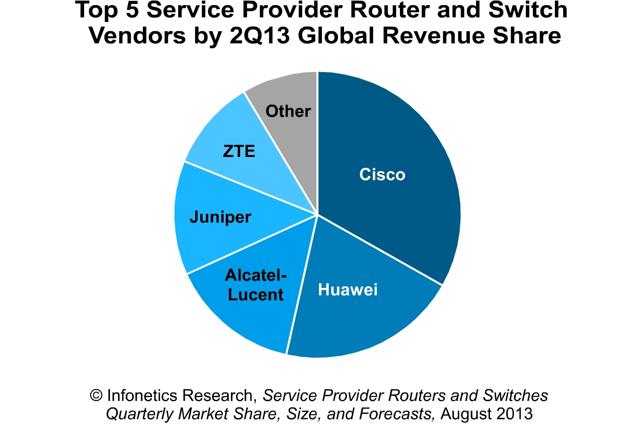 New Contracts Keeps Alcatel Viable
The high debt to equity ratio of the company is not much of a problem as long as the company keeps getting new contracts from tier 1 service operators. Alcatel Lucent is not only winning contracts in Asia and Emerging Markets, the North American market is also proving to be fertile grounds for Alcatel. Verizon Wireless Inc. (VZN) recently awarded Alcatel Lucent a contract to improve Verizon's LTE network. Alcatel will deploy its Subscriber Data Manager (SDM) to consolidate the multiple databases of Verizon's massive nationwide 4G network.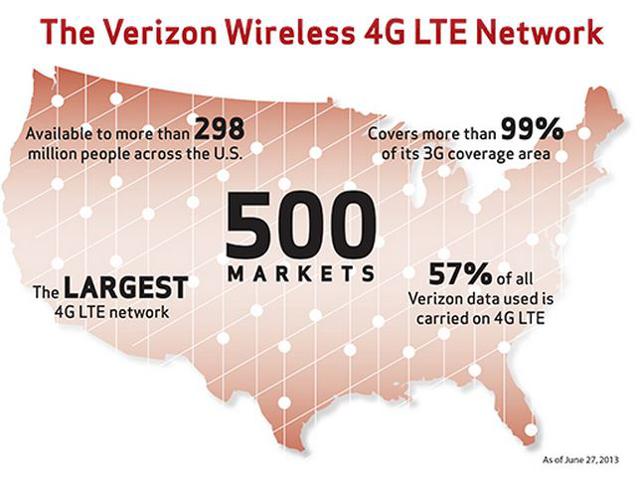 The said deal is a nice follow-up to the Verizon 100G optical contract, which Alcatel also won last January. Last month, Alcatel Lucent also supplied its lightRadio 9768 and 9765 Metro Cell Outdoor small cell solution to help Verizon Wireless meet LTE 4G high traffic urban areas. The small cell deal also came with Alcatel's 5620 Service Aware Manager for end-to-end management. As of February, Alcatel Lucent has 65 commercial contracts for its small cell products across 45 countries.
Taiwan's Asia Pacific Telecom hired Alcatel Lucent to build Taiwan's first Voice over LTE ((VoLTE)) fixed and mobile 4G broadband network. Telkom Akses also gave Alcatel Lucent a contract to deploy a national Fiber to the Premises ((FTTx)) ultra broadband network.
Etisalat is also employing Alcatel Lucent to roll out LTE-FDD infrastructure in the United Arab Emirates. These are just a few recent contract wins of this company. Alcatel's end-to-end LTE and ultra-broadband products are gaining premier acceptance from major telecom service providers.
I expect the company to deliver healthy growth in revenue for the next 3 years. Just this year alone, the LTE roll-out spending is estimated to reach $15 billion.
BMO Capital's upgrade of ALU is also based on their calculation that it is now only trading at 11 times 2015 EPS and EV/sales of 0.60, well below Nokia's estimated 2015 19x EPS and 0.95x EV/Sales.
Monetizing Patents
The company's new SDN business and vast library of 45,000 patents, especially those owned by Bell Labs, convinced me that ALU deserves more loving from investors. I would like to believe that BMO Capital's big thumbs-up is partly due to Alcatel Lucent's estimated $9-billion worth of patents. The SDN business is still in its infancy so I'm more eager on ALU exploiting the current fad for patent licensing. I believe that the company can earn more from patent fees than from the SDN business for the moment.
CEO Michel Combes reiterated his desire last year to strongly monetize the company's patent portfolio. While not a top priority before, aggressive patent licensing might help improve market perception of ALU. Microsoft is raking in billions of dollars from patent taxing Android gadget manufacturers every year.
I'd like to see Combes do a hard line patent licensing stance to generate more cash. If he can get to sell some of the patents outright for a few billion dollars, so much the better. The company needs to reduce its current high 3.98 debt ratio to inspire investor confidence.
Conclusion
The upgrade from BMO Capital is justified by the ever increasing number of contracts that Alcatel Lucent is getting. The current negative market perception of ALU should be taken as a good opportunity to buy more shares while they are cheap.
Alcatel had a great 2013 and I'm betting for another 30% or higher YTD by December. I anticipate the company to deliver a positive EPS for Q1 2014.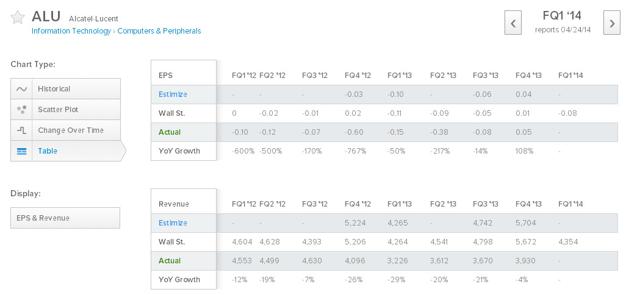 Disclosure: I am long ALU. I wrote this article myself, and it expresses my own opinions. I am not receiving compensation for it (other than from Seeking Alpha). I have no business relationship with any company whose stock is mentioned in this article.