Business trouble can arise quickly and for multiple reasons. Companies may suffer from missed market expectations, reduced operating profit or severe cash problems. Whether triggered internally or by marketplace dynamics, early detection and rapid action are the keys to restoring performance and the value of the overall business operations. Smart businesses are always aware of when to pull the trigger to resolve such kind of troubles and have a backup plan. Texas Instruments (NYSE:TXN) is currently going through a restricting phase and cost cutting plans despite posting profits in the last quarter. The company is well aware of its troubling operations. In such an effort, the company has planned to lay off 1100 employees, reduced its Japan operations, and diverted its focus towards markets with greater potential for sustainable growth and strong long-term returns.
Preview
In this article, I have analyzed the company's cost cutting efforts to turnaround its business operations and how these efforts support its future growth. I also discussed some events that helped the company to achieve its growth objectives in the future including:
The improving auto industry
Cost cutting using layoffs
Reducing R&D costs after the sales of the wireless business
Earnings Preview
The company posted good fourth quarter 2013 results by beating Wall Street's expectations on revenues and matching expectations on earnings. The company reported fourth quarter revenues of $3.03 billion (reflecting an increase from $2.98 billion in the same quarter last year), a net income of $511 million, and earnings per share of 46 cents.
The combined revenues from its Analog and Embedded Processing business segments grew 12% compared to last year's fourth quarter and comprised 82% of total revenues. Independently, Analog was up 12% and Embedded Processing was up 11% from the previous year. The gross margin of 54.2% maintained its record high and boasted its net profit to 94% from the prior year to $511 million reflecting the quality of its Analog and Embedded Processing portfolio and the efficiency of its manufacturing strategy.
Cost Cutting Strategy
Despite posting revenue growth and profit margins, the company was well aware of its troubling operations. The company planned three percent job cuts, or 1100 jobs, of its global workforce in the U.S., Japan, and India. The cuts, most of which are expected to be in the Embedded Processing segment and in Japan could save the company around $130 million by the end of 2014. However, its earnings forecast for the current quarter fell behind consensus estimates and the company will be taking restructuring charges as it moves away from the unprofitable areas of its business.
Shifting Focus to Growth Market
In January 2014, the company announced cost-saving actions mentioned above to reduce expenses and focus its investments on markets with greater potential for higher growth and better long-term returns. Total restructuring charges related to these actions are expected to be about $80 million, all of which will be severance and related benefit costs. In the fourth quarter of 2013, the company recorded restructuring charges of $49 million related to the actions regarding the Embedded Processing segment and the remainder is related to Japan and is expected to be recognized in the first quarter of 2014. As of December 31st 2013, no payments related to these restructuring charges have been made.
Market Opportunities
The company manufactures chips that are used in various parts ranging from satellites to home appliances. This provides it with generous growth opportunities across different areas. The company has noted good growth in communications equipment and enterprise systems and it is also expecting improvements in the automotive business in the future as vehicle manufacturers improve the technology in their vehicles. Moreover, the company has also improved its factory utilization by increasing load in advanced factories and closing old and inefficient factories.
The company could benefit from an increase in global auto sales. The U.S. auto market is expected to grow once again this year with sales between 16.1 million and 16.5 million units while LMC Automotive puts the global growth forecast at 5%. The increasing use of semiconductors in mobile devices could help the company's revenue grow in the future and the focus on cost reductions should result in margin improvement.
Focused On Core Business
Texas Instruments has already exited the mobile chip business and is instead targeting embedded processors and analog chips such as those used in automotive and industrial equipment. During the second quarter of 2013, the company transferred its wireless connectivity technology to a customer for $315 million. Now it is selling a wireless and analog factory in Nice, France as part of its exit last year from the wireless mobile market. The company is trying to be more focused on its core business rather than making efforts to improve its struggling business operations, which I believe is a good move for the company to achieve long-term growth.
Saving R&D Costs
The company has spent $1.52 billion on research and development last year down from $1.88 billion in 2012 and $1.72 billion in 2011. Part of the reason for the decline is that the company has left two high R&D markets that include wireless mobile and wireless baseband. The R&D expense was 12.5% of its revenues in 2013 down from 14.6% in 2012. These strategic steps will also help the company to lower its R&D costs that the company could use to expand its operations in higher growth markets.
Comparative Valuation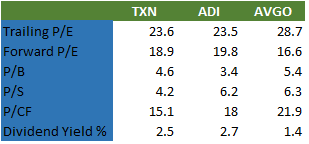 Source: morningstar
From a valuation perspective, the company seems attractively valued compared to its industry peers. Compared to Analog Devices (NYSE:ADI) it seems that both are equally valued on the trailing P/E but on forward P/E Texas Instruments is the better option. Moreover, Analog CEO Vincent Roche recently sold 8,000 shares of the company, which is a discouraging sign for potential investors.
On the other hand, Avago (NASDAQ:AVGO) seems quite expensive at this point. But as you can see, its earnings growth projection is quite bright as the gap between the trailing and the forward P/E shows. So it might attract conservative investors but its dividend yield of 1.60% that is less than Texas Instruments' 2.70% might force investors to rethink their initial decision.
Conclusion
The company looks like a decent investment from all aspects. It is shifting its focus towards more profitable areas of its business and reducing unnecessary overhead using its cost cutting strategy. This restructuring is very important since it will allow Texas Instruments to become a more profitable entity in the long run. The industry conditions also seem quite favorable especially the auto industry. So I believe that this company could be the best pick, among its competitors, for the future.
Interest and debt expense was $95 million in 2013, $85 million in 2012 and $42 million in 2011. This was net of the amortization of the debt premium and other debt issuance costs. Cash payments for interest on long-term debt were $102 million in 2013, $97 million in 2012 and $54 million in 2011. Capitalized interest was not material.
Disclosure: I have no positions in any stocks mentioned, and no plans to initiate any positions within the next 72 hours.
Business relationship disclosure: The article has been written by APEX Financial Consultants. This article was written by one of our research analysts. APEX Financial Consultants is not receiving compensation for this article (other than from Seeking Alpha). APEX Financial Consultants has no business relationship with any company whose stock is mentioned in this article.