In mid-2013, I began writing a series of articles focused on building a diversified income-based portfolio. The series is called The 4% Plan and is based on realizing a solution for the needs of current income, growing income and portfolio growth to last in perpetuum.
In early March 2014, I created a 4% Plan Portfolio with stocks, mutual funds, ETFs and closed-end funds that was published as The $1 Million Perpetual Income Portfolio. This hypothetical investment fund was named the REVCO Perpetual Income Fund.
I began this trackable portfolio with defined positions using the 4% plan 2014 asset allocation strategy. I also created the portfolio using the theme of currency risk, in an effort to facilitate the use of a credible, macro theme to further reduce risk.
The reader engagement was incredible, with over 200 comments published within a few short days. Through reader feedback, a common thread was a request to create The 4% Plan Portfolio with a hypothetical $1 MM investment again, however as a stand-alone ETF portfolio to mitigate risk.
This article, The $1 Million Perpetual Income Portfolio: ETF Edition, aims to do just that while engaging investors with both the positives and negatives of holding an ETF-only basket of funds. This perpetual income fund-of-funds will be referred to as the REVCO ETF Income & Growth Fund.
To track the difference between the two funds, share prices will be given at a value of 1:100,000 of the fund's net asset value, as determined by the sum of market pricing for each holding, as of the close of March 13, 2014.
Since the portfolio's aim is to produce monthly income, share prices will reflect the monthly distributions as a dividend that will be distributed effective the first trading day of the month.
This dividend will represent the "recommended portfolio distribution yield," which is listed on the fund card and vary between funds.
The Portfolio Allocations
To begin with the asset allocation strategy for the ETF edition of the perpetual income fund, the portfolio distribution is between equities, bonds, commodities and cash.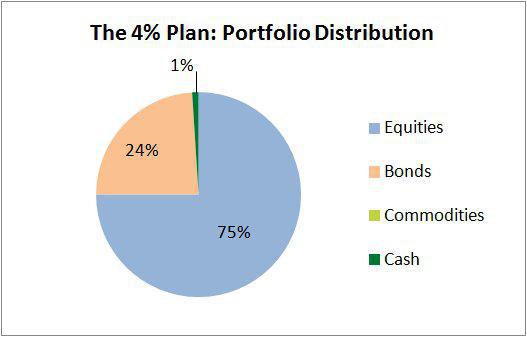 Second, the portfolio subdivides equities into five categories in order to preserve a lower risk profile through diversification. To recap from The 4% Plan: March 2014 Allocation Update article, published February 28, 2014, the following portfolio targets were recommended: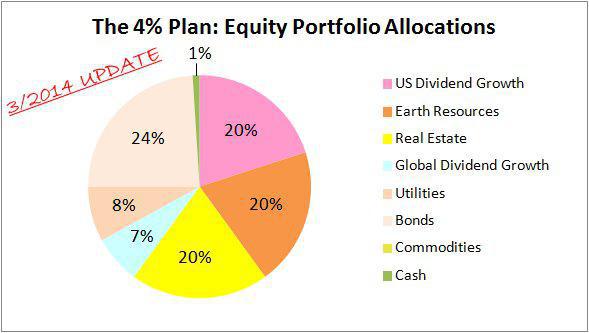 The five equity categories are U.S. dividend growth, earth resources, real estate, global dividend growth and utilities.
Equities are divided into these categories as an effort to maintain a recommended concentration in the natural resources, real estate and utility sectors of the global economy, with the rest of the portfolio split between non-energy/real estate/utilities into U.S. and ex-U.S. categories.
The $1 Million Income Portfolio: ETF Edition
Using the 4% plan as the asset allocation strategy, this portfolio is put together using March 13, 2014 closing prices on stocks and funds.
There are no trading fees incurred on the initial portfolio and moving forward, all trading costs will be $9 per equity and fund trade and zero cost for mutual funds trades.
The portfolio will be referred to as the REVCO ETF Income Growth Fund for future reference. Here is the fund card, with the relevant information to the fund as it begins its first day of trading.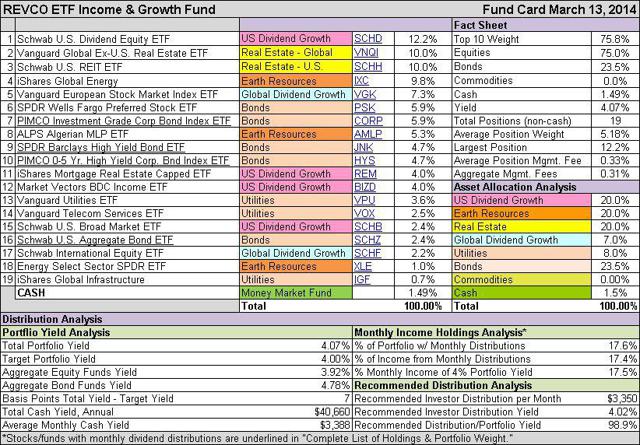 The asset allocation mix ideally will mirror the 4% plan, however the ETF edition will initially hold a higher cash balance of 1.5%.
A Higher Cash Position Is Required With An ETF-Only Portfolio
The reason cash is higher is due to investor distribution coverage, as only 17.4% of the distributions are covered from monthly income holdings.
Regarding stock funds, ETFs are generally quarterly payers. With bonds, ETFs are generally monthly players. In the world of stocks however, there are many monthly payers that are popular with investors such as Realty Income Corp. (NYSE:O). With fewer monthly payers in an ETF portfolio, as only bonds are generally paid monthly, more assets are required for a cash-distribution cushion.
Also, stock ETFs in dividend growth industries generally provide distributions that are tough to anticipate. For example, leading dividend-growth companies like ConocoPhillips (NYSE:COP) have regular distributions that increase year-over-year, whereas the Energy Select Sector SPDR ETF (NYSEARCA:XLE), which has a weighting of about 3.4% of COP, also provides dividends that also increase year-over-year, yet as an ETF the XLE dividend amount isn't very predictable. Also, the quarterly dividends at XLE have not always followed a stable, rising pattern and as such, stable payouts are less likely with ETFs.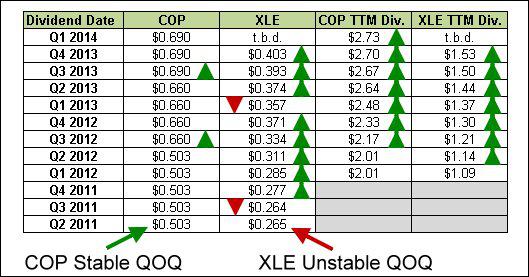 As noted in the chart above, the COP dividends are stable and rising over the past three years, in both the QOQ (quarter-over-quarter) and YOY (year-over-year) time frame. XLE is rising YOY, however the quarterly distributions are rising in trend but have come up short twice in the past three years.
I put in a phone call to the SPDR ETF department at State Street Global Advisors, one of the leading ETF management firms in the world and manager of XLE, to inquire about their ETF distribution policy. According to the firm, their quarterly ETF distributions are announced on the third Friday of the final month of each quarter, which is the same day the stock goes ex-dividend.
In other words, the dividend distribution amounts of ETFs such as XLE can be a guessing game until you are actually paid, while corporations like COP are stable and predictable, even though both grow over time on a YOY basis.
The 4% Plan Asset Allocation With ETFs
With the higher cash balance required to provide stable investor payouts, cash is raised from 1% to 1.5% with the difference coming out of the fixed income, or bond category (23.5%, down from 24%).

The asset classes below are color-coded into eight categories for ease of reference.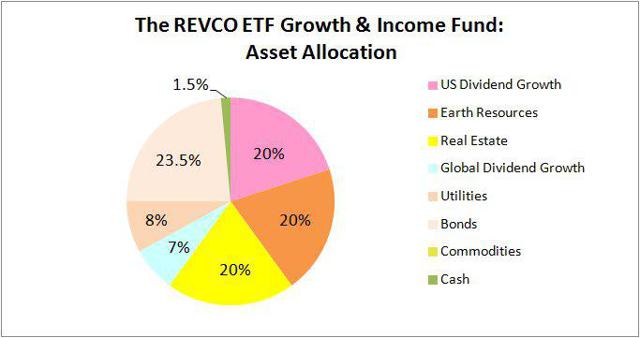 Each allocation category is subdivided into categories of their own, to determine weighting in that particular category as well as category yield impact. For funds holding more than one category, weightings are used and the funds are listed in each applicable category.
The exceptions made are with general stock funds that hold REITs, as the REIT asset class is generally small and only defined as part of the "financial" category in the ETF fund cards. Since REITs tend to make up a very small percentage of the financial category of general stock funds, these holdings are not reclassified into the 4% plan asset allocation strategy and remain listed as either U.S. Dividend Growth or Global Dividend Growth, depending on the fund.
The following chart displays all fund holding values on a per-category basis, such that funds, which fall into multiple categories, are weighted with values into each applicable category. For example, a $100,000 position in a fund with a 10% weighting in utilities would have a $10,000 value listed in the utility category.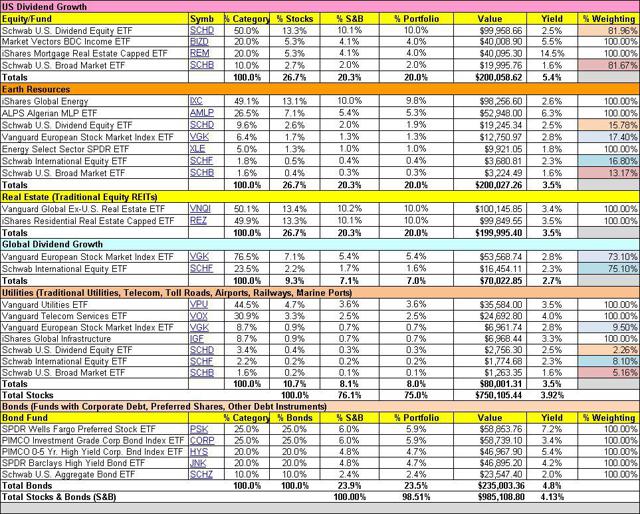 U.S. Dividend Growth
The first category is equity - U.S. dividend growth, which sits at a 20% portfolio weighting.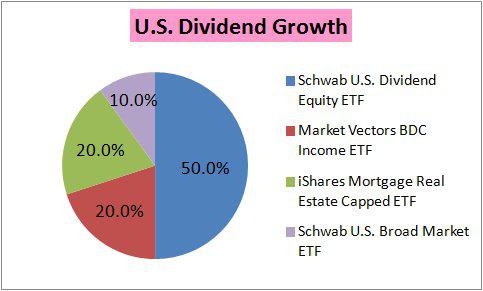 The largest holding of the category rests in the low-cost Schwab U.S. Dividend Equity ETF (NYSEARCA:SCHD). The fund only charges a 0.07% expense ratio and tracks the Dow Jones U.S. Dividend 100 Index. The index is derived from U.S. companies that have a consistent dividend track-record and offer higher yields than the market average. Examples of top holdings includes Wal-Mart Stores, Inc. (NYSE:WMT), The Coca-Cola Company (NYSE:KO) and Johnson & Johnson (NYSE:JNJ) which yield 2.54%, 3.17% and 2.82%, respectively.
As the index ETF has a TTM yield of 2.5%, the U.S. dividend growth allocation yield is improved by holding mortgage REITs (mREITs) through the iShares Mortgage Real Estate Capped ETF (NYSEARCA:REM) and the Market Vectors BDC Income ETF (NYSEARCA:BIZD), which yield 14.6% and 5.33%, respectively.
To capture growth, a 10% weighting is given to the Schwab U.S. Broad Market ETF, which charges only 0.04% and owns the largest 2,500 companies in the U.S. The dividend yield is only 1.6% over the last twelve months, however the ownership of smaller companies through the broad market will encourage capital appreciation in the fund.
Earth Resources
Next, we have equity - earth resources, also at a 20% portfolio allocation.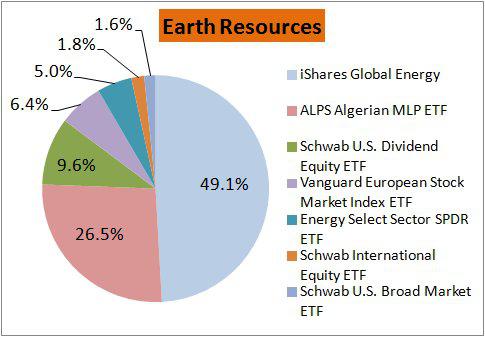 Leading the fund is a nearly 50% weighting in the iShares Global Energy ETF (NYSEARCA:IXC), which charges a 0.48% management fee to track the S&P Global 1200 Energy Sector Index. The fund currently yields 2.6% on market price.
To gain access to higher-yield MLPs, the ALPS Alerian MLP Index ETF (NYSEARCA:AMLP) is owned, which charges a higher-than-average 0.85% management fee yet produces a 6.3% annual yield.
Smaller positions here include a weighting of the Vanguard European Stock Market Index ETF (NYSEARCA:VGK), which owns a basket of energy and basic material stocks in the portfolio.
XLE has a minor position here, to compliment the IXC fund with a more U.S.-growth approach. Also, both U.S. dividend growth funds from Schwab have U.S. energy and basic material weightings that are included in this allocation segment.
Real Estate (Traditional Equity REITs)
Also with a 20% portfolio weight is the equity - real estate category, which owns traditional, equity REITs. These companies are backed up by hard assets and use efficient leverage to encourage portfolio growth.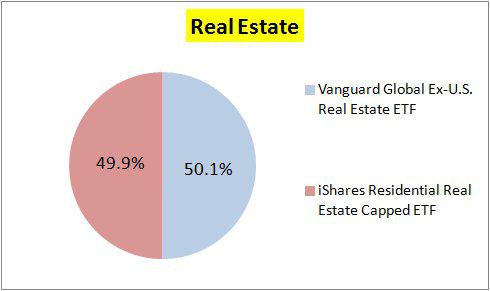 The REIT category holds about an even split between the Vanguard Ex-U.S. Real Estate ETF (NASDAQ:VNQI) and the iShares Residential Real Estate Capped ETF (NYSEARCA:REZ).
VNQI tracks both developed and emerging market REITs, yields 3.4% and only charges 0.27%, which is very low for a global real estate fund.
For the U.S., REZ holds a segment of U.S. REITs that are classified into the residential, healthcare and self-storage subsectors of the general REIT market. This segment is higher-yielding than the total U.S. equity REIT market, yet it performs very close to the market in terms of capital appreciation.
Global Dividend Growth
Moving along, the next category is equity - global dividend growth, which sits at a 7% portfolio weighting.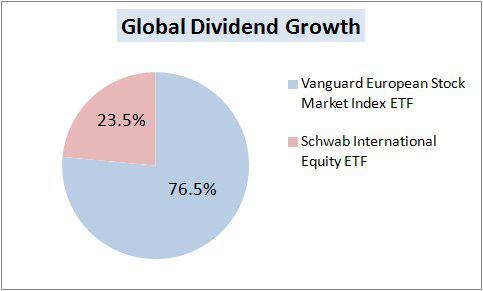 The global dividend growth portfolio is concentrated mostly in the Vanguard European Stock Market Index ETF. This $22 billion fund is a heavyweight that is concentrated in developed Europe. It could be seen as a Euro version of the U.S. S&P 500 as it tracks the FTSE Developed Euro Index, which happens to hold approximately 500 stocks as well. The countries with the largest weighting in VGK are the U.K., France, Switzerland and Germany.
To diversify part of these funds into another ETF, just under a quarter of the category is distributed to the Schwab International Equity ETF (NYSEARCA:SCHF). The major difference between SCHF and VGK is the fund is not limited to Europe as it follows the FTSE Developed ex-U.S. Index. In this regard, SCHF is similar to VGH however it also holds positions in ex-Euro developed nations such as Japan, Canada, South Korea and Australia.
SCHF yields 2.3% versus VGK's 2.8%, while both funds are extremely low-cost index ETFs which charge 0.09% and 0.12%, respectively.
To reduce risk, no emerging or frontier markets are owned in this segment of the portfolio.
Utilities
Next we have the equity - utility segment of the portfolio, weighted at 8%, with major holdings in the U.S. traditional utility and telecom sectors.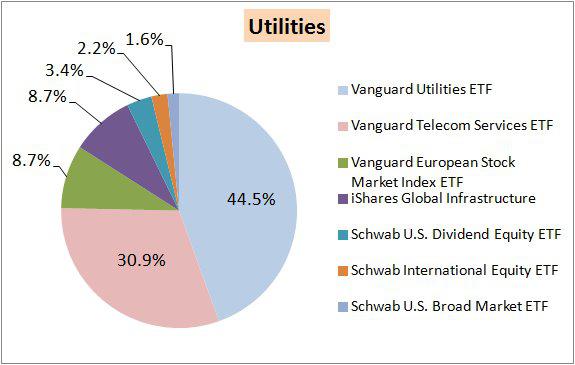 Leading the way is the Vanguard Utilities ETF (NYSEARCA:VPU), which charges only 0.14% and yields 3.5%. This fund holds stable, traditional U.S. utilities and represents nearly half of the utility allocation of this portfolio.
With nearly a third of the weighting here, the Vanguard Telecom Services ETF (NYSEARCA:VOX) holds U.S. telecom companies and yields 4.0%.
Smaller weightings are incorporated into the four index funds that cover the U.S. and global dividend growth categories. Also, a small weighting is given to the iShares Global Infrastructure Index ETF (NYSEARCA:IGF), which concentrates on developed market infrastructure stocks and yields 3.3%.
Bonds
With 75% invested in these equity categories, 23.5% is left for bonds and 1.5% is held in cash reserves.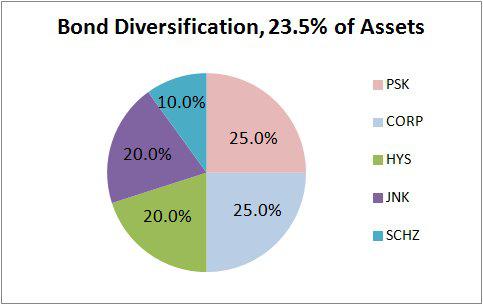 The bond allocation is divided into five ETFs, with the largest two positions in the SPDR Wells Fargo Preferred Shares ETF (NYSEARCA:PSK) and the PIMCO Investment Grade Corporate Bond Index ETF (NYSEARCA:CORP), at a 25% weighting each.
PSK and CORP yields 7.21% and 3.44% respectively and give investors access to preferred shares as well as investment grade corporate bonds.
The next three positions are split between two high-yield bond funds and an aggregate U.S. bond fund. These are the SPDR High-Yield Bond ETF (NYSEARCA:JNK), the PIMCO 0-5 Yr. High-Yield Bond Index ETF (NYSEARCA:HYS) and the Schwab Aggregate Bond Index ETF (NYSEARCA:SCHZ).
JNK, at 20% of the bond portfolio, yields 5.43% and tracks the U.S. high-yield corporate bond index. HYS, also at a 20% bond allocation level in this portfolio, has a shorter duration in tracking the U.S. high-yield bond market and yields 4.16%.
SCHZ is the smallest holding and invests in the entire U.S. investment-grade, taxable bond market that includes treasuries, corporates and other securities. This fund yields 1.99% and only charges 0.05% of assets for the management fee.
All bond fund yields, as well as equity fund yields mentioned above use the TTM (trailing-twelve month) yields, as forward dividend amounts are not predictable.
Portfolio Strategy Moving Forward
In conjunction with the REVCO Perpetual Income Fund, the primary strategy of the REVCO ETF Growth & Income Fund is to mimic the 4% plan that aims to provide perpetual, growing income at a rate equal to at least 4% of the initial portfolio value.
The ETF fund is designed to mitigate risk as all non-cash assets are in non-leveraged ETFs that trade at or very close to NAV.
This portfolio aims to grow at a long-term growth rate at or above inflation. Trading will only occur as an effort to realize asset allocation levels and will occur on a bi-annual basis only. This should keep trading costs at a minimal and push the fund to perform in more of an indexed manner.
The initial portfolio yield is 4.07%, however as ETFs do not have a forward-looking, easily anticipated yield, the 4.07% is determined via the trailing-twelve month dividend history. As the portfolio is designed to increase distributions over time, the 4.07% TTM yield should theoretically be lower than the forward twelve-month yield.
The recommended $3,350 per month investor distribution comes to a 4.02% yield on capital invested. The payout ratio, determined by investor distributions at 4.02% divided by the total portfolio yield of 4.07% is a 98.9%.
As the portfolio is concentrated on ETFs, management expenses are a major concern and as such, the portfolio targets an aggregate management expense below 0.50%. In the initial portfolio, the average position management fee is 0.33% and the aggregate paid management fees total 0.31%.
Total Portfolio Breakdown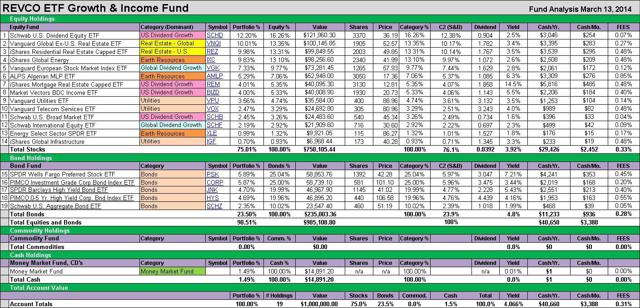 Conclusion
By focusing on reader interest and following through with the REVCO ETF Growth & Income Portfolio based on the 4% plan, I hope to engage readers with trackable performance. I will update this portfolio bi-annually, in terms of trading, renewed asset allocations and performance.
There are currently no real REVCO Perpetual Income Fund or REVCO ETF Growth & Income Fund. As stated previously, these funds have been created as a response to reader feedback and are both designed to track alternate investment strategy based on the 4% plan.
To review the holdings of the REVCO Perpetual Income Fund, which includes stocks, mutual funds, ETFs and closed-end funds, please read 'The $1 Million Perpetual Income Fund', published March 5, 2014.
Disclosure: I have no positions in any stocks mentioned, and no plans to initiate any positions within the next 72 hours. I wrote this article myself, and it expresses my own opinions. I am not receiving compensation for it (other than from Seeking Alpha). I have no business relationship with any company whose stock is mentioned in this article.