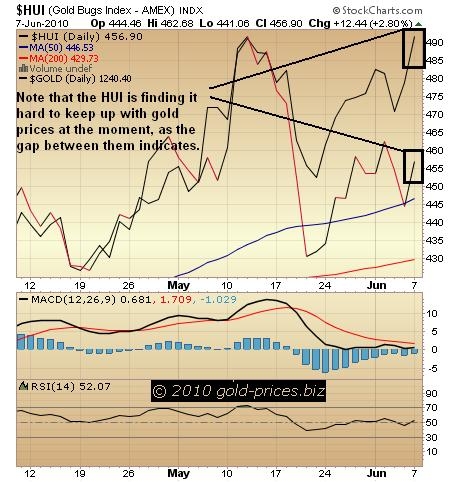 Gold prices put in another really good performance yesterday, flirting with the $1240/oz level before easing back slightly, silver prices also joined in the fun with a bounce back of $0.74/oz or 4.25%, all despite the dollar hitting 88.51.
In our quest to maximize returns from this precious metals bull market we have a large chunk of our investment funds deployed in gold and silver mining companies. The reason for this is to gain exposure on a leveraged basis to the performance of gold and silver. Over recent months with have expressed our concern as the stocks have not sparkled as they once did in the early part of this bull market. It may be that they are taking a breather before resuming a rally that will see the stocks head north in dramatic fashion. However, with the number and variety of alternatives available to the investment community such as the gold funds, we are faced with a situation of the cash that may have been deployed in the mining sector now being channeled into other vehicles. Although we expect these alternatives to attract some of the funds we remain uneasy as to just how much of this cash will find a new home giving it exposure to this bull market without having to shoulder the risks inherent in the mining industry.
Taking a quick look at the chart, we can see that the HUI is finding it hard to keep up with gold prices at the moment, as the gap between them indicates. With gold moving up very well indeed we had expected the stocks to catapult past the golden metal in a dazzling style. Instead all we got was a sluggish response. This is a concern that we have raised a few times for discussion but, as yet, we don't have a clear view of the future for precious metals stocks. They are in the doldrums at the moment so we are looking for them to pick up the bat and as Jim Sinclair said, outperform gold by a factor of 5:1. Alternatively, we need to consider the other vehicles more seriously and maybe incorporate the use of options trading to give us the added leverage that we believe should be possible in this market.
Have a good one.
Disclosure: Long SLW