With this article I would like to introduce you to the Stress Free Portfolio Project. Some of you may be thinking that it is oxymoronic to attribute the term "stress free" to investing due to the inherent risk associated with the award that investors seek by putting their capital at work in the markets. That would be a logical thought; however, if an investor understands that this risk is unavoidable, it is just as logical to understand and accept risk as reality and marginalize fear, doubt, and stress by adhering to a disciplined plan focused one's individual goals. This is what I have done for myself with this portfolio and I am happy to share my thought process and the results of the investments that I've made with the hopes that my words might help give someone else peace of mind when it comes to their financial situation and future.
Before I continue, I should note that I've taken a hiatus from writing articles here at Seeking Alpha. I did this primarily for one reason: I needed to have the time to build my personal portfolio. The articles that I enjoy reading most are the ones focused on investment strategy. Many of these articles are built around portfolios, both real and hypothetical, that have been constructed for achieve one set of goals or another. I find it incredibly interesting to follow these portfolio projects when their goals mirror my own. I am young, in the accumulation phase, and these projects that other SA authors publish have given my great insight into how I think about the building blocks of my portfolio. I even went so far as to start a theoretical project like this myself, where I made picks and expressed my opinions as to why I would like to own different equities. But, when looking at the feedback to my pieces, and also similar pieces that other authors where publishing, I noticed a consistent push-back theme: readers where concerned with the fact that the positions being discussed were hypothetical and that the author did not have "any skin in the game." The more I thought about it the more I justified these negative claims and realized that while it is possible express a long opinion without maintaining stock ownership (obviously most investors cannot own shares of each company that they might like to due to the limitations of an individual's capital), the most powerful opinions expressed are by authors who "put their mouth where their money is." I made a conscious decision that I would no longer express an interest in a stock without either owning the stock myself or having a real desire and capability to own if it hit my entry price target.
Before I disclose the positions that this portfolio is made up with I would like to lay out the basic considerations that took place while purchasing them. It is this philosophy that I have put in place for myself and this portfolio that allow for me to maintain a stress-free mindset when it comes to equity ownership. I must admit that these rules are not always set in stone. There have been times when I broken one or two of myself imposed rules when making an investment. I think that it is important to analyze the fundamental metrics that companies have to offer and stay disciplined to an investing philosophy, but I also think it is important to follow one's heart. I know there is no way to quantify the heart or a gut-feeling, but I think it is important to follow intuition once an investor has a proper understanding of an equity within the market. Several times my intuition has lead me towards healthy gains that would have been unrealized if I have stuck hard fast to my fundamental buy guidelines.
The primary principle that the Stress Free Portfolio is built around is the collection, investment, and eventual compounding of a predictable passive rising income stream. I stress the word rising because I believe that over the long term dividend increases and the compounding effect of the re-investment of these funds will be what leads to significant returns from this portfolio. I feel comfortable - I sleep well at night, due to the faith that I have that the companies that I've decided to buy into will continue to transfer a percentage of their earnings to me on either a monthly, quarterly, semi-annual, or annual basis. Due to the predictable rising nature of the dividends that I collect I am able to effectively ignore day-to-day change in share price of my holdings. Even if the worst case scenario of a stock I've chosen to own tanking, I am able to remain calm knowing that the passive income that my investments create will grow and that I can put the newly generated capital to use increasing my yield on cost by dollar cost averaging down into sinking positions that I still believe in fundamentally.
Another primary goal that I have for my investment portfolio is to reduce fees to the bare minimum. I have spoken about the positive power of dividend reinvestment, I wish to avoid fees because of their similar compounding power to the downside. Because of this, I am currently not interested in owning mutual funds, and while I have considered owning a low cost broad market index fund or two for diversification purposes, I have yet to pull the trigger. For me, trading costs are unavoidable, but my brokerage does allow for me to flexibly reinvest my dividends at zero cost.
I think of this portfolio as a business. It serves as my own holding company. My goal is to increase my book value and my cash flow through the investment decisions that I make. I like to own high quality companies with wide moats, high entry barriers, and obvious competitive advantages relative to their peers. I follow the traditional Graham/Buffett model of looking at stocks not as ticker symbols or game pieces to trade, but as incremental pieces of individual companies. I only want to own the best companies. Reliability, accountability, and predictability are traits that I look for when examining companies to own. When I genuinely trust that a company and its management team will continue to prosper and line my pockets with a passive income stream I am able to rest easy with my holdings. When this trust is shaken, by a dividend cut or major change in company philosophy for example, it is time for me to re-evaluate my investment and often times, cut ties and move on to another more reliable company.
Valuation: I try to only invest in companies when they are either undervalued or fairly valued. Sometimes it is difficult but I do my best to resist the urge to jump onto high flying momentum bandwagons. I use historical fundamental metrics, forward guidance given by companies, and several independent research firms' analysis to decide on what I believe a company's fair value to be. I especially enjoy using S&P Capital IQ and Chuck Carnevale's F.A.S.T. Graphs system, I find information on both of these platforms to be thorough and simply laid out for quick and easy baseline research.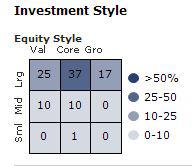 Fundamental Analysis: Due to the importance that I have placed on passive income I look very closely at the dividend fundamentals of companies that I plan on investing in. I don't have a target dividend yield. I've read authors who steer clear of high yielding plays because of perceived risk or the pressure that such high dividends put on the business structure, or who won't invest in a company unless their yield is above a certain percentage (2% seems to be a common cut-off point in this regard); I don't worry so much about current yield, instead I focus on the sustainability of the dividend and its ability to grow. Of the 47 companies I own, 45 pay a dividend. At the time of writing this piece, of the companies that pay dividends, the lowest yield that I receive is 0.56% and the highest is 6.82%. I like companies with low payout ratios. I look closely at historical dividend growth rate and I compare this to past earnings results and projected earnings figures. David Fish's dividend aristocrats list has been a great aid to me as I've began to build my portfolio. I know that past dividend performance does not necessarily translate into future dividend growth, but I do think it is helpful to understand which companies strive to gain and maintain shareholder trust through long standing shareholder friendliness numbers. From time to time a dividend champion will cut or freeze its dividend, but knowing that a company has increased its annual dividend for decades on end gives me peace of mind all the same.
Outside of the dividend fundamentals, like to own stocks with low Beta's, low debt loads, higher margin and management effectiveness numbers relative to their peer and industry averages, and strong earnings results and potential being that earnings growth will fuel dividend growth in the future.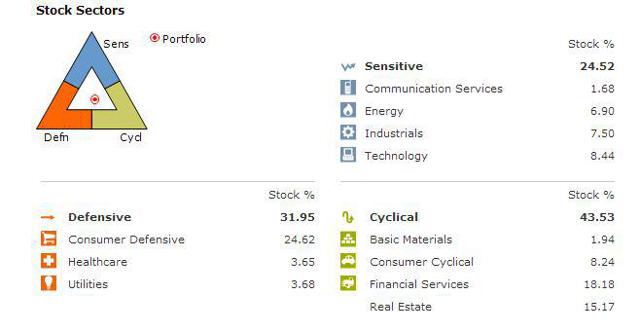 Diversification: As of writing this article the Stress Free Portfolio has 47 holdings. The holdings are primarily domestic stocks; 76.46% of the portfolio's holdings are U.S. large cap stocks, 19.33% of the holdings are U.S. mid cap stocks, and 4.19% of the holdings are international equities. The remaining 0.02% is a very small cash portion that is currently held in this portfolio's brokerage account, I will discuss my cash buffer shortly - this cash is currently held in a different account and moved into the brokerage periodically when I see value worth purchasing in the market. The 47 holdings are spread unevenly across different stock sectors, while there are bench marks I would ultimately like to achieve as far as weighting goes, throughout the accumulation phase I am less concerned with diversification weightings, but in finding great value. I like to compare this sort of mindset to shopping for groceries; I view the market as a store that I don't enter with a set list of goods in hand, instead I browse the isles on a regular basis letting the sales determine what I will be eating on a given night (this is how I shop at my local Harris Teeter and it is much more exciting this way). It's worth mentioning that I won't buy sales just for the sake of the discount, I have to enjoy the taste of the food. This is why I am so heavily invested in domestic stocks, I feel comfortable putting my money in U.S. Companies. I trust their accounting, I find their earnings to be more predictable, and I feel strongly that over the long-term the U.S. economy will continue to improve at an impressive rate. Quoting Warren Buffett from his most recent letter to Berkshire (NYSE:BRK.A) (NYSE:BRK.B) shareholders, "Indeed, who has ever benefited during the past 237 years by betting against America? If you compare our country's present condition to that existing in 1776, you have to rub your eyes in wonder. And the dynamism embedded in our market economy will continue to work its magic. America's best days lie ahead." I agree wholeheartedly.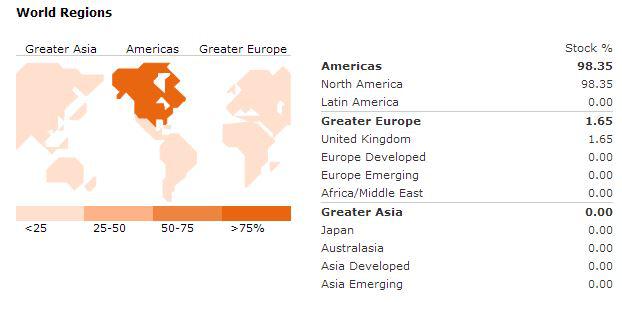 Portfolio Monitoring: Because of the large amount of holdings that the portfolio is comprised of I follow a monitoring method that I read about in a well respected SA contributor's (Chowder) Instablog. The general idea is that an investor with a large amount of holdings can adhere to a 3% rule: meaning that moves either up or down on a day-to-day basis below the 3% threshold can be considered normal and doesn't require any extra maintenance work. A move that exceeds this 3% should require an investor's attention because it likely represents some sort of dramatic change for the company. Outside of Chowder's 3% rule, I spend time reading pertinent articles and press releases about the companies that I own, or would like to own, on a daily basis. Due to the rapid exchange of respectable and pre-condensed information about publicly traded companies, and especially the blue-chip type of companies that I typically focus in on, that can be found here on SA or on other financial media outlets, it is not nearly as difficult to monitor a vast portfolio as one might think.
Trading Philosophy: I only go long with my investments. And when I say long, I mean long. I find that picking entry points is much easier (and stress free) compared to deciding when/if to sell a company. Because of this my goal with this portfolio is to patiently wait for attractive entry price points of wonderful companies to appear, and pounce when they do with no immediate plans to sell. One of my primary goals with this portfolio is to reduce downside risk through due diligence in entry point selection. I do not feel comfortable shorting stocks because of the potential limitless downside to short trades. There are times when fundamentals point towards what should be an obvious short but I still shy away from the potential risk of a short situation and feel much more comfortable going long in great companies and sitting back, patiently collecting (and reinvesting) dividends paid with a smile on my face.
Cash Holdings: I like to maintain a healthy cash buffer. Right now I have decided on a cash buffer of slightly less than 20%. I have read eloquent arguments both for or against holding a large cash position in a dividend growth portfolio. Those who are passionately against holding cash like to say that predicting the exact moment (and bottom) of a market downturn in purely speculation and a DGI investor should go basically all in and dollar-cost-average with dividend re-investment as the market moves up and down. The counter point to that argument is that during a severe market downturn an investor could lose the value of years of collected dividends in a very short period of time and without a large cash pile available to put to use during a bear-market an investor will miss out on a great opportunity to bolster his or her holdings (effectively dollar-cost averaging selectively, rather than using a periodical auto-pilot system). I tend to lean towards the second school of thought here; I believe that by having a readily available cash-pile for use during bear market situations an investor can exceed the returns of an investor 100% invested, passively reinvesting dividends through both bull and bear market cycles. I realize that by adhering to this strategy I do potentially hurt my top side potential with cash sitting on the sidelines being eroded by inflation that could be generating income and increasing in value during long bull market periods, but like I said, this portfolio is all about peace of mind and I feel better knowing that I have dry powder in the kegs ready to put to use during times of crisis. In the event of a sizable market downturn I plan on using my cash funds to average into positions that I deem to be undervalued largely (and irrationally) due to the broad market conditions.
Posted below are the Stress Free Portfolio's current holdings. They have been primarily accumulated since 10/01/2013.
Symbol

Security Description

Portfolio %

Acquired Date

Yield on Cost

Average Unit Cost

Market Price

% Gain/Loss

APPLE INC

1.92%

11/5/2013

2.31%

$526.10

$530.65

0.42%

AFLAC INC

1.78%

12/5/2013

2.24%

$65.81

$64.18

-2.94%

ARCP

AMERICAN RLTY CAP PPTYS INC

2.09%

1/3/2014

7.73%

$12.92

$14.68

13.19%

BAXTER INTERNATIONAL INC

1.86%

11/5/2013

3.00%

$65.30

$66.97

2.08%

BLACKROCK INC CL A

2.17%

3/3/2014

2.58%

$299.41

$299.25

-0.44%

BERKSHIRE HATHAWAY INC CL B

3.43%

2/5/2014

0.00%

$108.80

$123.61

13.30%

CONAGRA FOODS INC

1.85%

2/12/2014

3.45%

$29.00

$29.47

1.15%

CHUBB CORP

1.87%

2/12/2014

2.36%

$84.28

$86.23

1.29%

CUMMINS ENGINE CO

2.04%

10/29/2013

2.02%

$123.60

$140.62

13.24%

CAPITAL ONE FINL CORP

1.67%

1/7/2014

1.54%

$77.50

$72.73

-6.61%

COACH INC

3.43%

10/16/2013 & 10/23/2013

2.65%

$50.83

$48.19

-11.01%

CISCO SYSTEMS

1.82%

12/9/2013

3.57%

$21.29

$21.52

0.61%

DEERE & CO INC

1.91%

10/21/2013

2.42%

$84.04

$87.98

4.19%

WALT DISNEY CO

2.03%

2/5/2014

1.20%

$71.24

$79.93

11.68%

DIGITAL REALTY TRUST INC

3.47%

10/18/2013 & 10/30/2013

6.31%

$52.62

$51.28

-8.96%

CONSOLIDATED EDISON INC

1.75%

12/3/2013

4.56%

$55.27

$53.69

-3.31%

ENSCO PLC SHS CL A ORD (BRITAIN)

1.65%

10/18/2013

5.43%

$54.55

$48.86

-11.87%

GENERAL ELECTRIC CO

1.83%

3/3/2014

3.52%

$25.00

$25.34

0.89%

HCP INC

1.84%

1/3/2014

5.79%

$36.24

$37.14

2.00%

INTERNATIONAL BUSINESS MACHINES

1.78%

10/8/2013

2.11%

$179.83

$183.90

1.76%

INTEL CORPORATION

0.92%

11/20/2012 & 01/18/2013

4.39%

$20.02

$24.57

22.75%

JOHNSON & JOHNSON

1.80%

12/27/2013

2.86%

$92.30

$93.00

0.28%

KINDER MORGAN INC DEL

3.32%

12/27/2013 & 02/26/2014

4.84%

$33.86

$30.96

-8.54%

COCA COLA CO

6.29%

10/8/2013, 01/13/2014, & 02/03/2014

3.20%

$38.08

$37.97

-0.02%

KROGER CO

2.20%

2/5/2014

1.85%

$35.59

$43.49

21.63%

MASTERCARD CL A

1.85%

2/6/2014

0.60%

$73.31

$76.62

4.02%

MC CORMICK & CO-NON VTG

0.81%

1/25/2013

2.40%

$61.70

$67.52

8.21%

ALTRIA GROUP

1.78%

10/24/2013

5.31%

$36.16

$35.97

-0.99%

REALTY INCOME CORPORATION

2.14%

10/22/2013

5.41%

$40.45

$42.32

3.88%

OMEGA HEALTHCARE INVS INC

1.99%

2/7/2014

6.46%

$30.33

$32.92

8.01%

PEPSICO INC

2.47%

2/13/2014

3.31%

$79.03

$81.80

3.14%

PHILIP MORRIS INTL INC COM

3.25%

11/4/2013 & 01/07/2014

4.31%

$87.19

$79.23

-9.13%

POTASH CORP OF SAS ORD (CANADA)

1.94%

10/21/2013

4.37%

$32.03

$34.14

6.09%

QUALCOMM INC

2.01%

10/23/2013

2.07%

$67.50

$75.63

11.52%

STARBUCKS CORP

2.78%

3/3/2014

1.48%

$70.30

$74.43

5.54%

SMUCKER J M CO

1.87%

2/7/2014

2.48%

$93.38

$96.99

3.38%

SOUTHERN CO

1.93%

12/3/2013

4.97%

$40.78

$43.16

5.32%

SUNOPTA INC COM

0.61%

10/11/2012

0.00%

$6.14

$10.78

71.41%

STANLEY BLACK & DECKER INC

1.72%

11/14/2013

2.44%

$81.89

$79.09

-3.88%

AT&T INC

1.68%

12/4/2013

5.31%

$34.61

$32.35

-6.97%

TARGET CORP

1.73%

12/9/2013

2.71%

$63.40

$59.73

-6.22%

TRAVELERS COMPANIES INC COM

1.89%

2/7/2014

2.49%

$80.39

$82.59

2.27%

VISA INC CL A

2.13%

10/31/2013

0.80%

$197.82

$220.78

11.12%

VENTAS INC

3.65%

10/21/2013 & 12/11/2013

4.81%

$60.20

$60.48

0.04%

WELLS FARGO & CO

1.39%

1/11/2013

3.41%

$35.17

$47.84

34.86%

WAL-MART STORES

1.72%

11/25/2013

2.39%

$80.34

$74.93

-7.16%

EXXON MOBIL CORP

1.92%

10/16/2013

2.88%

$87.39

$93.64

6.64%

** Total All Asset Classes

3.01%

2.02%

*% gain/loss has commission fees taken into consideration
Conclusion and Future Goals: Obviously there are no "sure things" in the market, but I believe that this strategy will be successful moving forward, which is why I've decided to pursue it on a personal level. I know that there is more than one way to skin a cat. I see validity in many of the different investing philosophies that I come across and I am rarely surprised when I see other knowledgeable investors profiting from strategies that differ greatly from my own. If you've followed me at all before, you know I am a huge Buffett fan. Very recently when discussing his will and the cash that he will give to individual bequests the Oracle of Omaha said, "My advice to the trustee could not be more simple: Put 10% of the cash in short-term government bonds and 90% in a very low-cost S&P 500 index fund. (I suggest Vanguard's VOO)" You see, even my idol suggests that investors follow a vastly different strategy than the one I am outlining here. The point is, everyone must do what they feel is right for them, but as for me, I will continue to accumulate attractively priced shares of high quality businesses that I believe I can count on over the long haul. I am 24 years old and while I would obviously like to retire early (who doesn't), I don't plan on entering the withdrawal phase of this portfolio for decades to come. I hope to continue to add shares through stock purchases and dividend re-investment and I will keep any followers that this portfolio generates up to date via future articles and stock talk entries. And in conclusion, please remember, investing and portfolio management doesn't have to be stressful and exhausting - with proper planning, a disciplined strategic philosophy focused on minimizing downside risk through fundamental analysis, and diversification and the creation of a reliably increasing passive cash flow an investor can sleep well at night.
Disclosure: I am long AAPL, AFL, ARCP, BAX, BLK, BRK.B, CAG, COF, COH, DE, DIS, DLR, ED, ESV, GE, HCP, IBM, INTC, JNJ, KMI, KO, KR, MA, MKC, MO, O, OHI, PEP, PM, POT, QCOM, SBUX, SJM, SO, STKL, SWK, T, TGT, TRV, V, VTR, WFC, WMT, XOM. I wrote this article myself, and it expresses my own opinions. I am not receiving compensation for it (other than from Seeking Alpha). I have no business relationship with any company whose stock is mentioned in this article. Please note that all opinions expressed in this article are my own. They are not meant to be used as recommendations. Invest your own hard earned capital at your own risk.