Over the weekend, I read commentary at WSJ.com about the illogicality of investor fear. The writer quoted James Paulsen, chief investment officer at Wells Capital Management, as saying, "If 2000 was the peak of irrational exuberance… today has to be the era of irrational pessimism."
It may or may not be rational to pay for the S&P 500 SPDR Trust (NYSEARCA:SPY) at a reported P/E of 12.6. Of course, you'd first have to be believe that earnings are the primary thing that matter in the determination of what's worth buying. (Do fundamentals even drive decision-maker purchasing patterns anymore?)
And there was an even more potent item that went noticeably missing from James (not Henry or John) Paulsen's unreasonably pessimistic assertion; that is, Greenspan called equities irrational exuberant in 1996, close to four years before the March 2000 dot-com collapse.
Let's absorb the probable implication here. If investors were insanely greedy for 4 years before Wall Street came crumbling down, then might they be unbelievably petrified for 4 more years before the Wall can be rebuilt?
(Or perhaps we may at least use 9/08 as the inception such that a reasonable level of confidence may not be restored until 2012. And by that date, according the Mayan calendar, we're all supposedly doomed, right?)
James Paulsen recommends tech and basic materials. Until the euro-dollar stabilizes, and until the U.S. dollar cools off, and until China has finished tightening, it's hard to see SPDR Select Materials (NYSEARCA:XLB) providing the leadership. It's clearly mired in an ugly downtrend that'll require a move above the 200-day MA before I'll bite. (And I will at that time, perhaps.)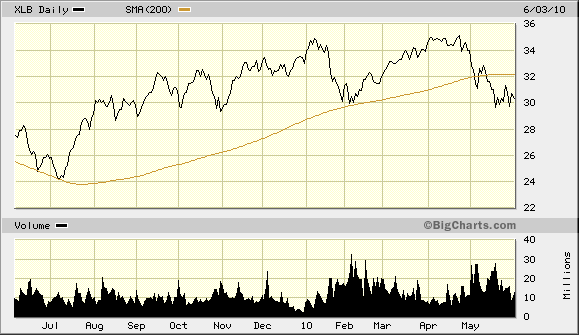 Disclosure Statement: Gary Gordon, MS, CFP is the president of Pacific Park Financial, Inc., a Registered Investment Adviser with the SEC. The company and/or its clients may hold positions in the ETFs, mutual funds and/or index funds mentioned above.The company receives advertising compensation at the ETF Expert web site from Invesco PowerShares Capital Management, LLC and Geary Advisors, LLC. The commentary does not constitute individualized investment advice. The opinions offered herein are not personalized recommendations to buy, sell or hold securities.