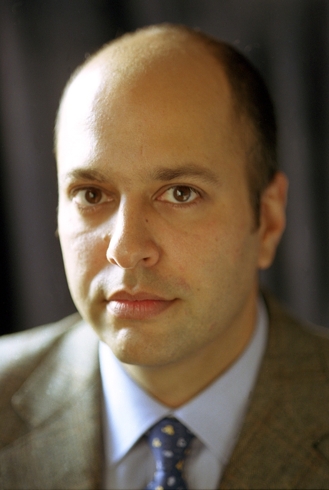 Click to enlarge
Lakshman Achuthan is managing director of the Economic Cycle Research Institute and managing editor of ECRI's forecasting publications. He frequently appears on CNBC and CNN and is quoted in the New York Times, Newsweek, and The Economist.

H.L.: The job data for May – 41,000 new private sector jobs, the fifth month in a row of job gains –seriously disappointed the stock market, although there were some positives in manufacturing and hourly earnings. What do you think of the report and implications for job growth?
L.A.: I think the continued job growth in the private sector is consistent with a genuine business cycle recovery, and very importantly , the jobless rate peaked last fall and has been edging down ever since. As usual, there is backing and filling with the data, and any month's data is likely to exaggerate or minimize what's going on. But if you look at what's been happening since late last year it's very clear we're adding private sector jobs. Also, the jobless rate began to fall much quicker than in the last two recoveries.
If you average the recent jobs reports from the last couple of months we're adding private sector jobs at a little over 100,000 a month. While it is nothing to write home about, it is going in the right direction. This is in sharp contrast to all the private economists who told you just a couple of months ago that the jobless rate would rise throughout the year.
But we need to keep in mind that all of the jobs data is coincident with actual economic activity. When we look at leading indicators of the economy, which correctly predicted the end of the recession, we see a clear downturn in their growth rate, pointing to slower growth in coming months.
H.L.: Are corporate earnings expectations too high?
L.A.: Clearly corporate earnings will remain positive, but the growth of earnings is going to slow if it hasn't already started, and that is another challenge for the stock market.
H.L.: The housing market seems to be recovering a bit, although a heavy dose of foreclosures is in our future. How do you see it going?
L.A.: When we look at housing, what we have is very clearly an end to the home price declines. Home prices haven't really risen in any serious way, but just the fact that they've stopped falling is a big positive, because there is no longer a drag on household wealth. It's great that it's just neutral, and with jobs recovering you'll have a slow but steady improvement.
H.L.: What's your take on the stock market?
L.A.: The stock market is much riskier than last year, and I don't' think that risk is going to change any time soon. I think the risk is elevated and not necessarily for the faint of heart.
When you have the leading indicators for growth turning down, that more than anything is something that challenges the stock market. It's very different from 2009 when all of these indicators were rising. That should give people pause as they try to assess the risk of being in stocks and buying on dips or things like that.
H.L.: There seems to be a struggle between a sluggish recovery in the U.S. and bad news globally regarding dire European debt problems. What's your scenario on how this will play out?
L.A.: The leading indicators for the U.S. were pointing to a slowdown in growth before the European debt crisis erupted in the headlines. But to be clear, the leading indicators are not yet pointing to a new recession in the U.S., so even though the European debt crisis is a negative for the European economy in general and southern Europe in particular, it is not something that can knock the U.S. itself into recession.
Our leading indicators for southern Europe are much weaker than for the U.S. In fact, our leading indicator for Spain was already pointing to serious risk of a double-dip recession in that country, so the addition of the European debt crisis is a big negative for countries like Spain and perhaps Italy.
H.L.: So what's the eventual fate of the 16-nation eurozone?
L.A.: Governments are proficient at restructuring debt, and I suspect they will figure out a way to kick the debt can down the road. Our leading indicators look forward a few quarters. So we're able to say for the global economy there's a slowdown, not a new recession. We don't have a new recession in the U.S. in the coming months, although there is slowing, and there's no new recession for Asian countries, although they are also slowing. The place where I wouldn't be surprised for a new recession this year would be in a country like Spain where the leading indicators are already consistent with a double-dip recession. On top of that they have budget and debt problems.
NOTE: You can see the ECRI index updated every Friday morning at 10:30 a.m. for free at Businesscycle.com
Disclosure: No positions